Physics 489: Physics of Music, with Project
Completed: A+
---
The purpose of this course is to study the physical aspects of the phenomena that make up the practice and experience of music, as well as to get a glimpse into physics as a mental activity. Topics to be covered include: the nature of sound; mechanics of vibration; musical tones and intervals; scales and temperaments; wave motion, interference, and diffraction; propagation of sound through pipes; physics of brass instruments; physics of woodwind instruments; physics of string instruments; physics of the piano; and high-fidelity sound reproduction. In addition, Physics 489 also requires an independent theoretical or experimental graded project.
Winter 2002, Professor Daniel Axelrod
This was the best class I had all year. Dan Axelrod is one of the funniest professors I've ever met. Although a professor of physics, he really enjoys music and enjoys sharing music with the class. The best part of the class was both the jokes and the quotes: "Conservation of equations." As an my independent study project I designed, built, and demonstrated a Theremin and followed it up with a paper on my research and results. The paper is avaliable here in PDF format, but it is just over a megabyte in size due to the images:
Theremaniac paper (PDF - 1.05MB).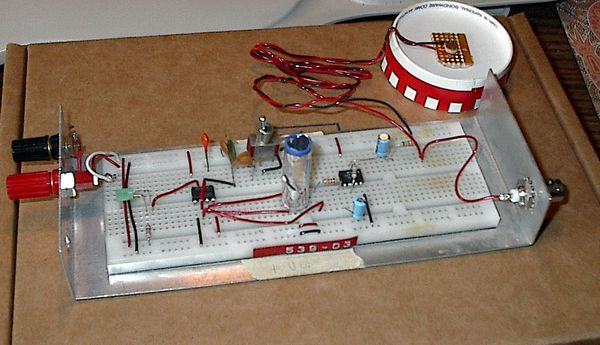 Quotes:
"It has more syllables so it is more appropriate for a university."
"...Conservation of Equations..." talking about Newton's 3rd law
General Rules of Science: "Usually experiments don't work!"
An experiment "Uses up energy, I get hungry."
"Everyone knows air molecules are pink." Looking at a viewgraph
"See this green stuff, you might think thats ink. Your Wrong, its a spring!"
"That reminds me of StarTrek."
"Things go better with coke!" using a coke bottle as a resonator
"Everyone has different taste in music so I'm just adding some seasoning.
"Its hard to keep good sugar down"
"...Pressure squiggle..." The ideal way to talk about sound waves
"Break Time!!!" Some kid yelled from the back of the room in the middle of class
Heuristic - when a mistake is called "for educational purposes."
"Now we're watching a video about ... He's not alive anymore, but he was when the video was made."
"A blessed event, a violin just got born"
"The only stupid question is the one you don't ask, and some of those are really stupid."
"Often in life when people give an answer, you'll find it's because they don't know what they're talking about."
"To a zero-order, a cow is a sphere" If you wen't to high-school with me, you'd know why this was funny
"Physics without equations is like beer without alcohol"
When playing a piece of religious music: "This isn't everyones' religion but it's a popular one. [Pause] Only if you can call mass guilt popular."
---
Notice:
Information provided on this page is a result of undergraduate studies at the University of Michigan. Material may be copyrighted by the University of Michigan, James Glettler, and/or the various co-authors noted in group projects. Finished assignments are offered only for reference.