Tal Wagner
Academic Homepage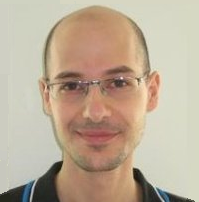 I am a Ph.D student in the Theory of Computation group at CSAIL, MIT. My advisor is Piotr Indyk.
My research is on algorithms for massive datasets. I mostly work on efficient compression of graphs and metric spaces, applications to machine learning, and the interplay between theory and practice.
Email: talw (at) mit (dot) edu
---
Publications
Scalable Fair Clustering
with Arturs Backurs, Piotr Indyk, Krzysztof Onak, Baruch Schieber and Ali Vakilian
in ICML 2019
[arXiv] [code]

Sample-Optimal Low-Rank Approximation of Distance Matrices
with Piotr Indyk, Ali Vakilian and David Woodruff
in COLT 2019
[arXiv]

Learning Sublinear-Time Indexing for Nearest Neighbor Search
with Yihe Dong, Piotr Indyk and Ilya Razenshteyn
Manuscript 2019
[arXiv]

Multitasking Capacity: Hardness Results and Improved Constructions
with Noga Alon, Jonathan D. Cohen, Tom Griffiths, Pasin Manurangsi, Daniel Reichman, Igor Shinkar and Alexander Yu
Manuscript 2018
[arXiv]

Semi-Supervised Learning on Data Streams via Temporal Label Propagation
with Sudipto Guha, Shiva Kasiviswanathan and Nina Mishra
in ICML 2018
[PDF] [proceedings] [slides (PDF)] [poster (PDF)] [video (10min)]

Approximate Nearest Neighbors in Limited Space
with Piotr Indyk
in COLT 2018
[arXiv] [slides (PDF)] [poster (PDF)] [video (10min)]

Practical Data-Dependent Metric Compression with Provable Guarantees
with Piotr Indyk and Ilya Razenshteyn
in NIPS 2017
[arXiv] [code] [poster (PDF)]

A Graph-Theoretic Approach to Multitasking
with Noga Alon, Jonathan D. Cohen, Biswadip Dey, Tom Griffiths, Sebastian Musslick, Kayhan Ozcimder, Daniel Reichman and Igor Shinkar
in NIPS 2017, Oral presentation
[arXiv] [poster (PDF)]

Near-Optimal (Euclidean) Metric Compression
with Piotr Indyk
in SODA 2017
[arXiv] [doi] [slides]

A Sampling-based Approach to Accelerating Queries in Log Management Systems
with Eric Schkufza and Udi Wieder
in SPLASH 2016
[doi]

Towards Resistance Sparsifiers
with Michael Dinitz and Robert Krauthgamer
in RANDOM 2015
[arXiv] [doi] [slides (PDF)]

Cheeger-Type Approximation for Sparsest st-Cut
with Robert Krauthgamer
in ACM Transactions on Algorithms (TALG), 2016
[arXiv] [doi]

Generalized Girth Problems in Graphs and Hypergraphs
with Uriel Feige
Manuscript 2013
[PDF]

Volume Regularization for Binary Classification
Koby Crammer and Tal Wagner
in NIPS 2012, Spotlight presentation
[PDF]

---
Teaching
6.854: Advanced Algorithms, MIT EECS. Teaching assistant, Fall 2016.