click on any image to see a larger version in a new window.

Previous 1 2 3 4 5 6 7 8 9 10 Home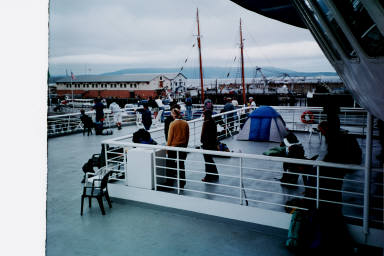 Getting into Bellingham Friday morning. A tent is still up on the back sundeck. Parked the boatcart at fairhaven dinghy dock next to fairhaven boatworks. Took amtrak to Seattle. Walked to ferry to Bremerton. Checked my email at the public library. Bought $15 tiny bicycle and two cheap wetsuits. Can't resist cheap wetsuits. Also a silk shirt to keep the sun off my arms. For the sake of reality I checked the distance to the truck with my GPS. I marked it when I parked it in case I came back down the Hood canal. 11 miles. Walked the bike til I came to a garage, put air in the tires. Hung my bag on the handlebars, rode 15 road miles back to the truck. Stopped at an AAA office on the way for some maps. What should the next trip be?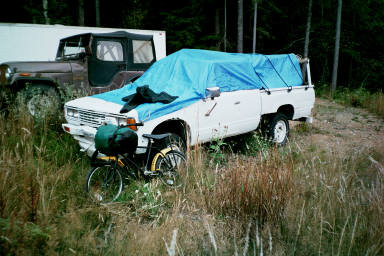 The ugly truckling was right where I left it in Ron Silver's back yard. Started right up.
Visited Renee + Kent for a day or two, played with their kids. Drove to Bellingham and got the canoe. David John of "Helen Highwater" of Bellingham says "A proa sails like a falling leaf."

Visited John again in Keyport, we went to Silverdale dye's inlet park the Hue He e Va a Hawaiian canoe club. Uncle Bob nice guy met in grocery lot with sleek solo outriggers on truck. Paddled 6 man canoes 7-8mph amazing. Good workout.

The End. For now anyway.

US Customs call 800-562-5943 or 800-973-2867 on arriving. Don't have to do anything when leaving.

Kit Nuzum 360-376-7636 Victory Hill 471 N. Beach rd. eastsound wa 98245 come on up I'll give you a ride to n. beach to launch.
Marc and Jean (stuart island) 1712 NE 73rd st. Seattle WA 98115 206-953-7119
Zephyr Delahunt star route stuart island wa 98250
ketchikan customs 907-225-2254
razdaz(at)prcn.org ruth dalzell in lund 604-483-3835 drives water taxi- gave me park maps.
David Thomson general delivery Port Neville BC V0P 1M0 gave me plant book
Nicola Dedeluk whale warden
Cheryl Ciccone cicconeb(at)cadvision.com calgary whalewatcher
Doug Sandilands dsandilands(at)hotmail.com vancouver 604-833-4510 219-7789 whale warden
www.orca-live.net whalelink.org orcalab cameras and hydrophones.
Dave Briggs volunteer "Eagles eye" on vhf chan 77 West Cracroft Island c/o general delivery, Alert Bay BC V0N 1A0 dbriggsa12(at)hotmail.com
Davidhowitt(at)hotmail.com proa guy on hanson island sailed there from pt. townsend. www.orca-line.net www.orcalab.org
www.kitasoo.org Send text to band office Klemtu BC Tom Hunt, Jr. Henderson carvers
Peter R. Mason 759 Waglisla BC V0T 1Z0 phone 957-2406
Roland Wilson Box 22 Waglisla BC phone 957-2514
Mitchell Martin Box 96 Waglisla BC 957-2516
Kyle Pfister 206 Cristler Dallas TX 75223 kpfister(at)risd.edu

day
date
miles
where
sun
7-01-2001
10.9
keyport to past Kingston
mon
7-02-2001
14.5
end of Kitsap Peninsula
tues
7-03-2001
6.2
Flagler state park, gale.
weds
7-04-2001
4.7
Ebeye's landing- Whidby Island, gale.
thurs
7-05-2001
20
Watmough bay
fri
7-06-2001
21.7
sat
7-07-2001
7.77
sun
7-08-2001
11.1
mon
7-09-2001
3.45
tues
7-10-2001
3.92
weds
7-11-2001
32.4
thurs
7-12-2001
32.3
Jedediah I.
138mi total by crow
fri
7-13-2001
17.8
sat
7-14-2001
26.6
sun
7-15-2001
15.9
mon
7-16-2001
22.1
tues
7-17-2001
22.7
weds
7-18-2001
12.9
Port Neville
thurs
7-19-2001
9.22
Havanna Channel Islands
fri
7-20-2001
0
sat
7-21-2001
0
sun
7-22-2001
12.1
Boat bay
mon
7-23-2001
0
Cliff - counting orcas and boats
tues
7-24-2001
0
Cliff
weds
7-25-2001
0
Cliff
thurs
7-26-2001
7
Village Island
fri
7-27-2001
19.8
Sointula
sat
7-28-2001
34
and kept rowint til morning to
sun
7-29-2001
8
Burnett bay
mon
7-30-2001
29.4
mantrap inlet
tues
7-31-2001
38.4
fancy cove
weds
8-01-2001
42.6
Klemtu
thurs
8-02-2001
4.5
Klemtu carvers, hydromoose, salmon
fri
8-03-2001
51
kelp+gnats- Estevan group
sat
8-04-2001
61
E of Kitkatla
sun
8-05-2001
38.8
Prince Rupert- sailed til 6am
mon
8-06-2001
0
Prince Rupert
tues
8-07-2001
0
Prince Rupert
weds
8-08-2001
20.2
kelp
thurs
8-09-2001
10.3
salmon, N. end Dundas I.
fri
8-10-2001
21.9
Misty Fiords
sat
8-11-2001
20.9
salmon, sleeping with two fires
sun
8-12-2001
15.9
gravel beach past Metlakatla
mon
8-13-2001
7.8
ketchkan
44 days, 37 days I spent some time on the water. 7 days off on land = 7/44 = 1/6 of the days. If it's 750 water miles from Seattle to Ketchikan, my average day I went 750/37 = 20 miles a day.


Notebook: unlined Rite in the Rain waterproof notebook model#330 from www.riteintherain.com
Pen: uniball micro deluxe waterproof pen made by mitsubishi pencil company, Various bic ballpoints, which happen to be waterproof as well. My favorite is the old kind with the transparent handle.


Previous 1 2 3 4 5 6 7 8 9 10 Home Copyright 2001 Tim Anderson