scroll down for more, click on any image to see a larger version in a new window.

Previous Next Page 1 2 3 4 5 6 7 8 9 10 Home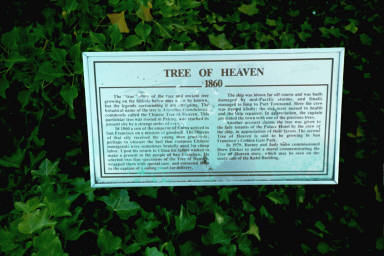 This bronze plaque explains the history of plants on this hillside. A hundred or more years ago a Chinese prince visited the U.S. The locals gave him the royal treatment and thought he didn't notice all the anti-Chinese racism prevalent at the time. As a token of his appreciation he later sent small potted "Trees of Heaven" which were carefully planted here. Apparently people took cuttings and planted them all over the country. The plaque fails to mention that the "Tree of Heaven" or Aelanthus(sp?) is an invasive stinky weed of a tree with useless brittle wood. Many expensive attempts to eradicate it have failed. It makes dense thickets in urban areas where people are easily attacked. The most dangerous place in Cambridge Massachusetts is an Aelanthus thicket by the Charles river. Many attacks and murders there, even during the day. Despite being patrolled by City, MDC, State and Railroad police with thermal imagers.

Sailed 9am fri. Waves were high from tide current counter to wind.- 5ft.?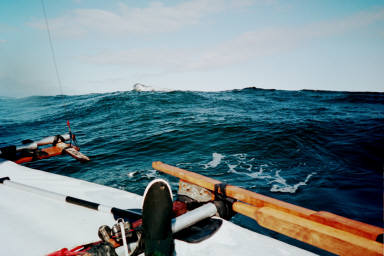 took a picture, probably won't look like much. Sail is better, tightened it a bit. Cam cleat is good, no longer wish for ratchet block. Becalmed and read for a bit along Whidby Island, then read while sailing a couple hours on selfsteering proa tack. Landed 7:30pm at Whatmough bay on Lopez island N48* 25.858' W122* 48.872'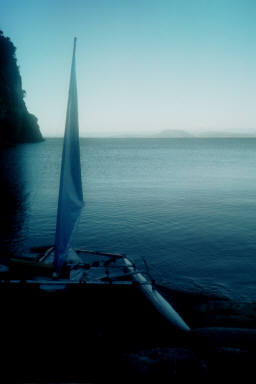 Very pretty- cliffs frame a view of snowcapped Mt.Baker, looks like Fuji. A nice smell of conifers. Beauty. "Why are you taking this trip?" someone once asked. "Beauty" I heard myself say. It does matter where you are. How can I know what's possible? The reality of being there in a setting, an experience, is beyond imagination, planning, or thought. No theory of "green" can come close to the experience of green-ness.
According to my gps I came 20.0 miles today, 7-5-01 thursday. Now 51.0 total straight-line miles from John's house in Keyport.
Fri 7-6-01 Landed at Watmough bay. After I unloaded sightseers came. Gave me funny looks. I thought I might not be in a good spot to camp. I sat and wrote til they went away. Then the woman came back and expressed her concerns. I convinced her I was a good citizen. Then more came with children. They found a gigantic sandworm, looked like a worm-snake-millipede thing. It rippled its fringe of legs as they helped it into the water. 18" long x 3/4".
Getting underway 7:45 am. Watched the sunrise over the mountain. A very special place. Last night walked a few miles on the island roads. Could be anywhere in Vermont. Rural. Actual farms. But around every corner a a chunk of Maine coastline. No wonder the locals feel protective of the place. I'm sure the last batch of locals felt the same way before this batch took it from them.
I saw an '80's documentary recently on the plight of the american small farm. Banks foreclosing suddenly, auctions, distress. Losing the family farm was intolerable to many. Lots of men killed themselves. And only a few generations at most on the place. How did the indians feel when the government took it away from them to give to the farmers?
Now selfsteering downwind on "Cheers" tack. It holds a course even now in strong currents and 12" standing waves. Here come the whitecaps. Better stow and sail.
My fingers are all sore. Salt water sun and friction I guess. Udder balm seems to help. Wool gloves would be better than these cotton+rubber fingerless gloves. When you turn a glove inside out it fits the other hand!
7-7-01 N48* 36.217' W123* 01.309' Approximate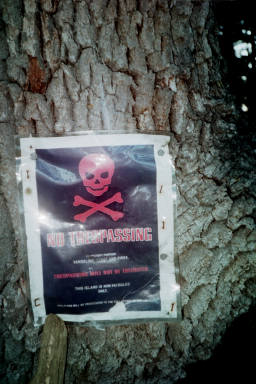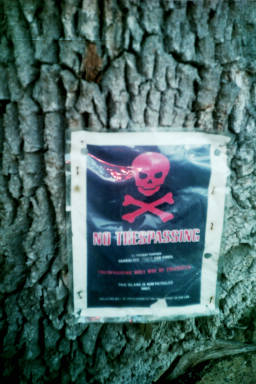 "No trespassing. Violators will be prosecuted to the full extent of the law. Island patrolled daily." Much of the San Juans is a watery suburb. Pretty except for the houses and no trespassing signs everywhere. I'm tired and it's 11pm, so I take this sign to mean "Checkout time 6AM".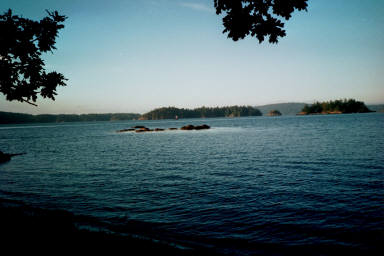 6:30am and I'm on the water. Light breeze at my back, moving well toward San Juan island. Leeboard up, more or less selfsteering on "cheers" tack. Yesterday sailed to Orcas Island. Sailed 7 miles downwind north up eastsound to the town of that name to look for Skip Snaith, author of "Umiak", a very cute boatbuilding manual that inspired me. Wind increased til I broke out the gps. Max speed 8.6mph and the hull seemed like it could handle more, no tendency to bury the bow. Exciting. Made me nervous. I stowed my gear. Whitecaps and foot high waves surfing along. "Loving it to death" the book says is happening to the San Juans. If it "develops" much more, they'll have to get away from it all someplace else. I guess this is what happens when people get to do what they want and are prosperous. They breed til it's crowded and then spread out building houses and flushing toilets all over places that were nice til they got there. Most of my friends who have had children got pregnant by accident. I know a guy who got a vasectomy when he was 24. He said it's the best thing he ever did. His friends who had kids kept surprising him with comments like "that was so smart. How did you know?". Howabout everyone gets fixed until there is no such thing as an orphan and human life isn't so cheap. And nice places can be left alone without houses and roads all over them making them just like the place you left.
A yachtie couple smiled and waved as I sped in. I jibed in front of the town center and promptly capsized. Shallow enough to wade and not too cold. Walked to the mast, lifted, tipped her right. I always flounder with an audience. I dragged her up the beach. I walked along the street asking people if they knew Skip. A bookstore. They'd know him. She pointed up at a half-size wooden kayak frame. "you're this close", she said. She wrote his phone# for me. I was too wet to do it. I walked out with the note in my mouth, cuz that was the driest part of me. I called him from a payphone, met him at my boat. He was excitedly examining my boat as I came up. I told him he'd inspired me. My oar-thongs came out of his book, for example. Then we looked at the two kayaks on his car.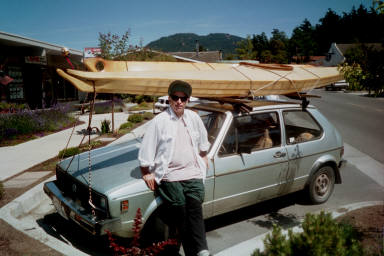 Pretty cloth+lashed wood kayaks. An aleut and an alaskan. Cockpit rings riveted with pennies. Cute. A couple friends of his came up. A woman who helps him do theskins and a guy on a bike named Kit. Skip had to go put his boats in a show, Kit showed me the way to the library, encouraged me to stay another day. There'd be a parade, craft fair. He told me where to camp and said he'd carry my boat to the other side of the island on his truck. A very generous offer. The wind had picked up to 16-20, all whitecaps. Neither of us thought I could sail 7 miles straight upwind in the channel in that. I said I'd give it a try, then probably call him.
But the town full of people was getting to me. I got postcards, a loaf, jar peanutbutter, gallon of water. I was out. The stuff from the campground tasted like pipe. I stowed it, lashed on a push-tiller to try that out, rowed into the teeth, and went upwind very well. The push tiller is great. Easier on hands+arms than the tiller lines. Raked rudder forward a bit til the steering loads were very light. With my big puffy outrigger, "Cheers" tack seemed very secure. The boat self-steered while I made sandwiches and added clothes. And we bounced upwind through the whitecaps. Better to beat into a gale than to run downwind in a calm. Was at the mouth at 7, wind died down, started looking for a camp, but it was a water-burb archaepelago. I guess every place accessible will look like this without parks. More parks! It got prettier in the dark with the lights and boats on the water. No place to camp. Confusing with many small channels and islands. Then I heard a beach. My sleeping bag is smelly from being stowed wet. I must be pretty rank myself. I better stand and write. My butt's getting that salt sore feeling. I better balm it, dry when possible, take the pressure off. Now 8:15, at top of San Juan, passing Spieden I. Next stop Mark Billington, Westcott Bay oyster farm, Joanne's parents, to look at John's St.Pierre dory he said he'd give me.
This morning I lowered the front of the outrigger a couple of inches to level it in the water. We seem quieter and faster now. I have a line from the leech line to the boom where I can reach it. So I can mess with the cupped leech. So far more seems better. I could do the same with up+outhaul lines, have total control of sail shape on the fly.
Sun 7-8-01 N48* 40.742' W123* 13.807'
I took a turn too far around SanJuan I. I needed to backtrack and the wind died. Little tide rapid by shore I couldn't sail or paddle against. So I lined the canoe upstream around the point
[diagram] canoe rope rope me
into a long squiggly bay. Many cottages with no trespassing signs. Sailed down past Roche harbor. A powerboat convention! seemed like one anyway. Swarms of people and boats. Houses all over the shore. No place for me.
Marc +Jean Olson. I slept on their driftwood beach. Friendly. Cute place, blends in, a yurt and a cottage, doorless outhouse. he's a msft engineer. He had a local boatbuilding boy named Zephyr visit me. He sailed my boat and gave me a 40minute survival school on all the food found on and under the rocks. Limpets, seaweed, sandworms for bait, barnacles, eels, lingcod, rockfish. Bright articulate young man. 10th grader. He+ bro built sailboats.
Peter at Sidney marine supply sez Robson bight on Johnstone strait is where orcas rub on beach. Vancouver I by "Pig ranch".
Found Westcott bay oyster famr but Mark Billington was out. At a bigscience looking lab in a greenhouse, a friendly guy with a maori fishook pendant was making oyster seed. Tanks growing algae for the oysters to eat, warm the water to be like summer and the oysters will spawn. He directed me to the dory.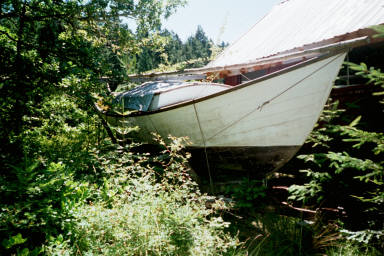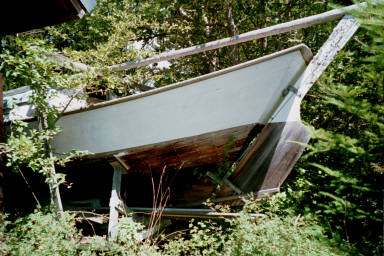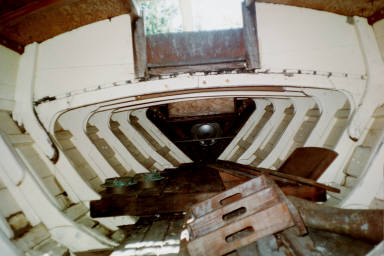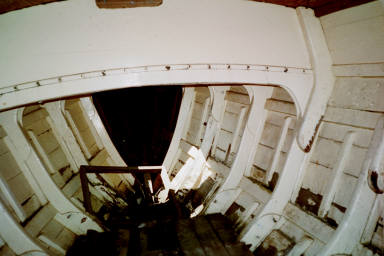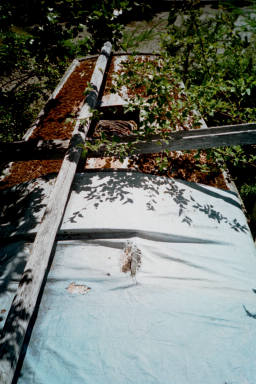 Beautiful shape, no rot, some moss on the deck. Powerfull sculpture. What was it used for? I had to crawl in, no headroom. Took text. Dried my stuff on the dock a bit, wrote postcards , sailed back up the sound. To find mailbox, milk, bread, email? Becalmed in Roche Harbor. Horrors! I drift. People in a dinghy took my postcards to mail them. Dolphins or pilot whales puff and arch black backs by as I write.
Canadian Customs. My vessel customs # is And65. Sidney immigration 250-363-6644 8:00-21:00 Tribune bay, Hornby I. whitesand beach. Queen Charlotte islands. Moresby island. Special, worth visiting. unique species John of customs sez.
Mon 7-9-01 8am Underway to Sidney BC to get a handheld vhf radio so Canadian Immigration will let me in. 10:40pm yesterday got to N48* 42.238' W123*17.734' (next to) my campsite on Moresby Island. Now sailing+writing. John, the Customs guy at bedwell harbor on S.Pender Island, took about 2hrs to let me into the country. He wanted to be sure it wasn't going to cost the canadian taxpayer an expensive search+rescue. He thought I should know the names of towns in northern BC and the distances between them. He would have liked charts all the way and a detailed plan. Bags and bags of stuff would have helped too. I remembered the Yukon goldrush, The mounties requiring the prospectors to bring 2thousand pounds of stuff with them. I guess they equate stuff with safety. He got on the phone with immigration. No migra in the place, just customs. I guess they assume if you come here with a boat, they'll probably want to let you in. I talked with the migra lady on the phone. She was nice enough, I must have reassured her. They decided to let me in if I had a radio. Try again. I said "is there a place to buy one here"? He said "no, but maybe..." He got on the phone again and finally wrote me up a conditional entry permit thingy. I'd go to Sidney, the nearest town, get a radio, call customs, and they'd come from the airport to verify I had it. 5pm to 7pm it took for this. Then I talked to him for another 20 min or so about places to go. He recommended Haida Gwaii, "galapagos of canada" I had him try out my skinny oar from the dock. Some people are amazed by it. I am. 7:30pm I was off, mostly calm, into almost too much current til around the end of the island, paddling+sometimes sailing, making a shopping list. splash! what was that? oops. get new pocket knife. John had asked "do you have fishing gear with you?" Hmm. Yes, but no license. How to answer? "I've got hooks and line and some lures". That seemed to be a good thing.
Seals with light grey-blue faces come and look at me. Sometimes there are loud splashes or puffs of breath. Tightening my sail here, loosening it there. Eventually I'll have it figured out. Took a dip this morning and shaved. Water's not too cold.
x thermometer
x batteries
x oatmeal
7-10-01 Tues 7:30am On Portland Island = Princess Margaret Provincial Marine Park. Got a tow around the point into the bay from a couple in an outboard RIB (rigid inflatable boat) dinghy. A quarter mile or so. They pulled me into royal cove. I tied up at the dock, walked around the island for a bit, used the outhouse, read the pamphlet at the bulletin board. There's a Kanaka bluff here, named by Hawaiians once settled here by the Hudson's Bay Co. Tied a rope to a rock
[diagram] like Benson Akeyang taught me in Majuro. Used it to anchor out and slept on deck in sleeping bag. I was too tired to hang my food from raccoons. Now this am paddled around the point to N48* 44.071' W123* 22.076' sunning my sleeping bag. My fingertips still hurt from sunburn. Hopefully the new gunte ("goon tay", means "army gloves", Japanese knit white gloves) help. Water temp is 56*, bright+sunny, a swim would be okay but I have neighbors. Tide 3ft 1:30pst 10.5ft 9:30pm. It floods northward here, so current will be with me most of the day and farther out looks like wind. Here calm. The radio said 10mph. Dried some stuff on the beach and
took a quick dip, repacked and got underway at 9am.
After coming 20-30 miles in a 10mph wind, I'm now becalmed next to Reid I. 4pm. Yesterday at Sidney Marine Supply, 250-656-2013 Peter P. Southam sold me a "submersible" handheld vhf marine radio. Nice guy and knowledgeable. www.sidneymarine.com sales(at)sidneymarine.com
I almost got one radio, but he said a submersible one was coming. He checked on the phone for me, "A van any minute." I said I thought I wanted that one. I've read a few stories of radios wrecked by water at the wrong time. Then I called immigration. The van came with the radio, and as we were ringing it up two immigration officers showed up in uniform to verify it. The Migra guy grilled me a bit of course, why else would he want the job? But Peter defended me and the guy stamped and signed my pink sheet. I'm in! I also got the next placemat "Not for Navigation" chart north, a hacksaw blade .50 all prices canadian dollars= ~.7 american
tides+currents book $16
guides to BC marine Parks, free and $16 types
Standard Horizon HX260s vhf/fm marine handheld transciever $325
pr gunte gloves $2.50
1 stainless steel needle $2 they exist!
frost brand little nordic knife, 4" stainless blade, yellow plastic handle $16
postcards +stamps $20 postoffice
straw hat$1.98salvation army thermometer$6hardware store12 alkaline batteries$10radioshackliter strawberry yogurt$2.25grocery store, getting carried away with lists here, too much sugar, not very good. 2 loaves whole wheat fresh unsliced bread $2 better than sliced bread
bunch of bananas$.69/lb wait a minute, they don't use pounds!3liter can of olive oil$14 I'll get fat, but it'll be the good fat.
Customs John scared me into carrying more food. I now have two cans like this.
4kg quick oats $5already cooked, you can eat them dry.
My camera got flaky - wouldn't shoot, selector knob didn't click. An excellent camera, go buy one now. Canon sure-shot A1 waterproof. $200 at a random Long's Drug in Hawaii. You can get one cheaper. it's lasted many trips and much abuse. Really is waterproof. I've wrecked many cameras with water over the years. My dad emailed me out of the blue to put a new battery in my camera. Two days later it died and I had to go get one. How did he know? He's clairvoyant.
Anyway, a friend with the same camera once told me he cut off his knob. I jerked mine off.
What a strange choice of words. Wrong move. It broke something inside. But I poked around inside, the camera made its waking up sound, and I took pictures. More hassle, less waterproof, but it works. Last night splash! the knob fell out of my pocket, sank.
I just scratched my nails at the quick to see how well they're growing. Seem to be growing fast.
7-11-01 Weds N49* 07.363' W123* 46.131' On a driftwood pile in front of a cottage just before Dodd Narrows. Strong headwinds and waves today, I thought the mast was bending back too much from sheet loads for good sail shape. I pulled over, tipped the boat and tied on a forestay. I think sail shape is better now. Handles strong winds better. Still not as fast as I should be. I should look at sunfish racing book, see how they trim their similar sails.
Dodd Narrows were flowing against me by the time I got there. Lined the canoe up the rapids. One rope to bow, one to stern. Me on shore, canoe in river. I puppeteer it from up on the bank. Ricardo Maya talked to me as I dragged it along. Just graduated graphic design, in very battered thus interesting canoe, curious about mine. Thinking of a trip. I said "take that one. the shape is fine. Do it just like this." A real rapid, haystacks and whitewater.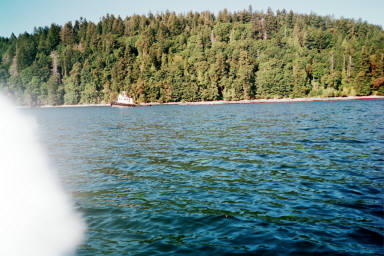 Tug pulling log boom. It just came through Dodd Narrows.
Got stopped by dark and strong winds 11pm. Could have crossed a shallow point here end of Mudge Island, but cliffs and dark shapes that might have been rocks convinced me to turn off and land instead of chancing it. I'd stopped once to add a forestay to my mast. That took the sheet loads that were bending the mast, gave me more control over sail shape. Then I could beat upwind in whitecaps better. Air temp 60* water 61* water is getting warmer and greener.
2:30pm waiting for the ferry from Newcastle Island to Nanaimo.
Then strong headwinds. On proa tack in waves by a ferry dock I dropped the tiller in the water. Capsized while reaching for it. Fully inverted boat in deep water, 3ft waves. I had my righting line ready to outrigger. Stood on far canoe rail, leaned back, pulling on rope. Righted easily with sail still up, sailing again. My bag of garbage was floating away. I sailed over +grabbed it as it went by. 12:30 tied up at dock on Newcastle Island. Numerous funky junky hippy boats anchored around it. Nice atmosphere. Bernard from Quebec in a yacht gave me a w. coast '99 reed's nautical almanac. He had 2ft netting around his deck, his little boy fished with a bare hook.
The whole island is a marine park. Families with puppies and huge loads of camping gear arrive and depart on the little ferry.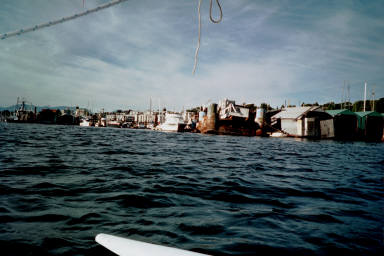 Docks of Nanaimo. Interesting boat lift with airtanks to float and lift boat, scaffolding.
Art Childs from little yacht "child's play" sez secret cove smuggler's cove quiet anchorage supplies pender harbor sheltered. long beach Another interesting old guy sez broken islands w. coast Vancouver Island. "canoe routes in BC" half latex paint half portland cement good glue for styrofoam beadboard.
Newcastle Island N49* 10.816' W123* 55.789' water temp 64* air temp hot. 7pm I'd like to buy a topo map of the coast, but the chart guy has beliefs. I'll have to get them somewhere else. He says I'm required by law to have real charts and it's necessary. 27 charts to AK@ $25 each. He's the guy the "row to alaska" couple liked. I like him less. I got the next two charts to lasqueti Island just to see what it's like to do things "right". RTA couple had 70 charts for their trip. How did they carry them? That's a whole bookshelf's worth of paper. And once water gets on it, it's wet.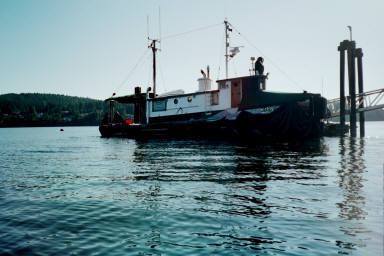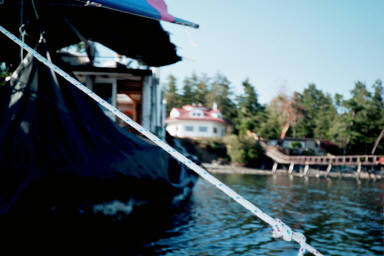 Boat with tarp tied under hull and bilge pump going. Why waste time on repairs?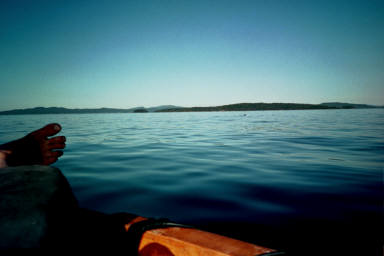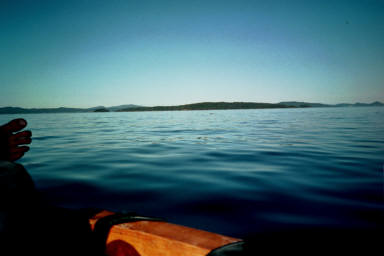 Probably a Dall's Porpoise or such animal here somewhere. A long lense and quick-acting camera is needed for wildlife shots.
Fri 7-13-01 9pm N49* 29.951' W124* 11.615' wp0712 Mother Goose Island part of Jedediah Island by Lasqueti Island. "magical" Russ is right.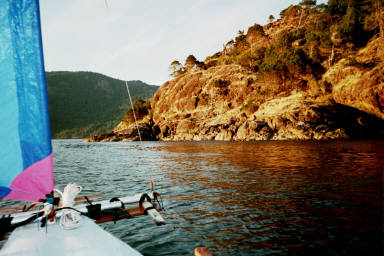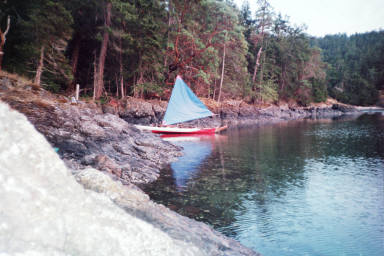 These pictures don't do it justice.
Water temp 64* Air 63* Took a dip. comfortable. Washed clothes. Sunset brings mosquitoes. Better cover up. BC parks bought this island recently with the help of a dead mountainclimber's estate. the story is on a plaque. Nicest park yet. Many large oysters and a PSP(paralytic shellfish poison) warning sign. A horse here somewhere that "becomes agressive when fed". Rocky islands and intricate bays. Would be a nice place to stay for a while. But I better sail while there's wind. Up at 5am. Sun finally rising over Texada Island. A tall one. Russ said Texada is the Mexico of the north.
Yesterday headwinds out of Nanaimo, strong. Sail puckered at stay, pulled into little bay to fix it. Nice place, stayed awhile, retied stays, changed forestay from polyester to spectra, which is thinner and less elastic for same strength. Started chopping+whittling oar tholes+bulls from windfall oak. Noticed wind had dropped. Sailed+becalmed, then sw tailwind to Lasqueti. Whittles tholes+bulls. Today tacked into headwinds, now becalmed even w/lasqueti n. end. Yesterday the radio said torpedo tests whiskey gulf, thought I might see John on his boat. He's captain of a torpedo test ship. Guess he was gone before I passed through. I see snowcapped peaks N. end Vancouver I., didn't know they were so tall. I always want to camp away from people and houses, but there are always some. Overpopulation sucks. Hopefully it thins out past the tide rapids like Bernard says.
sat 7-14-01 N49* 40.274* W124* 29.329' wp0713 water temp 61* air 59* 5:45 am underway. Slept in canoe in sleepingbag anchored with rope tied to rock. Sponge bailer made it dry inside yesterday. New oarlocks are great. Row 4mph easily, 3mph even easier. Rowed til 11pm. It got dark, anchored next to breakwater. Tide went out, started to ground. That woke me.
Came 17.8 mi yesterday despite mostly calms and light winds.
Previous Next Page 1 2 3 4 5 6 7 8 9 10 Home Copyright 2001 Tim Anderson