scroll down for more, click on any image to see a larger version in a new window.

Previous Next Page 1 2 3 4 5 6 7 8 9 10 Home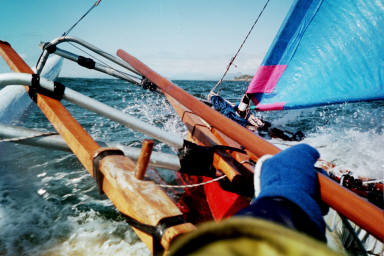 This is really what it feels like to be powered up. Lots going on. Moving fast.
Leaning way out and back, sped up. Might be planing a bit. Saw rock with breaking wave. Surprise. It's a grey whale. Two of them, very close. Going about their whale business amid the kelp. waves and rocks. took text. Further on, much rough water and wind, leaning back broke oar rig board. Pulled other across to lean on. Later turned around fiddling with something outrigger lifted. Pushed tiller instead of pulling it, capsized. All wet. Not too cold, sailing again in 5-6 minutes. Not much water got in. Foam lip is good. Flips up and down. Bailing water from spray. Much spray that day. Got into current by Calvert Island, wind died. Lost ground, set up to row again, some lashing. Rowed in moon til 1am. Slept on top in sleepbag, anchored. All covered for gnats.
diagram
figured out why 2 or three cords in sail attach to spar lashing in Marshallese sail. I tune my sail by sliding on spars. Pulling tack, clew, head lines. Doesn't work if your sail's tied directly. The extra line(s) gives it a few inches play which is plenty.
Tues 07-31-01 N52* 03.748' W128* 00.711' Fancy cove. Came 38.4 mi. today. Downwind for a few hours. Grey whales, tail slapping. Passed Namu just before Bella Bella. Go there am tomorrow.
Weds 8-1-01 Groceries in Bella Bella, friendly folks at dock, fisherman gave me a lure. Sailed in E, S winds 42.6 miles to Klemtu. Some outside. Fog. Used compass. Nice swells. Islands with breakers. Tough looking fishboats. Nice to be out on the ocean. Fantasy of going to Japan. Dragged lure, caught salad. Now 427mi from launch.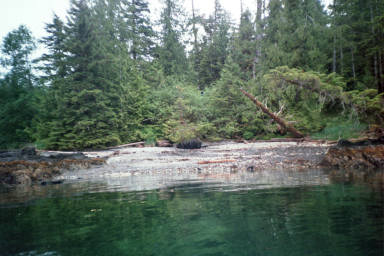 A white shell beach means an old native site. It might also mean a decobbled area of beach for pulling canoes up.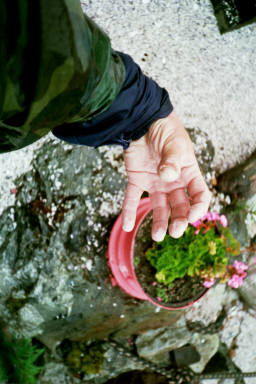 Hands puffywrinkly warty like leprosy from freshwater rain. Days in the bathtub. Bought vaseline for hands+oarlocks+butt. Saltwater sores starting.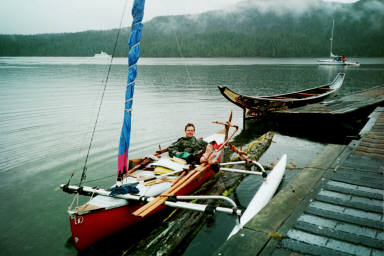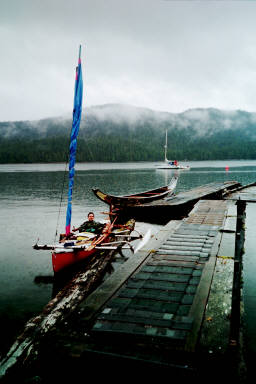 Native canoe at Bella Bella aka Waglisla.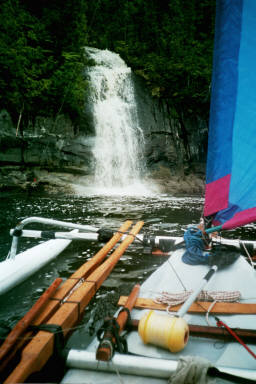 New mountains, rain mist fog. Many waterfalls and each time I passed one I got hit by a big gust of wind. A waterfall means a river means a valley means cold air falling in the evening.
Heikish Narrows
turns
max time
speed
6:30
9:30
+2.8
12:20
15:10
-2.2
18:30
21:30
+2.6
direction -ebb 145* +flood 32.5*

7am Thurs 8-2-01 Klemtu drying a bit in laundry room. Like Klemtu a lot. Clean. Very friendly. Dry- no booze. Wet- raining. Many community projects. Native culture. Low Inlet Greenville channel good anchorage. Dundas Island N. Prince rupert black flies.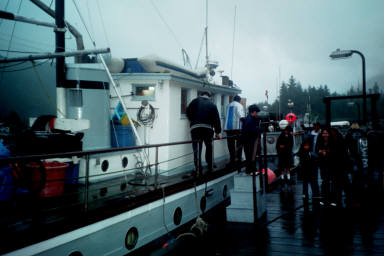 Bought green+white "coyote" spoon from peddler boat.
Natives in Klemtu smell like clean laundry. Smile and friendly. Not wearing raingear in drizzle, guess it dries as fast as it falls on a warm body that started out dry. I smell like a bouquet of soggy dog-mildew. My hands look like leprosy. I'm barefoot and wet. People smile. Aluminum and plexi signs point out things of interest, things to do. Once had world's longest boardwalk around the little bay. Battle with gov over expense, they provided lumber, locals built it. Electricity is out, town is very peaceful. Problems with the town's hydroelectric plant.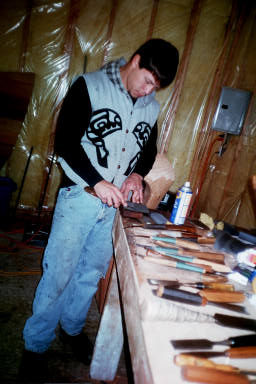 Jr. Henderson sharpening his crooked knife with fine sandpaper.
www.kitasoo.org Send text to band office Klemtu BC.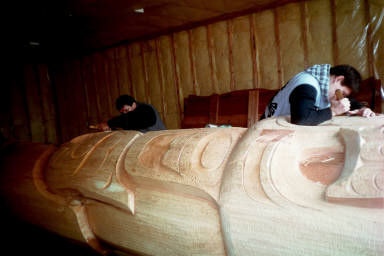 The totem poles display all the crests owned by the families of the town. These crests are a form of inherited wealth.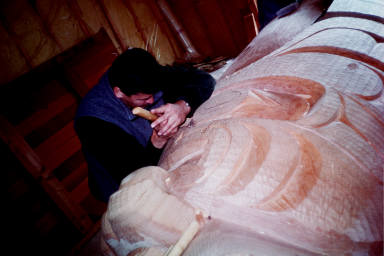 Tom Hunt cooked-knifing..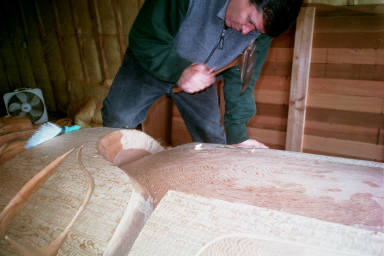 Tom Hunt adzing the final surface. These highly skilled carvers have been working full time on these sculptures since January.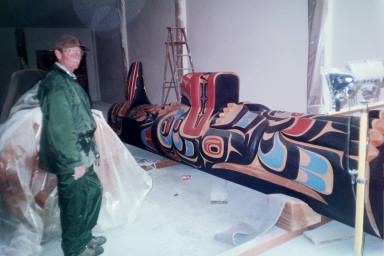 Mike Wood showing me the two columns that are already in the big house.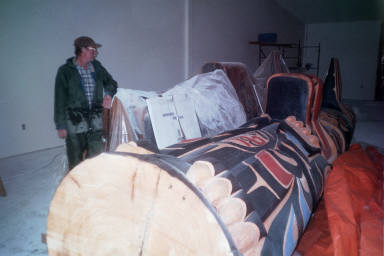 The major strucural beams are hollowed out and backed with laminated beams. The building code requires log beams to be xrayed. It's easier to build with laminated beams covered with hollow logs.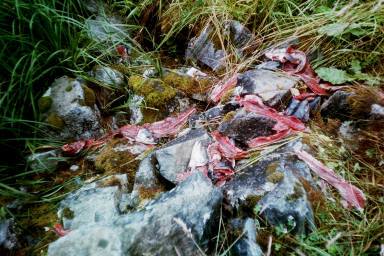 Remains of salmon thrown out for the ravens.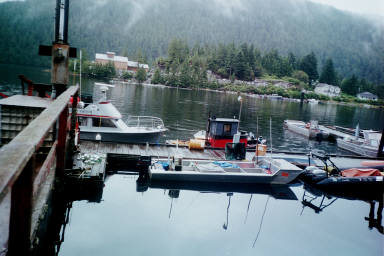 Herring skiff at the town dock.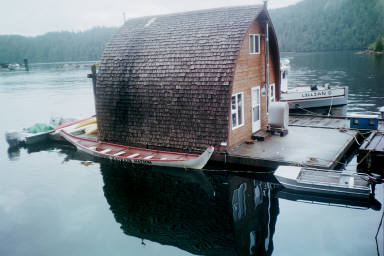 Float house and native canoe.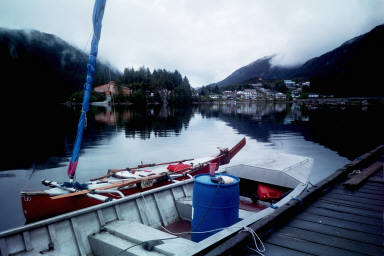 Big house in background. Opening potlatch will be May 31-June 1 2002 unless there are family deaths.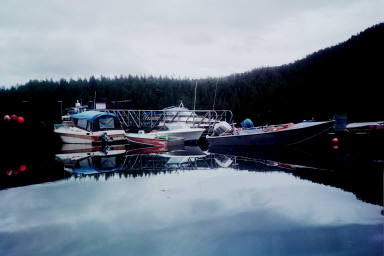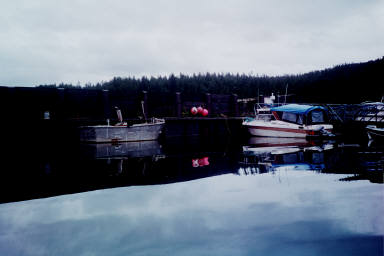 Power boat with full cover for rain, power skiff from seine boat.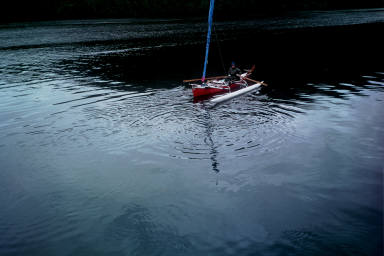 Rowing away from Klemtu. Around the corner I met Murray "Moose", "M+M" works for hydropower. He and a couple of engineers were on a steep rocky shore below the hydroelectric plant. His brother had dropped them off and started halibut fishing. In sight, he couldn't hear them yelling. Moose tried to call him on my radio, but no answer. So he called the band office for the "sky cab", a float plane. The plane swooped down and buzzed his brother. Then he looked around and saw us waving. Call, he'll put me up.
Previous Next Page 1 2 3 4 5 6 7 8 9 10 Home Copyright 2001 Tim Anderson