scroll down for more, click on any image to see a larger version in a new window.

Previous Next Page 1 2 3 4 5 6 7 8 9 10 Home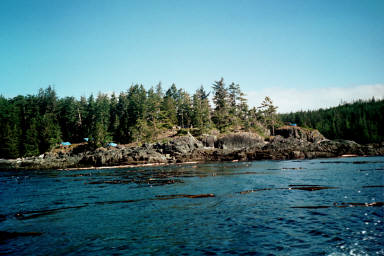 The boat bay camp. This camp is funky-cool, nice people, beautiful views.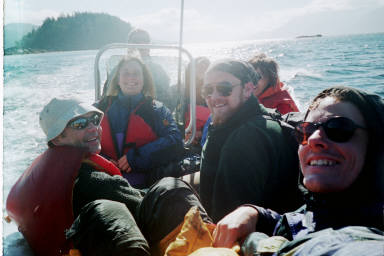 Showering in salt water on the way to the cliff.
Called creditcard 800# from Nick's cellphone, sent check for bill. Don't have to check my pobox to pay my bills.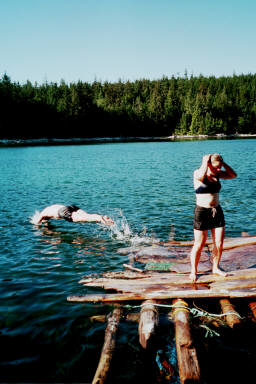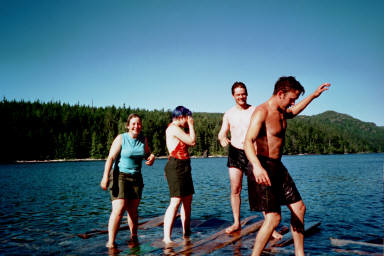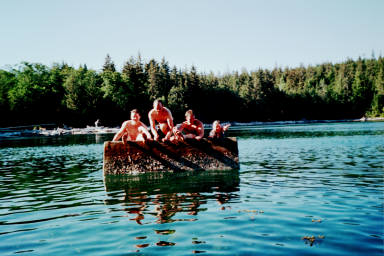 Swimming in bay with Doug's raft.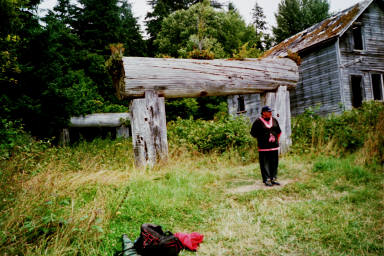 Thurs 7-26-01 Village Island. 10:15-2pm 7 miles by crow from boat bay.
Tom Sewid: "I'd be failing my duties as caretaker if I sent you out into these conditions. Share my campfire tonight. I'll tell you about some good places to visit." So here I am. Everyone takes these weather forecasts way too seriously. www.villageisland.com vhf channel 79A 250-282-3338
Tom Sewid is quite a character. He didn't give me much choice about staying there really because of the gale warnings. I ended up getting a lot out of it. Stayed up late talking. Beer and maps. He gave me lots of pointers for the way up. His wife Kathleen(?) used to sail polynesia. Both think natives here related to polynesians. Maori sea serpent god with same name as local sea serpent god. Matrilineal, potlatching, they listed off a whole bunch of similarities. Tom works hard and generous. Puts a lot of passion into his culture talks. Into the old warfare stories. Gun on ground during talk, island thick with berry bushes and bears. He counted 27 in view once in the berry patches. He's a hamatsa, chief's bodyguard and ritual cannibal in the old days. Handshake dance. Chinese coins on old burial garb way pre-western contact. 1800 bc "jade islands" iron spikes on driftwood wrecks. Has no use for whale wardens. Natives not consulted. Seems to natives like yet another attempt to take something away from them.
Tom says soak kelp in fresh water to shrink down the stems, make fish line. Alert bay- carving by cultural center. Park boat on kelp in storm. Damps out the waves. White shell beach is old village site. Daryl here armed for bear. Dan+ Don from saskatchewan. Offerings- pouch of tobacco.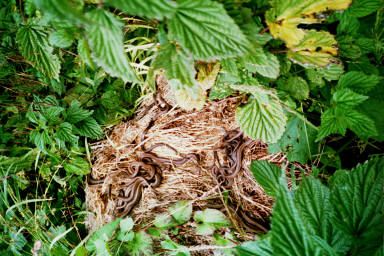 Tangled mass of snakes slithering away from the camera. A snake snuggle-fest among the salmonberry bushes.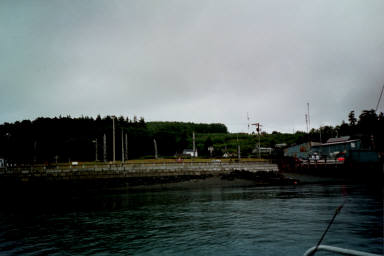 Park full of totem poles at Alert Bay.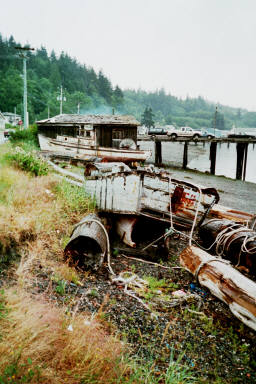 Retired gillnet boats at Alert Bay.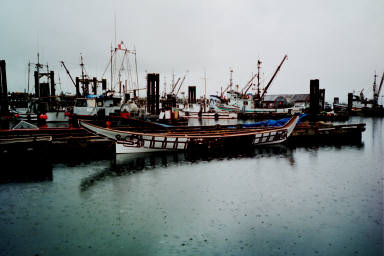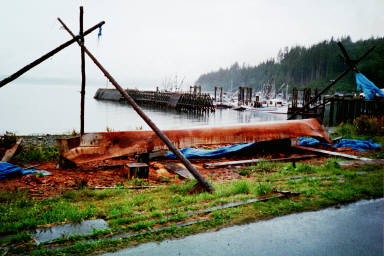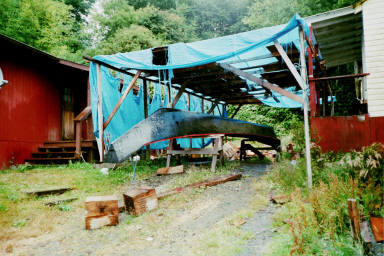 Native canoes at Alert Bay.
Sat 7-28-01 11am 61* air 51* water Sointula on Malcolm Island. Nice place and friendly. Came 19.8 miles yesterday.
Chraist! Seattle? Nice yachtie gave me $2 coin Sointula for a shower. Helped tie up at dock 9-10pm. Nothing open nice hot shower and shave. Hot water in tap and bucket for coinless folks. Am Kim's burger barn halibut sandwitch, museum, thrift shop, co-op store left over from 100yrs ago commune "place of harmony" in Finnish.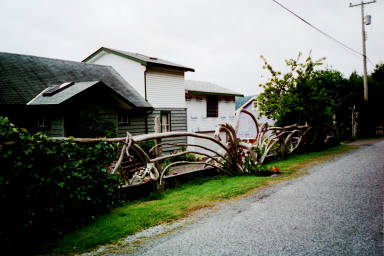 Driftwood fence in Sointula.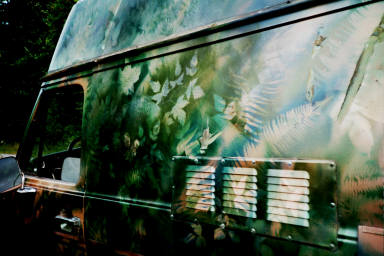 Leaf-stencil spraycan paintjob on van in Sointula.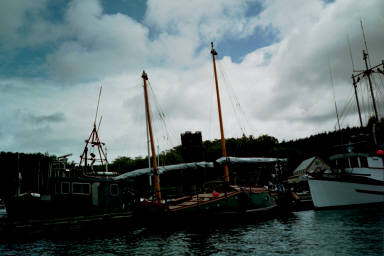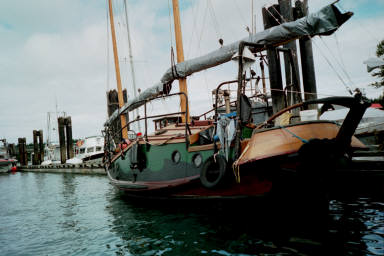 Junk-rigged Rose of Nootka in Sointula harbor.
Troy at rubbing beach Bere "bear" point. I sailed on, smelled many roses lately, good wind going the other way, going to try for some miles. <!Missing Nina. > Felt good to row. Athletic fantasies. Lubed oarlocks with udder balm, big difference. Much easier to row. Much friction before. Now slick and easy. Gunwale edge sets angle of attack of blade, slight rotation. Perfect system. Good job Irish! Foam block for feet to push off, butt pain decreased. Remembered article. "without foot brace, all rowing force transmits to boat through seat." and your butt can't take it forever. Pain makes it hard to pull hard. No pain in neck unlike singleblade paddle. Slight blistering stopped with gloves on.
Shower at marina. Got loaf of bread, can of tuna, apple, sewing ruler. Left all garbage there, bread in paper bag. Rowed and sailed in light wind and rain. Unpleasant. Need water repellant garb. Bldg 19 neoprene waders with feet cut off would be good. Missed Nina.
Wearing $2 thriftstore sweater as pants, then shorty wetsuit, fleece, bib rainpants with fresh coat of neoprene contact cement on butt and crotch. This helped some. Then goretex jacket, lifejacket should have been inside it. Sun mask, fleece hood of jacket, fleece hat, windjacket hood. Gunte gloves great for rowing, neoprene reef boots. Wet cold and miserable, hands weak useless and wrinkly. 8:30pm checked gps, only 17.4 miles. Rain stopped. Took down sail and rowed. 3am came 42 miles. Too dark to land well. Much luminescence in water. Clouds of texties each oar stroke a glowing footprint. Wake of hull and ama glowing ripples intersecting. Splash of oars a flash, glowing spots stuck to boat from splash. Tired. Rowing 2mph. Glassy seas. Light in sky, moon and stars then clouds. Came through numerous islands. Big rocks and low mountains on shore. Then ocean swells and surf sound on shore. Barge passed with tug. Got flashlight. Got amid rocks with light marker. Put on red bike flasher, drifted and slept til light at 5:30am. Hoped it wasn't a signal "wreck your ship here". drifted with spray skirt around shoulders. Rowed til 9am 8.5 more miles to last bay before cape caution. Tired, rowing 2mph max. See my breath. Large sandy beach, calm around hook. Beached, gathered limpets, tried "hobo stove" which sucked, cooked them and the as usual oatmeal. Kayakers stopped. He caught fish with "spinny" lure and let it go. Slept til 3:30 pm.
Sunday 7-29-01 N51* 06.320' W127*40.488' Started loading to go, weak and wimpy, rapid pulse, blackout feeling. Ate and drank more. Sugarlow? Dehydration? Limpet poisoning? Just worn out? Whitecaps on bay, decided to stay a while. Feeling better. Everyone scared of cape caution. Cliffs and shallow water make waves build up. I should be strong for that one. Not do it in dark either. Sunny and puffy clouds. Layng on driftwood. 14ft tide coming. How high is that? Butt or neck high? Big cedar propped on smaller trees over my right. I hope not to be under it when it falls. Kayakers say they heard there's a grizzly here somewhere.
12ft canoe like aquacat, row over outrigger, leg hole and skirt. foam over form with polyester or cedarstrip. My sail is only 8.4 meters or so. Damn. I thought it was bigger. Same sail as hobie cat means 24ft booms. What would that be like? Big. Half a tornado would make a good row/sail single outrigger. What sail? Cats hard to right, heavy from staying loads on beams etc. Can't selfsteer because it's an inverted pendulum.
Docks here use asphalt gravelly shingles as nonslip surface. Lots of people wear "mustang" brand foam-insulated "float-coats" and survival suits. Even if they don't have to. Feeling better.
Considered going out. Walked to point. 8-9mph NW, straight off cape caution 4hrs sunlight left. Go and be cold, or stay and be warm? Will that be the question for the rest of the trip? Swells not as much as I'd expect, must be a local wind. Will die tonight. I'll stay and warm, get muscles back. Try in AM. Let the tide carry the canoe up. 20:45 + 1hr for FDR = 9:45 pm 14.1 ft. Tomorrow 0405 3.9ft 1035 11.5 ft. Should lanolize the hell out of my garb next stop. Where's the next drugstore? Prince Rupert? I've come 327 miles from Keyport. Less than halfway to Ketchikan. To do over I'd start north and come this way. Run downwind fast in these NW winds. Get on a ferry when it got too civilized south of Seymour Narrows. Every once in a while I go drag the canoe a bit further up the soft yellow-brown sand. Sitting on driftwood writing and looking for drugstore.

9pm water 54* air 56* sunset. Missing Nina and being warm. Was in bare feet. Broke out more of the november gear. Mickeymouse boots, wool socks, add an inner layer polypro turtleneck, stormkloth fleece balaclava. One fleece jacket and neoprene hood, mitts in reserve. Customs John "What exactly ARE you carrying besids clothing?" But that's the most important thing. 1/8" of neoprene foam and a greasy meal can be the difference between fun and death. My old system was uncomfortable but safe. Equally warm wet or dry. Didn't matter what the conditions were. Always clammy. Another way is comfortable and dangerous. Have to be dry to be warm. Sweatshirt and jeans. Colder than nothing when wet. Soaks up a gallon of water. Takes several days of calories to dry. Heavy. Boats and clothing. Closed cell foam, etc. Never works that well, always works. I always knew how cold I could be cuz that's how cold I was. Now I have other problems. My butt needs to be dry most of the time or will be too sore to row. Need a system that's totally comfortable or I won't want to fish, and in shipwreck is survivable. Foulies are sealed but loose for airflow so they dry eventually. Not so much airflow that wet clothes are cold from evaporation. Must get Lanolin. Maybe sno-seal at swanson's landing. Sitting on rocks watching sunset. Two otters 12ft away, craning their necks at me and grunting.
Oars are clear sitka spruce 96.5" long = 8' 1/2". page of diagrams and notes on the oars.
Mon 07-30-01 29.4 miles yesterday. Anchored 1am spooky magical little bay off Fitzhugh sound N51* 31.579' W127* 46.623' p0730 w 6:45am tues 07-31-01 capsized, saw grey whales, deer approached me, otters. Hard sailing around cape caution. Broke things. Air 59* water 58*F 11Am running with light south wind. For once the forcast was close. Woke up 6 or so, rowed 6 miles tol 9am couldn't keep up with the wind. Letting things dry out on deck, BC ferry passing me up. A guy in a powerboat approached me this am asking directions to River's inlet.
Yester day mon. got up. Packed and walked beach. Blacktail deer. doe, fawn, buck. They were looking around for seaweed? I walked past. They approached to 15ft or so, eagerly I thought. Sat on logs with kayakers and watched them a bit. After a bit mama charged at the kid, herded him off. Dad followed. Kayakers pointed out whales spouting. Sailed off, trying to remember to bear off. 45* to the wind I go to windward. Feels sort of natural. But a few degrees off, 10 maybe or 12, I go more than twice as fast. Waves high, wind increased. Took text. Hope they turn out. Waves from curious comm fishboat. "Beating" confused 6ft waves and whitecaps. Cape Cuddly? Cape Wimpy? Instead they all have scary names. Canada is a parallel universe. The 49th parallel universe.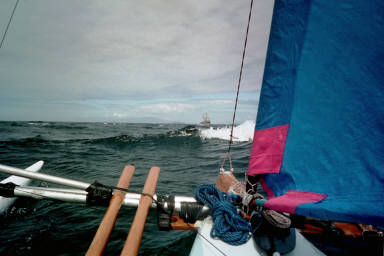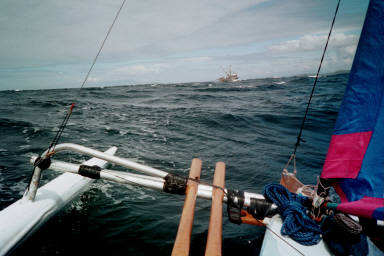 Sailing around Cape Caution. Cliffs and shallows increase the swells.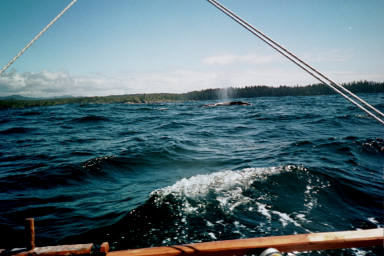 Grey whales going about their business among the kelp. Startled me at first. I thought they were rocks with breaking waves I might hit.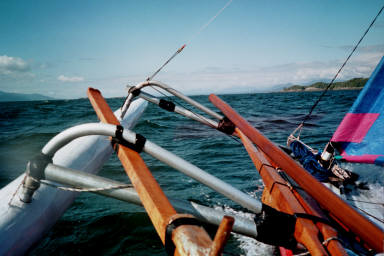 Previous Next Page 1 2 3 4 5 6 7 8 9 10 Home Copyright 2001 Tim Anderson