scroll down for more, click on any image to see a larger version in a new window.

Previous Next Page 1 2 3 4 5 6 7 8 9 10 Home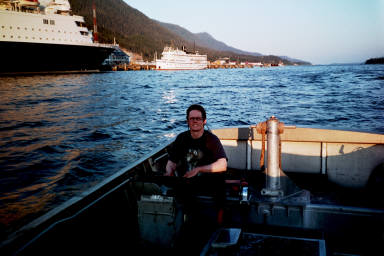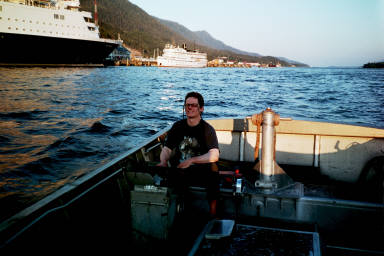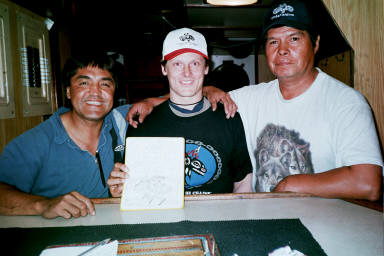 Peter's an artist. He's drawn his family crest in my notebook. It's a two-finned killer whale composed of other crests. We've been exchanging gifts. Roland gave me the hat. Peter gave me a Bella Bella wolf shirt. He said, "You're a wolf now." "What does that mean?" I say. "I'm fierce?" He: "Oh no. A wolf is very friendly, you get along with everyone."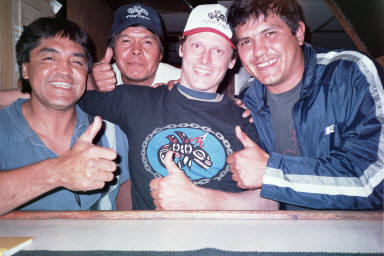 Peter, Roland, myself, and Mitch.
Mitchell's a basketball hero, wins pickup games all over. For respect, not money.

Native philosophy from a program in Bella Bella:

Choices Adventures of a Lifetime 6 points of power:
1. Pay Attention
2. Speak the truth
3. Be responsible for your experience (be accountable)
4. Ask for what you want.
5. Keep your agreements.
6. Strive to create value in all things.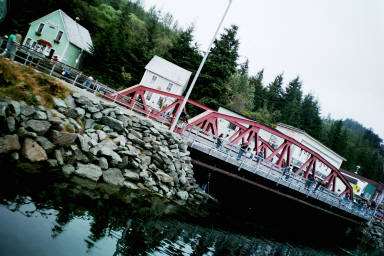 The bridge over Ketchikan Creek. The Green house is "Dolly's House", a historic site and brothel museum. A dozen people are fishing off the bridge. A thousand salmon are lazily swimming under the bridge, just keeping up with the current. Fishing here means bobbing your lure in the face of a specific fish. Either it bites it or leaves. Then another fish fills its spot.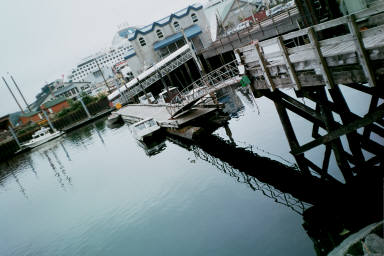 Floating dock built on logs.
Bao Long taiwan makes net floats of nice plastic foam- springy. American Group makes Amsteel spectra rope product of Netherlands. Burningman is Aug 27- Sept 3 Gerlach, black rock city.
diagram
boat outrigger, rig, etc.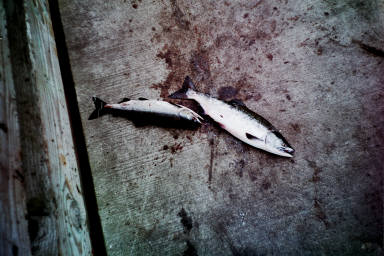 Salmon on the bridge sidewalk. Kids fish there all day, catch more than their parents can use. Cody gave me a fish.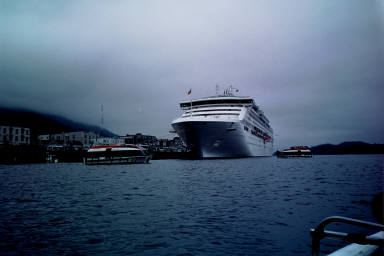 Too many cruise ships to fit at the dock. Passengers going to shore in lifeboats.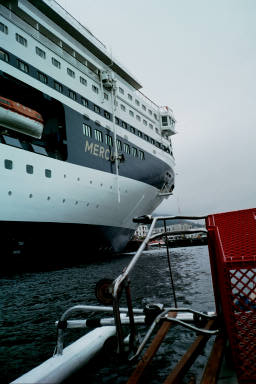 Painting the name on the side of the cruise ship. Interesting scafffold.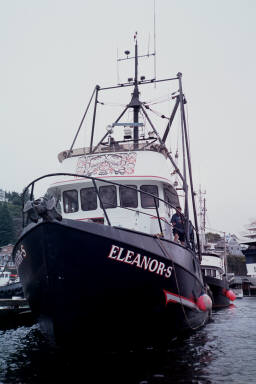 Family crest painted on the eyebrows of the boat.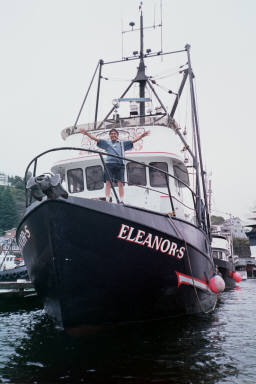 Peter being his exuberant self.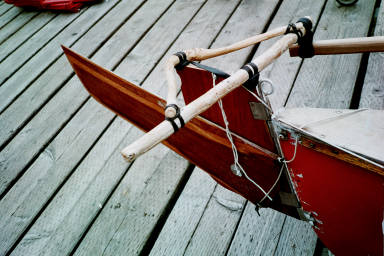 Taking it all apart to put on the cart. Detail of kick up rudder and push tiller.


Lee board attachments.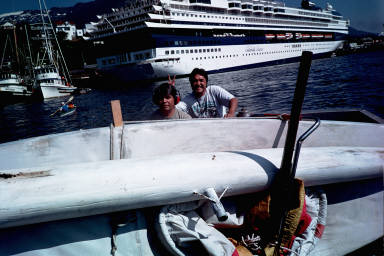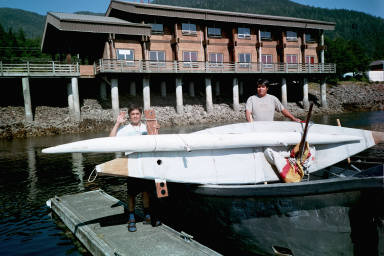 Peter, Roland, Mitchell and the others were extremely nice to me, gave me and canoe a ride to the ferry on their "power skiff", helped me push my canoe cart around and onto ferry. I hope they catch some fish. They're laid up in Ketchikan with engine trouble. The season's almost over and the price has dropped from 14 cents/lb to 5 cents. No way to make a living, and some locals told them if they sell at that price they won't have many friends here. So they're screwed no matter what happens. Today fortunately Mitch got a $300 scuba job "diving the wheel" of a fishing boat that tangled its net around the prop. He brought his scuba gear up with him.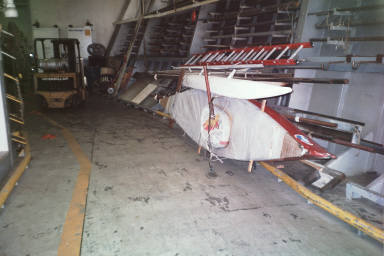 Canoe and cart down in car deck of the ferry. The spars and gear all fit inside. Easy to move around.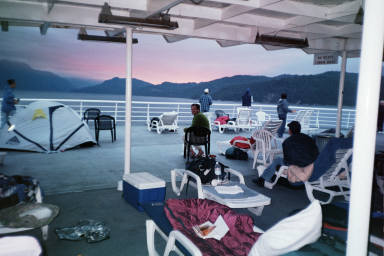 Weds 8-15-01 5:30pm underway on the M/V Columbia $180 me +$30 Alternate Conveyance=canoe. On the ferry to Bellingham.
Lots of young and old people on ferry, tents pitched on back deck. You can get on the ferry early, grab deck chair, pitch tent.
Kyle Pfister new architect from risd knows Sung Ho Kim.
Leonard on ferry met in Prince Rupert.
In Johnstone strait we saw some orcas just north of Robson Bight. When we passed the cliff I called on my radio on Chan 77, had a nice chat with Cheryl.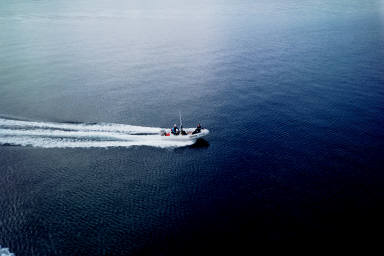 Talked to Doug on the radio "Warden One". He came alongside, we talked
over the rail. I felt like I should be throwing him microfilm or such spy contraband.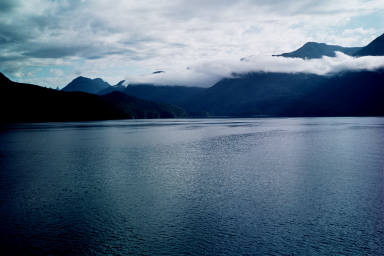 Robson Bight.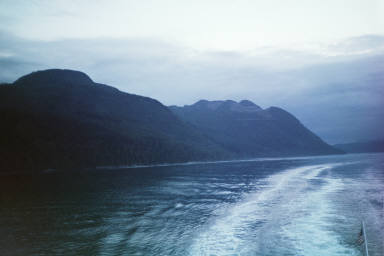 Mount Mr. T.
God built a monument to the star of the tv show "the A team". Some lumberjacks gave the mountain the facial hair to match.
Previous Next Page 1 2 3 4 5 6 7 8 9 10 Home Copyright 2001 Tim Anderson