Day 7: Lukla to Namche, a long but beautiful walk. Now we're really starting to see the big mountains -- Thamserku, Karyolang, Kusum Kangguru, and others I can't name or remember. We stop for lunch in the town of Phakding, which is bisected by the Dudh Kosi ("Milk River"). The bridge you see in the picture below is typical for this area. It is a steel cable suspension bridge, with a metal grid for a walkway and hurricane fencing along the sides. Prayer flags are tied to it, fluttering in the constant breeze. If you walk carefully, moving with the swaying of the bridge, it's fine. If you're a yak, it's not so fine -- they hate walking on the metal grids with the river rushing below them.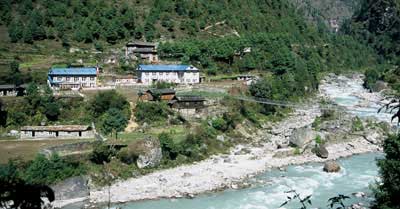 The Dudh Kosi looks like it would be a blast for whitewater rafting. We talked about it occasionally, as we followed the river upstream for a few days. But not seriously -- it's cold, powerful, and studded with huge boulders. And it really is an opaque, milky, blue-white color, due to the glacial silt and dissolved minerals in it.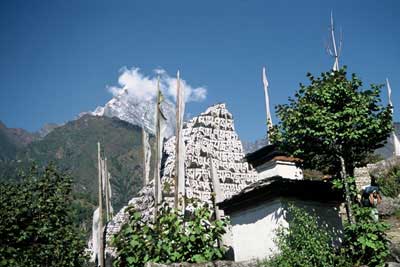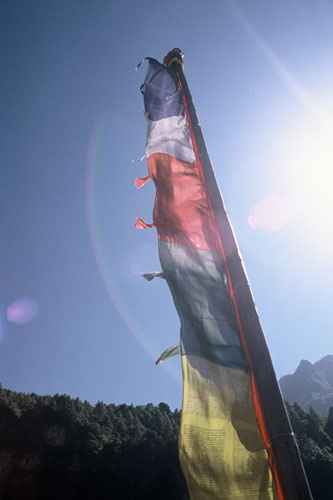 Above is a prayer pole that stood in front of the lodge where we ate lunch. It's the height of an American telephone pole, give or take; the banner on it is covered with prayers, "Om Mani Padme Hum," repeated over and over. Prayer flags are similar. The idea is that with every flap of the flag or banner, those prayers are sent heavenward. We saw many of these poles in the Sherpa towns we trekked through.
The same prayers are carved in enormous letters on mani stones. The one on the right stood at least twelve feet tall, maybe more -- notice the porter passing it on the far right of the picture. We passed many of these between Lukla and the entrance to Sagarmatha National Park. Some were brightly painted like this one; others were ancient and moss-covered, and difficult to discern. Out of respect, people on the path would always walk to the left of mani stones, mani walls, and prayer poles.