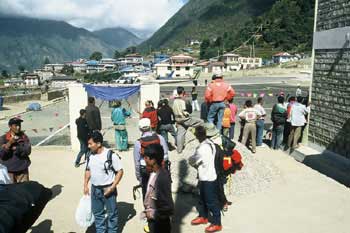 So they finally came in around 3:30 or so. The picture to the right shows a Twin Otter prop plane, typical of the ones that fly in and out of Lukla every few minutes during the busy times. In the foreground on the left is our AAI guide, Luis Benitez; on the right, with the purple backpack, is our Sherpa sirdar, Passang. (The picture was actually taken in Kathmandu after the return flight. But just imagine mountains in the background; that's what it looked like in Lukla. And yes, the plane is labeled "Yeti Airlines.")
The plan had been to hike out to Phakding that day, but given the time when they came in, there was no way we were going anywhere. We went back to the lodge and spent the night there, after having watched a Chinese-issue DVD of an American movie in the dining room of a different lodge.
There were only two other clients on this trip: Leslie, a woman from Colorado, who also came in on the Lukla flight; and Tad, a fellow who was already in-country somewhere and had planned on meeting us in Lukla. He ended up meeting us further up the valley. Unfortunately, we had to let Govinda go at this point, because we would use yaks instead of porters from here on up. It was sad to see him go. So there were seven of us now -- Luis, Passang, Nima, Leslie, myself, and two yakherders. And several yaks.
Day 5: Puiyan to Lukla, where we were to meet the rest of the team. From Puiyan, we continued to traverse the hillside we'd been walking for two days already, through jungle-like forests. Finally, we climbed a long, hard hill to Lukla -- two thousand feet of sun-baked switchbacks -- and arrived in plenty of time to settle into the lodge.

The next morning, Nima and Govinda and I went to the airport to meet the team's flight from Kathmandu. Well. You have to understand something about Nepal: clock time doesn't mean much, even when plane schedules are involved. Lukla flights are famous for being late, early, reordered, or simply canceled; and there was really no way for us to find out why they weren't on the morning flight, nor when they would get there. We hung out at the arrivals area (left) all day long, more or less. It was OK. I got a chance to people-watch and catch up on my journal.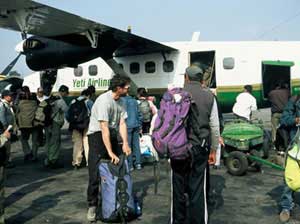 Leslie tells a frightening story about flying into Lukla, whose runway is perched on a hillside plateau between a steep dropoff to the river on one end, and a steep slope up a mountain on the other end. As their plane came in for a landing -- aiming at the mountain walls, apparently -- the flight attendant seated across from her stared down at the hillside, then up at the cockpit with a deeply alarmed look, then down again. Overworked planes, unclear schedules, the highest mountains in the world, and the smallest airstrips in the world; not a good combination, I guess. They seem to have remarkably few accidents here, though.