I wanted to walk among the Himalayas. So I put my job on hold, signed up for a three-week trek with Alpine Ascents International, arranged an early arrival to do some solo trekking, and flew to Nepal.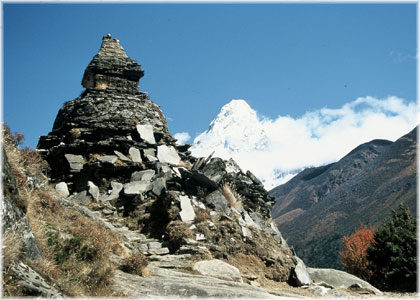 Nepal is a country where the sublime and the profane exist in extremes. Above you are the biggest mountain peaks in the world; under your feet are dust and yak dung. The all-seeing eyes of Buddha look down from a golden stupa onto poverty, overcrowding, and pollution. We Americans are not comfortable with the Third-World living conditions here, nor with the odd and easy mixture of Buddhist, Hindu, and animist faiths. We cannot imagine the sheer size of a 26,000-foot mountain until we are there beside it. And after September 11, we are scared to travel, especially in Asia.
Three of us went on this trek anyway.