Day 8: Namche. We climbed a 2000-foot hill to reach this odd and delightful town, where we stayed for two days to acclimatize. Most of the larger buildings we saw were lodges or stores, drawing in trekkers with street displays and English signs. But before trekking became a big thing, this was already a market town, being the crossroads at which Tibetan traders from the north did business with Nepali traders from the south. The "streets," really stone paths, are steep and narrow -- our feet got used to walking these in Tevas! -- and are lined with vendors selling everything from sleeping bags to used books to toy yaks.

In the picture below, the store on the left sold all kinds of things, including laundry service (done in a Western washer and dryer they'd had hauled up last year). It is also a branch of IME, in North Conway, NH. It was strange to see their sign here.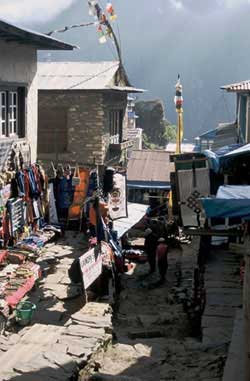 Namche even has an Internet connection! There was a cybercafe in the middle of town with a dedicated link. At a few hundred rupees per hour, it wasn't cheap, but it was worth it to send email from here. The cybercafe also did a service to the town by posting the daily headlines, from cnn.com, on a bulletin board outside the building. We reluctantly read about airstrikes in Afghanistan and anthrax scares in the US.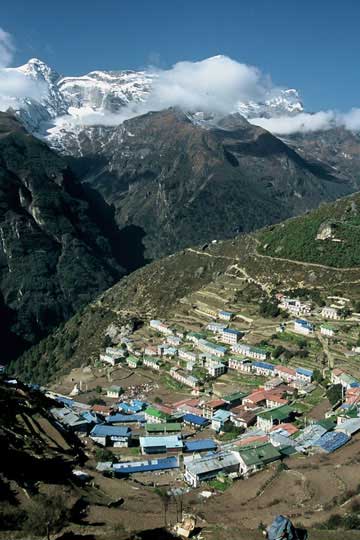 There is still a Tibetan market at the bottom of the natural amphitheater. They sell mostly mass-produced Chinese goods, so far as we could tell. Our favorite knockoff was the child's quilt that was covered with Dalmatian puppies and the words "101 Dog, Happy Happy." Second best was the jacket with the Adidas logo and the word "abibas."