The monastery had apparently fallen into disrepair for a while, but a restoration fund had recently been started, and Luis kindly took us through the place to see it. That's Leslie beside him. (We were to meet Tad, our third client, that night.) Like all monasteries up here, it was brightly painted, and had flowers -- roses, in this picture -- growing around it.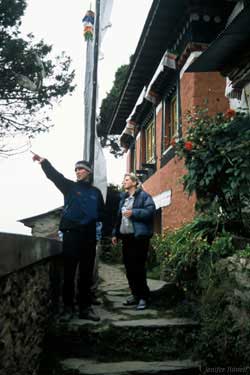 We stayed in the Himalayan Hotel, which is run by a wonderful family that Luis has known for a few years. The evening before we were to continue upvalley, we pulled out all the Western food we'd brought in from Kathmandu, plus the food left over from an AAI expedition to Cho Oyu that had just finished. In the picture below, Luis, Nima (in the red jacket), and Passang are sorting and repacking the supplies we decided to take.

Western food was more than welcome -- I'd been eating in lodges for days, and while the food is varied and tasty, it's not quite what we're used to in the States. Every lodge seems to offer the same dishes, my favorites being cheese omelets, fried noodles (or rice) with vegetables, potato momos, fried potatoes, and plain old canned tomato soup.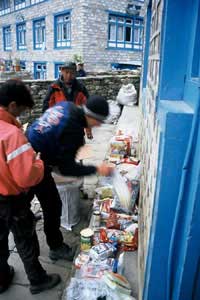 Snickers bars and Triscuits tasted really good...