Day 4: Kharikhola to Puiyan. That day was probably the hardest -- the ups and downs were difficult, and the morning sun was relentless. By afternoon, it had started to cloud up, a weather pattern that would recur every day throughout the trek. As we reached the crest of the Khari La pass, I stopped for a breather, turned around, and saw the sun come out just long enough to take this picture:
Kharikhola was actually one of my favorite towns along the trek. Its houses and lodges were very typical of Sherpa architecture: neat two-story buildings of hand-hewn stone, with copious windows, brightly-colored wood trim, and a front door that opens directly onto the main trail -- sometimes with a flagstone patio, and perhaps a prayer pole. Vegetable gardens, marigolds, roses, cosmos, and banana trees filled the green spaces around the houses. (Yes, they grow bananas at 9,000 feet. It apparently doesn't snow much, even in winter.)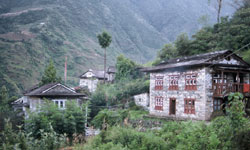 Our lodge's three private bedrooms were in a separate building, one which gave us a terrific view of a high, snow-capped ridge. The lodge was run by a Sherpa family that didn't mind us hanging around the next morning, washing clothes, playing games, and watching trekkers and porters and yak trains go by on the main trail. Their two daughters were charming -- one was fifteen, the other ten months.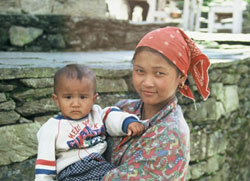 The little one did not want to be held still that morning. She had just gotten finished taking a few steps, that, to hear the joy of her mother, might have been her first!