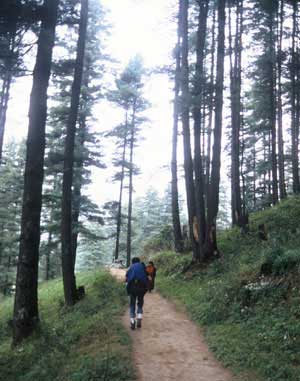 Before we got to Junbesi, we did meet up with the main trekker route. The trail is wide and friendly to the feet through here, though that's not always the case, especially on the steeper and more eroded stretches of trail. (It's hard enough to deal with the altitude on uphills; I was thankful that the trailcraft is so good!) People who lived along the path would greet us as we walked by -- especially children -- and it was as common to hear "Hello! Hello!" as it was to hear the more traditional "Namaste!". On the trail, people who passed us would occasionally greet us, though porters rarely would.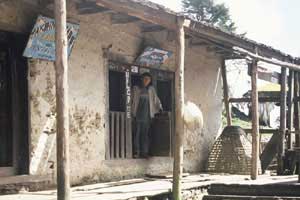 Day 1: My Sherpa guide Nima and I flew from Kathmandu to Phaplu, a town in the Solu district, southwest of the Everest region. Our landing on the tiny dirt airstrip was exciting. There we met our porter, a teenage boy named Govinda, who would carry the larger of my two bags. Neither of them spoke much English, but both were fine trekking partners for this lodge-to-lodge walk to Lukla, where we would meet the rest of the team.

We spent the first night in the town of Junbesi, below. This part of Solu is lush and heavily forested, with huge pine woods (left), deep ravines, and high ridges; the "real" mountains are much further north, but the Solu ridges are quite impressive. The path from Phaplu to Junbesi is not used much by trekkers, since there's a more direct route from Phaplu towards Lukla, but efficiency was not our goal...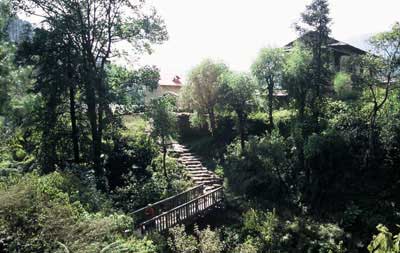 Day 2: After wandering around Junbesi in the morning, we walked to Ringmo. On the way, we got hit with the only rainstorm we saw during the whole trip -- a thunderstorm rolled over us while we walked on a high, exposed ridge. We took shelter in a poor family's home, where the mother of two toddlers made us tea. What wonderful hospitality.
Day 3: Ringmo to Kharikhola. The trail climbed steeply out of Ringmo up to the Tragshindo La, a pass separating the Solu from the Khumbu. There we bought a pound of yak cheese from a shop, shown on the left. That's Govinda leaning out of the doorway. The wicker basket is the kind of thing that porters strap to their backs to carry impossible loads for miles. (30 kg is apparently standard, and 60 not unheard of.)
Below are four kids that came running out to talk with us when we stopped above the town of Nuntala. They were eager to have their picture taken. At least, the oldest girl was, and she was persuasive with her younger siblings!