This dramatic doorway is the entrance to a Hindu temple near Durbar Square, in the heart of the city. Note the scale: the small door inside the arches, on the right side, is almost the height of a person.
I think one could spend the better part of a lifetime learning the deities and symbols in the archway carvings. The kid who was being my tour guide that day didn't know what a lot of them meant. Maybe I'll learn someday.
Durbar Square is also home to the Old Palace. This building is very old, and the wood carvings on it are spectacular. The "new" Old Palace is the white building on its left. But both of them are museums now -- the royal family currently lives in a private compound near the hotel I stayed in, the Yak and Yeti.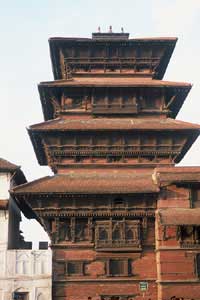 Schoolchildren in Kathmandu are sociable, and are quite used to Western tourists. This boy tagged along with us for a block or two -- not begging, just talking with my guide and looking at me and my camera. I asked him (via pantomime) if I could take his picture. Nepalis customarily don't smile for pictures, but my guide said something to him that made him smile. Neither of them told me what was said!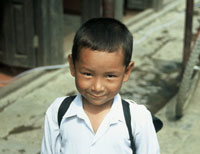 The language barrier causes problems sometimes. Many Nepalis in Kathmandu and the Khumbu know at least a little English -- the schools teach it. But I didn't know nearly enough Nepali to follow conversations. I'm sure that I was being laughed at sometimes (face it, we Westerners are pretty foolish in some ways), but it was OK. You get used to it after a while.