Before starting on the trek, I spent five days in Kathmandu, enough to do some sightseeing and prepare for several weeks on the trail. One of my bags had gotten lost somewhere in transit -- the one with all the climbing gear, of course -- but most of what I needed could be bought in the city, and the thing finally showed up anyway. I started the trek a day late, thankful that lots of extra time had been built into the schedule!

To the right is a picture of the stupa at Swayambhunath, or the "Monkey Temple." It sits at the top of a forested (and monkey-inhabited) hill on the fringes of Kathmandu. Stupas are Buddhist temples that follow a strict architectural pattern: a square footprint, a dome, a four-sided tower with the Buddha's all-seeing eyes facing the four cardinal directions, and a "crown" of sorts from which prayer flags are strung. There is nothing inside the building, as far as I know.

Around larger stupas, you find rows of cylindrical prayer wheels. As devotees walk around the stupa -- always clockwise, even for tourists -- they spin the wheels. Swayambhunath, like its older and larger brother Boudhanath, has a ring of shops and residences immediately around it, plus some Hindu shrines and sacred objects. (They can't be seen in this picture.)

Most of the city is made up of street-level shops, narrow streets, and the occasional surprise shrine or stupa. The picture below was taken near Indra Chowk, in one of the older parts of town. Old and new buildings mix freely; people sell stuff from every possible place, even flowers from a second-story balcony!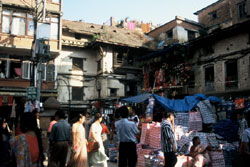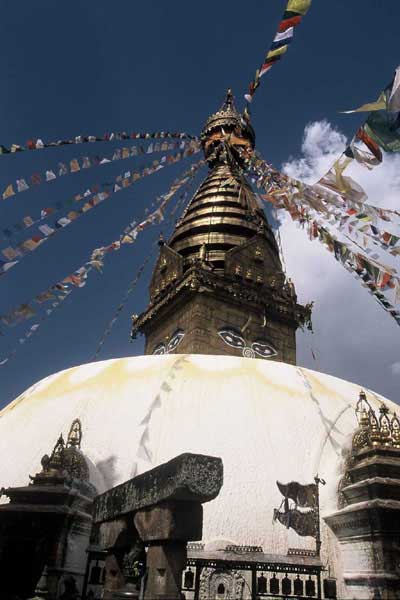 Our itinerary was as follows: I would "solo" trek from Phaplu to Lukla with just a Sherpa guide and a porter. (I was under no illusions that I could carry all my gear myself at altitude, nor find my way without a local guide.) In Lukla, I would meet the rest of the AAI team. We would all trek into Sagarmatha National Park, going first to Kala Pattar -- within a mile of Everest Base Camp -- then, after going downvalley briefly, we would attempt to do an alpine climb of 20,000-foot Island Peak.