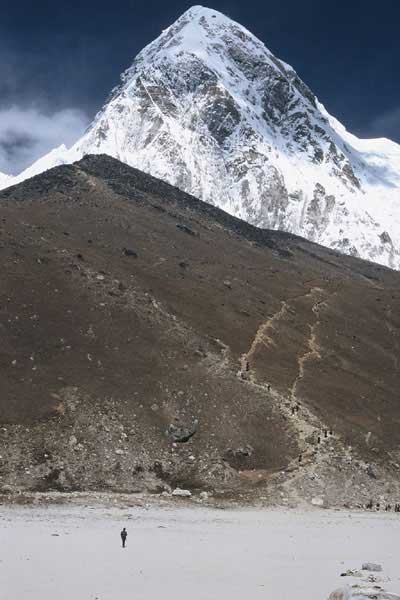 We made a successful and healthy ascent, but we had come at an unlucky time. Two days before, a Spanish team climbing Pumori had gotten hit by a massive avalanche. They lost five of their team members. And just before we'd arrived in Gorak Shep for lunch, a woman had been injured in a freak rockfall on Kala Pattar; we witnessed the helicopter rescue as we climbed that afternoon. We also watched a fit young American couple, nice people who had been trekking at our pace for several days, walk away from Kala Pattar when they realized they couldn't cope with the altitude.
A hard lesson from the Himalayas: even if you want to help, sometimes there's absolutely nothing you can do.
Day 14: Lobuche to Gorak Shep, on a trail that follows a lateral moraine of the enormous Khumbu Glacier. The gravel hills are bleak, but the mountains around us are incomparable: Pumori and Lingtren are on our left, Nuptse on our right. As we walk up and over the last moraine ridge, we see Gorak Shep's three lodges, a dry lakebed, and Kala Pattar, the "Black Rock."

In the picture on the left, Pumori rises above Kala Pattar. You can see a pair of trails threading up the slope, with a few people walking up. We got to Gorak Shep around lunchtime, then climbed the 2000 or so feet to Kala Pattar's summit -- at 19,000 feet -- in the afternoon. Below, Luis and Leslie walk behind me up the slope. We all acclimated well, but because there just isn't a lot of air up there, we walked very slowly, with short steps and deep breaths.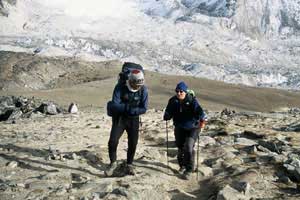 It was slow going, but we all made it up -- Luis, Leslie, Tad, Passang, Nima, and myself! Kala Pattar doesn't have a proper summit, being basically a ridge up to Pumori, but we got to a local maximum of sorts that most people consider the "summit." It was strung with prayer flags; with a little stretching, it afforded us a glimpse of two turquoise-colored glacial lakes below the Pumori glacier: