Everest is a shy mountain. It's hidden from Khumbu trekkers by the massive Lhotse and Nuptse ridges, which are smaller, but big enough to eclipse Everest unless you climb high enough to get a peek. The clouds obscured it most of the time we were on Kala Pattar, but occasionally we got lucky: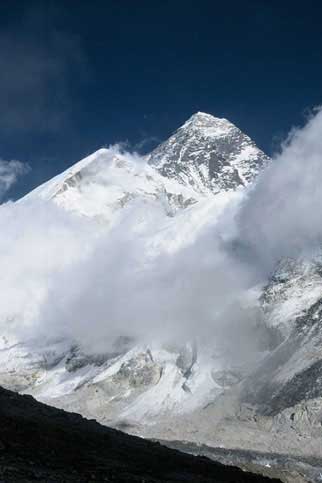 At dawn the next morning, there were no clouds at all, so I went back to Kala Pattar and climbed about a third of the way back up. It was bitterly cold, but windless, and it was nice to be there without a lot of other people. Unfortunately, the autumn sunrise is at a bad angle for photographs from this location; it backlights Everest and Nuptse. This picture shows the spindrift catching fire in the morning sun. Everest is also casting a shadow on the sky.

The usual route up Everest is approximately on the lefthand side of the mountain. In these pictures, you can see the South Summit and the Hillary Step.