Days 11 and 12: From Tengboche, we walked north to Pheriche, where we stayed for an extra day to acclimatize. There are no trees this high in the valley; there are small, tough grasses and other tundra vegetation, but nothing to obscure our views of the nearby mountains, such as Taboche, below.

Just north of Pheriche, there is a field of cairns -- rock towers -- that memorialize climbers lost in the mountains. I don't remember whose cairn this is. It is a solemn place, one that reminded us that this countryside isn't always so benign.
Day 13: Pheriche to Lobuche. This picture was taken looking back towards Pheriche as we left it. The silvery river you see twisting through the valley is the Dudh Kosi; the mountain is Ama Dablam; Pheriche itself is barely visible at the top left of the valley. To give you a sense of scale (difficult to get from this picture), the ridge behind Pheriche is 500 feet tall, and takes a good 20 minutes to climb! Dingboche is on the other side of that ridge. You can see the trails in the larger version of the image.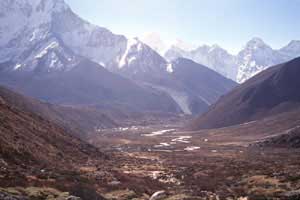 While in Pheriche, we went to the daily 3:00 talk by a physician at the Himalayan Rescue Association. They talk to trekkers and staff about altitude sickness and how to deal with it. The basic rules -- ascend slowly, be attentive to yourself and your teammates, be willing to go down -- seem to be lost on a lot of people these days. During the fall of 2001 (both in Nepal and at home), I heard of at least ten trekkers dying of AMS. It's a little scary.
Yes, it really is a glass pyramid. Situated just outside Lobuche, the Italian Research Pyramid was deserted of scientists when we visited, but the "8000 Lodge" in front of it was going strong, and we spent a pleasant night there. It's an eerie sight, though.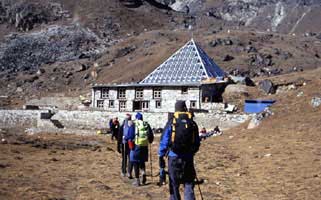 A nice feature of this lodge is that the rooms are heated. At least, they are between 6 and 8 each evening -- and in the cold fall weather, it's needed! The evening we were there, Luis kindly turned on our room's heat for us, then locked the door with our key inside. Whoops. After nearly an hour of running around trying various keys, climbing the outside wall to our (locked) window, studying the old-fashioned lock for pickability, and inspecting the door frame for structural weaknesses, the Sherpas that ran the place finally figured out that the key Luis had used to lock the door was the master key they'd lost six months previously! We managed to unlock it with the aforementioned key, and all was well.
That's Tad in the foreground, with Leslie ahead of him, and then Luis.