Day 20: Dingboche to Debuche. At this point, we had rejoined the trail that took us upvalley. We decided to stop in Debuche, less than a mile from Tengboche, because the surroundings were so beautiful -- a rhododendron-and-pine forest, with a snow-dusted ridge on one side and the Dudh Kosi gorge on the other. We could have stayed in a lodge here too, but we decided to camp in the lodge's pasture because that was more fun.

We could move much faster downvalley, now that we were in shape, acclimatized, and used to walking on these trails. So we arrived in Debuche in early afternoon. While the others stayed in the lodge, relaxing, I visited the Buddhist nunnery that was build in Debuche early this century. It doesn't have as many nuns as Tengboche has monks, nor is it nearly as well-funded, but the visit was well worth it -- I could stay in the main building for a long time, listening to seven nuns chanting prayers.

The main building is shown in the picture below. The Tibetan-style architecture looks like it would be at home in the deserts of the American Southwest. (Interestingly, the Tibetans themselves do, too -- they look like American Indians.) Inside, the main room is painted in vivid colors, with a thousand Buddhas painted on the walls, prayer books lining the back wall, and an altar filled with brightly-colored handmade sculptures. The nuns themselves are hospitable towards curious Western tourists, with ready smiles and cups of tea.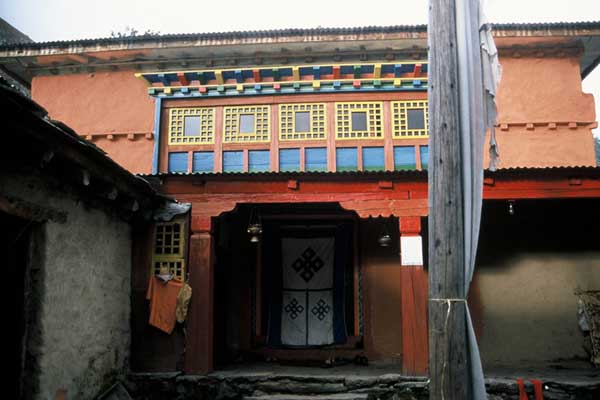 On the right is a picture of the houses in the nunnery. Contrast their condition with the beauty of the main building. The nuns must lead a hard life, especially during the winter.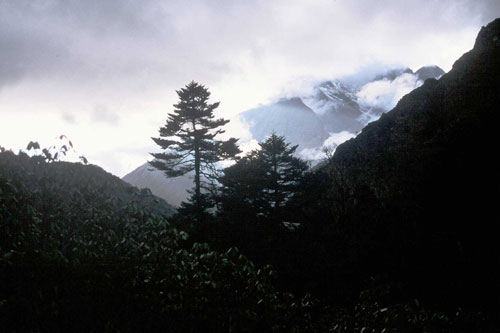 The forest surrounding Debuche looks like a scene out of Middle Earth. Small rhododendron trees grow just far enough apart to make the woods very walkable, though there are narrow trails running through it every which way. Thick emerald-green moss covers the rocks underfoot. If you look closely, you can see ancient letters carved on some of the large ones: forgotten mani stones. Leafless trees drip long strings of moss -- it looks like Spanish moss -- and tall evergreens dot the valley. The overall effect seems more like a Southeastern Appalachian forest than what I'd pictured the Himalayas looking like... except, of course, for the impossibly steep mountains disappearing into the clouds above.
Even in a place halfway around the world and 11,000 feet above sea level, we may find that the landscape and people are more familiar than we expect.