Shopping and eating were all very well, but I also wanted to visit the Great Stupa of Boudhanath again, having only seen it briefly before. This time, I could spend a whole evening walking around it, taking pictures, and visiting the shops on its perimeter.
Apparently this stupa has been here for hundreds of years. It is visited by Buddhists from all over the world; its three square tiers inscribed in a circle forms the shape of a mandala. All three tiers can be walked on, though the dome cannot.
The four sides of the spire are each painted with the all-seeing eyes of Buddha. Everything about the structure is symbolic: the directions the eyes face, the 13 steps on the spire, the umbrella at the top, the 108 niches around the dome containing statues of Buddhist entities, the guardian statues at the northern doors, everything. And, of course, there are hundreds of prayer flags fluttering in the winds: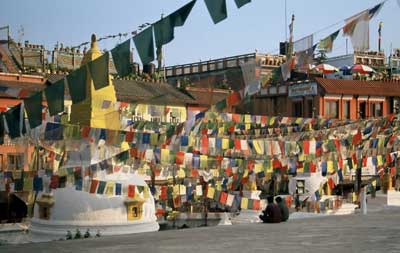 It just so happened that I came on the night that a ceremony was being held at the stupa: UNESCO Worldwide Peace Week was starting. I couldn't understand the speeches -- they were in Nepali -- but I and a bunch of other locals and tourists milled about watching anyway. Schoolchildren had been conscripted into lighting 1,108 butter lamps on the stupa's upper tiers. Three of them were kind enough to let me photograph them. The picture doesn't do the scene credit; the lamps in the sunset light were stunningly beautiful.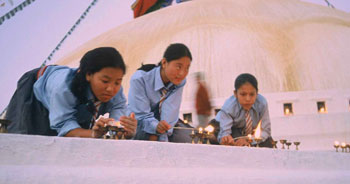 And thus it ended. The next day, I flew back to Bangkok, then London, then home again to Boston.