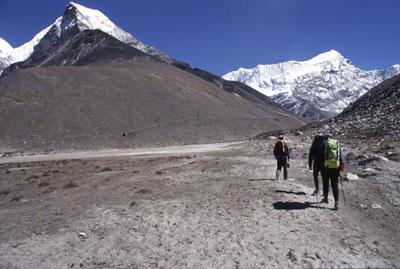 Island Peak Base Camp sits in a narrow, rocky valley between Island Peak itself -- on the left, in the picture above -- and a lateral moraine of the Imja Glacier, on our right. It gave us a great view of a tall fluted ridge at the end of the valley, plus a beautiful domed white peak that someone said was Peak 38. (It's not in the top picture.)
Below is what Base Camp looks like. Our tents were behind me when I took the picture. The ones you see in the picture are actually unoccupied; they were put up in prime Base Camp space at the beginning of the season by the DAV Summit Club, a German trekking agency, and are left there all season long for their clients' use. The 20 or so tents were guarded by a few resident Sherpas who must have been bored out of their minds...
Over dry riverbeds, forlorn-looking puddle ponds, and steep moraines, we hiked into Base Camp. Here and elsewhere in the upper valley, the dry air and dust kicked up by our own feet made it seem like desert hiking, except for the cool temperatures and the mountains. We frequently tied bandannas around our mouths to protect our lungs and throats from irritation. Still, it was magnificent, and worth every step.

Base Camp was actually the first time we'd used our tents! Up until now, we had been such a small group that we could stay in lodges every night. Sadly for the local economy, the lodges were nowhere near full most of the time; fewer people were travelling in the fall of 2001. In any case, we pitched our tents, ate a very early dinner, and went to bed around 7:00. We had to be up by 2:00 AM for our alpine start.

Day 18: When I spontaneously woke up at 9:30 PM, I felt fine. But when Luis roused us from our tents at 2, I was ill, with what we later determined was probably food poisoning. In spite of that, I put on all my gear and started up with the team, but I didn't get very far before I had to turn around. So I didn't personally climb to the top of Island Peak. The rest of the team did, though! They left a summit flag I'd brought with me from the States up there, too.

The team didn't return until well after dark, having taken fifteen tiring hours to reach the summit and come back down. We had a celebratory dinner and immediately collapsed into our sleeping bags.