The world has problems. MIT students have ideas. We have $50,000.
Invention as public service. Get involved.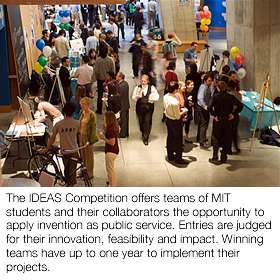 The IDEAS Competition encourages teams to develop and implement projects that make a positive change in the world. Entries are judged on their innovation, feasibility, and community impact. The Competition is open to everyone, but at least one third of each team must be full-time MIT students.
The ninth annual MIT IDEAS Competition celebrated student achievement on Monday evening, May 3, at MITís Raymond and Maria Stata Center. Seven student teams received IDEAS awards to implement their projects over the next year.
Learn more about more about IDEAS10 winners here.
And its never too early to begin planning. Pitch an idea by writing to ideas-admin@mit.edu with a brief (250 word) description of your project, and who you'd like to recruit. We'll get this posted to the Future Projects section of the website.
Come to our events to find out more information, get connected, share your ideas and skills and to meet potential teams members! Questions? Email ideas-admin@mit.edu.