ADVENTURES AND ORDEALS WITH A FOLDING PROA
ON THE YUCATAN COAST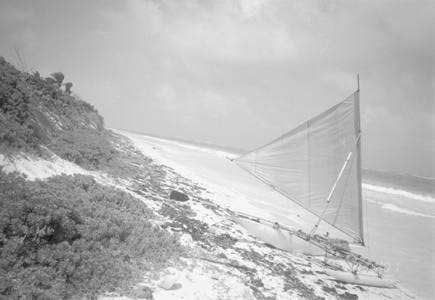 "Stinky" the outrigger sailing canoe on an endless uninhabited beach.
Table of Contents:
Part 1 The first part. Cancun.
Part 2 Paa Mul. Ruins.
Part 3 Fixing the boat at Bahias de Punta Soliman.
Part 4 Down the coast past Boca Paila.
Part 5 Punta Allen and back.
Appendix 1 Boat plans. Detailed descriptions and diagrams of the boat.
Pictures only. allpix1 allpix2 allpix3
Drawings only. alldwg
Boat plans only- almost printable. allplans
Copyright 2001 Tim Anderson