ADVENTURES AND ORDEALS WITH A FOLDING PROA ON THE YUCATAN COAST
Part 2. Paa Mul. Ruins.
Click on any photo to see a higher resolution (~100k) version. Copyright 2001 Tim Anderson
We drove south on highway 307 in our rented car with the canoe tied on top. We were looking for a place to camp and a place to sail to. An hour or so south of Cancun the population thinned out and there were long stretches of coast with no buildings.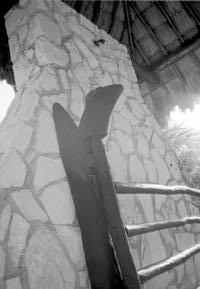 A gate hinge made from a forked log. At a seaside camp for handicapped children called DIF.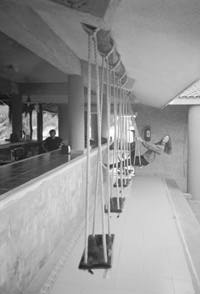 Paa mul is a pretty little rocky bay. It's next to a big sea turtle sanctuary. It's mostly an RV campground. Most of the RV's have Mayan thatched roofs called palapas built over them. The restaurant had swings by the bar. We camped in the back yard of a palapa.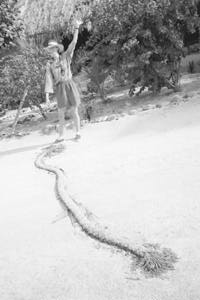 They use mooring hawsers as speed bumps.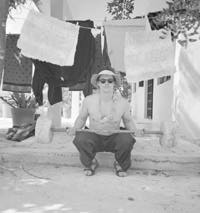 We did our laundry and played with a pair of homemade weights. Cast concrete on the ends of a pipe. My shirts are in the wash.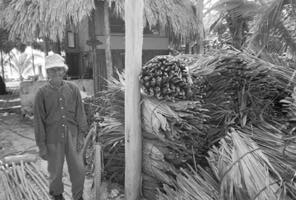 Building a new palapa.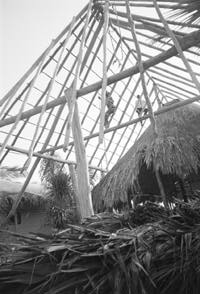 An RV-sized palapa costs $3000 or $4000 us. The art is surviving well. For us$500 extra, the thatch is grass rather than palapa palm (palmetto) fronds. Yucatan didn't officially join the Mexican Federation until 1973. The history is long and interesting. It's covered at some length in your Lonely Planet guidebook.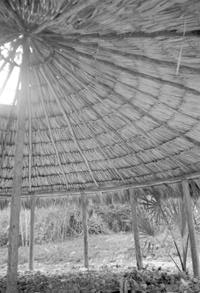 A traditional round palapa with a center pole. In a hurricane most of the palapas at Paa Mul were knocked down. The ones that survived had steep roofs and center poles. Some people like to leave out the center pole because it's an obstruction.

We gathered sticks from the surrounding jungle to lash a better deck. I split a large bamboo that had drifted ashore. Nina and some locals thought the bamboo smelled bad. The canoe got a name. "Stinky". The locals were friendly. They looked forward to seeing us sail. We filled the hull up with airmattresses for more flotation.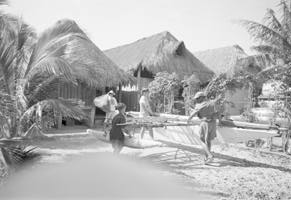 Portaging Stinky to the beach.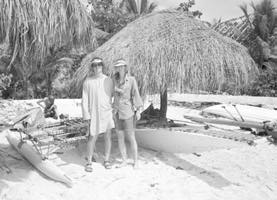 Getting ready to launch. Our wellwishers are out of the frame. A nice Canadian woman brought a plate of fruit. We paddled out through mild surf and around the corner. The swells were maybe six feet. There was plenty of wind, maybe 15 knots from the east with gusts. I had a hard time raising the sail from the pitching deck. Then it was very hard to control the canoe. Too much weather helm. I was steering with a paddle against the lee quarter. This worked before, but not now. The canoe sank lower in the water. Either the cold water made the air in the bags contract or something was leaking. With the sail up and pulling well we went crashing away through the waves. Nina was high in the air on the outrigger as it got lifted above the water. I was steering with all my strength. The waves were coming from all directions pushing the boat this way and that. It was all I could do to keep the canoe from turning into the wind, backwinding the sail and dropping it on Nina. All I could do wasn't enough. Again and again the sail crashed down on us. We tried paddling, but we made no headway. We were in a powerfull current heading north, about 3 knots according to the chart. The famous Gulf Stream. We'd be back in Cancun in a day at this rate. Phooey. We watched a palm tree on shore. Every time I got the sail up and pulling we barely made it back to this palm tree before some mishap, and then we drifted right back. Current this fast in an ocean was a new concept to me. I thought they were slow. But this one was faster than the Mississippi at my hometown in Minnesota. Few people ever try to go upstream there. It's just too much work. The hull was down in the water. Waves came up through the deck. When we were sailing there was so much spray and crashing water that my nylon wind pants got pushed up exposing my bare legs to the sun. I pushed them down and they got blasted right back up again. A motorboat came out to ask if we needed a rescue. Of course we said no. It turns out they hadn't wanted to go out because the water was too rough, but one of our friends talked them into it. We were getting tired and frustrated. We weren't going anywhere and it wasn't clear what would have to change to make the boat work. It was turning into an ordeal. If we kept it up we'd be landing on rocks and sleeping in wet clothes less than a mile the wrong direction from our starting place. And have no hope of anything better the next day. Scott and a friend came paddling out in Scott and Marielis' Folbot. We admired the way they bobbed lightly over the waves and went wherever they wanted with apparent ease. I made a couple more attempts to sail. With the sail up we were faster than the folbot, but it was a huge effort and I couldn't keep it pointed the right way. Then the sail fell and the Folbot caught up. They offered to help us back to land. We thought that sounded pretty good. I guess it's okay to accept help from friends in another folding canoe.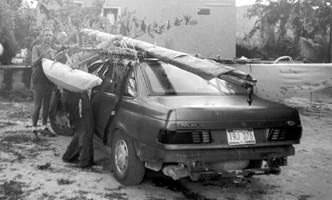 Kenny Coleman gave us a ride back from the turtle sanctuary to the Palapa-opolis. Scott is at the end of the outrigger.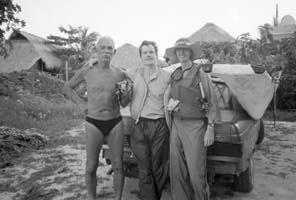 My legs are badly sunburned and would blister the next day. Kenny said "you're camping with no tent? no blanket? I think I understand. You're like two little animals."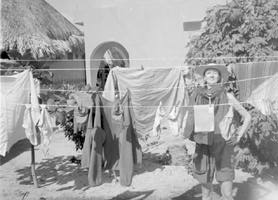 Drying everything out again. We're getting used to this.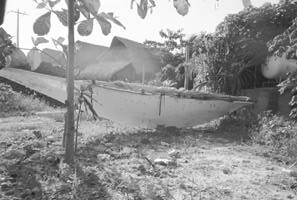 Stinky on land again with Kenny's cat. That night we slept in Kenny's palapa. Ahh luxury.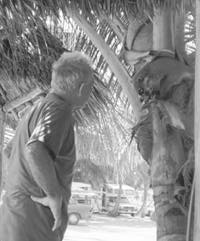 The next day Kenny gave us a ride with our gear 30 km south to a place called Bahias de Punta Soliman. It's 11 km north of Tulum. There's a restaurant with a tiny campground there. That's Kenny with one of the mascots, a casimira or coatimundi. Like a skinny raccoon with a long nose. Kenny's a cheap date cuz he doesn't eat much. His friends say he's a "Breath-of-air-ian" cuz he lives on a breath of air. He's reading a book about how eating is unnecessary.
It was time to take a break from boat disasters.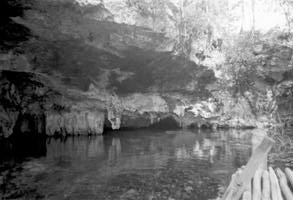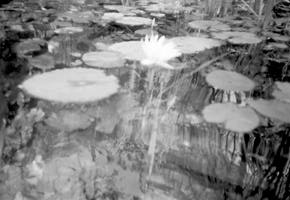 We went swimming in Grand Cenote. There are no rivers in the Yucatan, only underground rivers. Some have been explored for many kilometers. Where the underground rivers cave in, there's a Cenote. There are thousands of these. The lack of rivers is one reason the ocean water is so clear. I opened the camera up to "make sure the gasket has no dirt on it before closing the camera" as the instructions had said. OOPS! I forgot I had a roll of film with pictures in it already. So some of the photos on this roll were fogged or spoiled, including the underwater ones. I like this camera a lot. It's a waterproof Canon Sure Shot. us$190 at Long's drugs. Much cheaper than the two cameras per year I've wrecked by dropping in the water.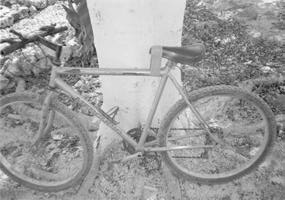 We've all had this problem. Here's a novel solution.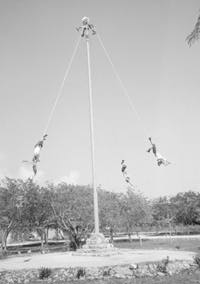 A Mayan spectacle at the Tulum ruins. There's a wheel and axle at the top of this apparatus. They had the wheel but only used it for toys. Sort of like the Chinese using gunpowder for toys rather than weapons.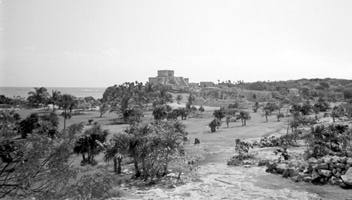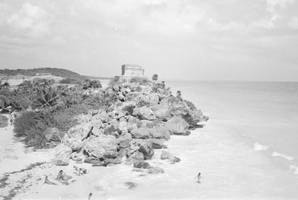 The Tulum ruins. Imagine the colors. The water is turquose and the beach is white. The sky is blue and the leaves are green.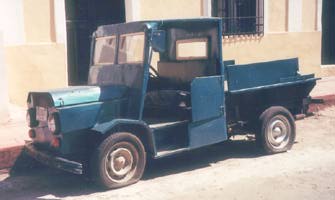 A home made jeep in Valladolid.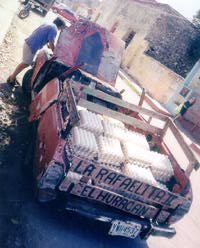 First prize in our "vehicles with character" search. Most cars in Mexico are now boring and prosperous.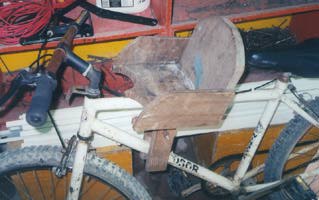 A baby carrier. Furniture stores sell these.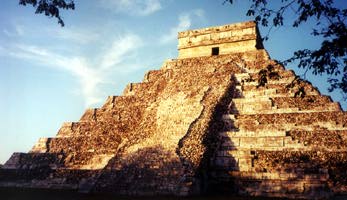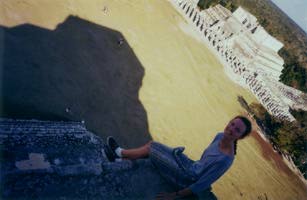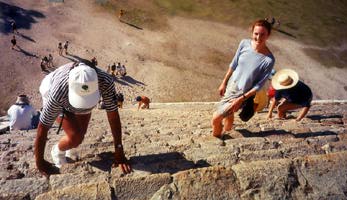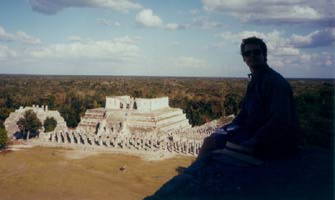 Chichen Itza. The stairs are steep and scary. The view is amazing. A very impressive place.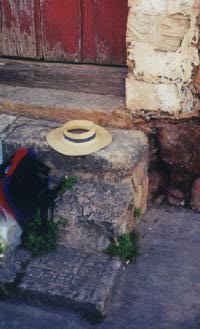 Stones from mayan ruins used to build the local church in the town of Piste.
End of Part 2.
Copyright 2001 Tim Anderson