Short Description
Examples:
Windows tooltips
Mac bubble-help
Status bar help
Context: The artifact contains a visual pointer, or "virtual fingertip" (mouse or pen point, for instance) that is the focal point for the user's interaction with the artifact. Nearly all the primary patterns with a visual component can use this to good effect, particularly Navigable Spaces for link descriptions, High-density Information Display, Status Display, Control Panel, and WYSIWYG Editor.

Problem: How should the artifact present additional content, in the form of clarifying data or explanations of possible actions, to the users that need it?

Forces:
A short explanation may be all the user needs or wants; something long will be overkill.
Users generally don't want to leave the artifact and go somewhere else for help, such as a manual; this usually breaks one's concentration and costs too much time.
There isn't room to put static descriptive text into the artifact, or visual elegance precludes doing so.
The descriptive text might be useless most of the time, and may become irritating if it is static or hard to turn off.
Solution: Show a short (one sentence or shorter) description of a thing, in close spatial and/or temporal proximity to the thing itself. Allow the user to turn it on and off, especially if the description obscures other things or is otherwise irritating; alternatively, don't show it without some deliberate user action on an item-by-item basis, such as pressing a key or hovering over the item for a certain length of time.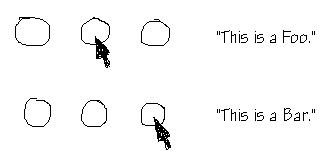 Resulting Context: You get to decide what text to put into the Short Description. There's no point in being redundant with whatever's statically shown in the artifact; if you're going to impinge upon the user's attention with a popup or something, at least add some value with it. You could use it to describe a possible action (as with Pointer Shows Affordance), or describe the results of the action, or reveal more data (thus implementing Optional Detail On Demand).
Notes: In his January 11, 1998 Alertbox column, Jakob Nielsen strongly recommends using link titles to help give the user a preview of where a Web link goes; they add important contextual information to the sometimes-mysterious HTML links. These are effectively Short Descriptions.
I've never seen it done, but this pattern could theoretically be used with speech in a multimodal interface. As you focus your visual attention on some feature, the Short Description for that feature could be spoken aloud to you.
---
Comments to: jtidwell@alum.mit.edu
Last modified May 17, 1999
Copyright (c) 1999 by Jenifer Tidwell. All rights reserved.

---