Jockey to the Fair
This dance was written by Paul Handford, foreman of Thames Valley International.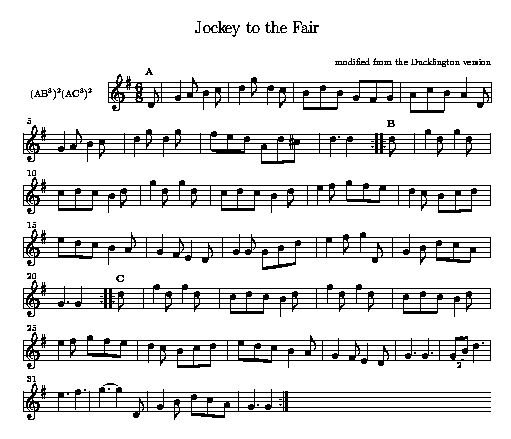 Chorus
Each corner, in turn, performs the following sequence to the "B" music:
A sidestep figure (closed sidestep left, double step, closed sidestep right, double step) in place.
Two double steps to cross to your corner's place
four plain capers to turn around (over your right shoulder)
two of "something distinctive" to move face-to-face with your corner in the middle.
Two hop-backs and foot-together-jump back to your corner's position.
"Something distinctive" is:
struts (swagger-step) ("B" music)
plain capers ("B" music)
forrie capers ("beetle crushers") ("C" music)
whole capers ("upright capers") ("C" music)
Bacon-Style Notation
(This notation is from Thames Valley International's TVI-Invented Dances page. In the event of discrepancies, the TVI page is the authoritative source.)
(A.B3)2(A.C3)2
CF: Long HR
DF: ss/4/ss/4/ in place; 4/4/ to cross corners; 4PC in opp. cnr.: out, right in, in. Remaining music, track into centre and back out as follows:
DF1: lr/salute/hb/sj.
DF2: RL/RL/hb/sj.
DF3: HC/HC/hb/sj.
DF4: UC/UC/hb/sj. As 3rd. couples withdraw, all make circle for HR.
---
Middlesex Morris home page / performance schedule / send email
Last modified: 1996/04/24 15:14:04 by jcb@mit.edu