!sky3.gif old background>

Welcome to the Homepage of the Only Perpetually Happy person

at MIT.


Oleg E. Drozhinin
ACADEMICS

RESEARCH

My interest in cardiology developed while I participated in the Fellowship program at the University of Connecticut Health Center in Farmington, Connecticut. I worked in the Pharmacology Department investigating muscarinic agonists and receptors in isolated guinea pig ventricular myocytes(heart muscle cells). As it turned out, Acetycholine has a very interesting effect on the contracture of the heart cells.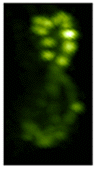 Green Fluorescent Protein is a very useful way to study gene expression. In the Biotechnology III Course (7.17), taught Professors Peter Sorger and Paul Matsudaira, my lab partner, Mike Demassa, and I studied the expression of the Mitotic Arrest Deficient Gene (MAD2). We fused MAD2 N- and C-terminally and studied the expression of the fusion gene in mammalian cells. Neat, eh?
LIFE besides sleep and Study.