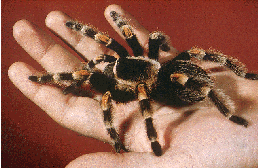 Life is like a spider. It is furry and has eight legs.
Welcome to my homepage! I'm going to skip the intro -- you'll figure me out from what you see here. Or not.
A note about the icons on these pages: the small ones in black frames are done by me; I retain all rights on them. If you want to use them, please contact me first. All others are ones I've snarfed off the net; I'm trying to replace them with my own.
---
Places I visit frequently
---
Pages I maintain
Beer Ratings are my personal ratings and comments on beers that I've had. I've also made up an alphabetic list of everything I've rated.
---
Hobbies
If you know of a page covering any of these areas that I don't already have, let me know about it.
I brew beer. Surprise, surprise, I also drink beer. However, I don't drink normal American slug-killer - Budmilloors and the like. There's too much good stuff out there to waste my time on that.
I've been interested in computers and the law. I've been studying law as a hobby for a while, and recently graduated from law school at Suffolk University in Boston. I'm now trying to get a job at a firm like Powers Phillips. Since I've started school, people have been sending me lawyer jokes. Gee, I wonder why...
I enjoy cooking -- I find it a good way to relax. I have found one pure cooking reference, The Cook's Thesaurus, and a lot of recipe sites.
I'm also generally interested in food. Aren't we all?
History and heraldry are two other hobbies of mine, but I've not found anywhere near as much stuff (well, nothing, really) on the Web about either. If anyone knows of links about either, let me know.
---
Pages and pages of stuff
Other people's home pages that are cool or otherwise fun.
Handy things to have available.
Links off into the depths of the Web.
Pages that have pointers to lots of places. These are good places to start exploring.
You'd think that a cool technology like this would give me more time to play with it before I actually found something useful to do on it....
---
mjbauer (at) mit (dot) edu