Faithless

---
Latest update: August 14, 2000
Comments, additions, & corrections to: mattski@mit.edu
---
---
---
Faithless - News
---
Dusted's song Respect Your Mother is scheduled for release as a single in the U.K. on October 4, 2000 on 12" vinyl and 2xCD. [Updated August 14, 2000]

Rollo is interviewed about his Dusted album in DJ magazine (U.K.), Vol. 2, No. 67, 17-30 June 2000. The track 'Childhood' is included on that issue's free CD, "Chillout Summer 2000". [July 7, 2000]

There a July 6, 2000 news item about Rollo and the full interview with him at dotmusic, in which he discusses Dusted and an upcoming remix of Robbie Williams' song 'Rock DJ'. [July 7, 2000]

The Dusted album, "When We Were Young", due out originally on June 5, then June 26 (according to AngloPlugging), is now due out July 3, according to Boxman. [updated June 14, 2000]

Dusted's "When We Were Young" album sampler on promotional only CD has two tracks, which I assume are the same as on the 12" promotional only release. [MAY 22, 2000]

According to the latest issue (received in U.S.) of DJ magazine (U.K.), the 'Childhood/Want You' EP is due for remixes by Bent and Kenobi. Dusted is mentioned favorably in two or three charts. [MAY 19, 2000]

A promotional only single for 'Thank You' has been released in Germany. It is taken from the film "Der tote Taucher im Wald", as well as from the "Saturday 3am" remix album. [MAY 17, 2000]

The Dusted (Rollo) Dub and Vocal Remix of 'Sunshine' by the Handsome Boy Modeling School were released on May 22, 2000. [updated MAY 22, 2000]

Rollo's latest solo project is called Dusted, signed to Go Beat Records in the U.K. Thanks to Sjoerd Visser and Stefan Sell for the tip. The promotional vinyl single by Dusted of 'Childhood / Want You' came out in April sometime. It certainly sounds somewhat Rollo-and-Faithless-ish and the Dusted website has a weird storybook quality and a message that adds to mystery. The run out grooves on the vinyl for that single have the name Rollo etched in and then scratched out. Some other word or name follows Rollo, but it is completely scratched out. In any case, both songs on the single sound fantastic, complex, confounding and fresh. So the album, "When We Were Young", should be worth a listen, Rollo or not. [UPDATED MAY 8, 2000]

"Why Go?" was released in Australia as a CD single in late November or early December. That includes the Fused Why Stay Mix, previously only available on the 2x12" vinyl pack from Italy or promotional vinyl from England. [DECEMBER 6, 1999]

The "Sunday 8pm - Special Edition" that came out in the U.S. on November 23, 1999 includes the original CD album plus the bonus remix CD "Saturday 3am". The first 50 people who fill in the information request form at Arista Records' Faithless page will receive a Faithless poster. You may order the CD from CDNOW or TWEC.COM. [updated NOVEMBER 24, 1999]
---
Faithless are featured in the November 1999 issue of MUSIK magazine from the U.K. Maxi Jazz and Sister Bliss are on the cover. Inside is an interview with them and Rollo. Plus, on the free CD is a live version of 'Bring My Family Back'. It's a very odd version of the track, but you can't go wrong. Pick this up now, before the December issue comes out. It should be available at most good music stores. I found mine at Newbury Comics in Boston. Boston Beat and Tower Records also had it. [NOVEMBER 1, 1999]
---
Faithless are featured in the October 1999 issue of Future Music magazine from the U.K. There is an article that includes an interview with Rollo. The free CD includes the radio edit of 'Take The Long Way Home'. [NOVEMBER 2, 1999]
---
Read the transcript of the AOL.CO.UK Live exclusive web chat with Faithless from Wednesday, November 3, 1999 at 8pm (by England's clock). It was the last chance to chat online with Faithless before they take a year off to write new songs for their next album. As far as I could tell, I would have to have been signed up with AOL, at least on a trial basis, to have taken part in the chat. [updated NOVEMBER 5, 1999]
---
See www.cheeky.net for information on the Faithless tourdates in England and the 'Saturday 3am' remix album. [OCTOBER 6, 1999]

According to Intercord website, the Faithless remix album "Saturday 3am" is due out in Germany on November 1, 1999. The following text is from that site:
Faithless Veröffentlichen Remix-Album Saturday 3 am --
"Am 1. November dieses Jahres werden Faithless ihre deutschen Fans mit dem Remix Album Saturday 3 am erfreuen. Bekannte DJs und Remixer wie Paul van Dyk, Jan Driver, Nightmares On Wax, DJ Stew u.a. haben verschiedene Songs des letzten Erfolgsalbums Sunday 8 pm noch einmal durch den Elektro-Wolf gedreht. Herausgekommen ist ein Album der Superlative, das in den deutschen Clubs für Furore sorgen wird." [SEPTEMBER 30, 1999]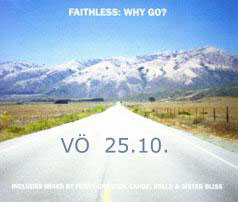 Why Go? U.K. single track listings now available, but are not confirmed as yet. The single is due out October 18, 1999, not September 27, as previously reported [October 5, 1999]
The next single will feature two songs, a new version of "If Lovin' You Is Wrong" with Maxi Jazz on vocals and 'Why Go?' with Boy George. According to dotmusic, Rollo finished the final mix on the single on July 29, just before a flight to the U.S. (What is Rollo up to in the U.S.?) A Faithless spokesman described 'Why Go?' as "a dark house track which features some very moving vocals from George". The single is due out at the end of September and will feature trance mixes from Ferry Corsten and Lange. "If Lovin' You Is Wrong" has been featured in a TV commercial in England for Boddington's. [AUGUST 2, 1999]
Faithless were nominated for the 1999 Mercury Music Prize for their album "Sunday 8pm", but did not win. What the judges said: "'Sunday 8pm' is an uncompromising urban dance album of great songs. Engaging, chilled out and always rewarding.". [AUGUST 2, 1999, updated October 5]
A Faithless remix album, "Saturday 3am", which will contain new mixes and additional tracks with guest vocalists, will be released later this year. [AUGUST 2, 1999]
A new track by Faithless, 'Addictive', is on soundtrack to the film "Cruel Intentions", released March 1999. The liner notes say the track includes a large sample of Pauline Taylor's own song called 'Addicted'. [MARCH 24, 1999]
Arista has released a new U.S. promotional only CD single for 'God Is A DJ', apparently to coincide with 1998 U.S. tour. The one-track CD has the 'Meltdown Mix', which sounds ready for indie-rock radio stations open to electronica-inflected dance tracks. May the U.S. still hope for a commercial CD single release of this track, with some new mixes? [04NOV98]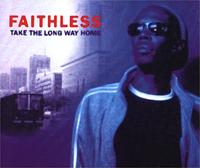 'Take The Long Way Home' is due out as a single in the U.K. on November 23. The song is already scaling the U.K. charts. Thanks to Alex Smith for the track listings. [2NOV98]
Faithless won in the Best Live Act category at the 1998 Muzik Awards in U.K. [2NOV98]


11/02/98,  Chicago IL,       House of Blues
11/03/98,  Detroit MI,       7th House
11/04/98,  Washington DC,    9:30 Club
11/05/98,  New York NY,      Irving Plaza
11/06/98,  Philadelphia PA,  The Trocadero
11/07/98,  Boston MA,        Axis  [with Asian Dub Underground and Esthero]

Thanks to Martin Kafka for the tip off!

---
Track listings for U.S. release of 'God Is A DJ' on 12" vinyl and U.K. vinyl promo of 'Take The Long Way Home' have been added to the Faithless discography. [23OCT98]

Thanks to Sjoerd Visser and Branislav Suplata, who have both been sending me much appreciated updates for these Rollo pages. [I've got to set up that acknowledgements page soon.] [23OCT98]

Champion Records and Cheeky Records now have an official web site. [21Sept98]

The track listing for the U.S. release of the album "Sunday 8pm" has been added to the Faithless discography. [21Sept98]

The album "Sunday 8pm" is reviewed very favorably by Larry Flick (of Billboard magazine fame) in OUT magazine (U.S.), October 1998 issue, p. 102. It's the lead review. [15Sept98]

'God Is A DJ' will be released as a single in Australia on September 21, 1998 with same track listing as on the U.K. single, according to a representative of Festival Records. It debuted at number 23 and went to number 7 the next week on the Australian Dance Music Chart. That's two weeks before its official release there! [08Sept98]
The Australian and U.K. versions of the album "Sunday 8pm" will have identical track listings and be released initially in special limited edition packaging of the cardboard digi-pak variety. No word so far on special packaging for U.S. release. The Australian release is due October 5, following the U.K. release on September 21 and the U.S. release on September 29.[08Sept98]
'God Is A DJ' was released as a single in the U.K. on August 24 and reached number six on British singles chart that week. It dropped to number 14 in its second week on charts. The following mixes are on the CD: Edit, Monster Mix, Serious Danger Mix and Sharp Mix. (My thanks to Martin Kavka for release details and lyrics.) A 3x12" vinyl promotional only release came out in U.K. prior to that with six mixes, including one or two remixes by Serious Danger, and probably the Monster Mix, the Deep Mix, the Tuff Mix and the Sharp Remix. [08Sept98]
There is a two-page spread on Faithless in the July or August (?) 1998 issue of The Face (U.K.). The article is on one page. The photo that covers both pages is of Faithless from behind walking down a street. Rollo is not in the photo. It's the new guy, Dave Randall, a guitarist, who has become the fifth member after a few years of touring with the band.
The U.S. Arista website has updated its page for Faithless again. There is mention of the new album, "Sunday 8pm", due for release in U.S. on September 29, 1998. Audio clips for 'Bring My Family Back' and 'God Is A DJ' are now available. Also, there are new photos. [20 August 1998]
In DJ Magazine, issue from end of June 1998, there's a news item about Faithless that mentions that the new album, 'Sunday 8PM', is due out September 7. Boy George will be the vocalist on one track. Maxi Jazz will provide most of the vocals. Jamie Catto will have two or three songs as well. In the most recent photos of the band (as below from DotMusic item), a new member is featured in place of Rollo, who will remain in the background in terms of touring.
June 1, 1998 item from Dotmusic's Dance News page:
Faithless Return With Cohesive Album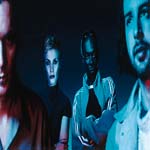 Faithless will be following their million-selling debut 'Reverence' with a new album, 'Sunday 8PM', in September. Last week saw a two-track sampler, 'Bring My Family Back'/'She's My Baby', mailed out as as part of the run-up to the new album. The two tracks on the sampler are decidedly downbeat, unlike house epics such as 'Insomnia' and 'Salva Mea' which helped the group sell 4m singles worldwide.

"We purposely chose those tracks," says a Cheeky spokesman. "Faithless have always been a bit more downbeat. There were only two of those big house tracks on the last album." The new material, again produced by Rollo, is loosely based around the theme of making and breaking relationships. "As a whole the album's a lot more cohesive than the last one, basically because they've been living in each other's pockets," says the spokesman.

"Maxi's lyrics in particular are amazing." The first proper single release will be 'God Is The DJ', the video for which will be directed by group member Jamie Cato who recently directed the video for Cheeky labelmate Skinny's single 'Failure'. The single is one of the album's uptempo tracks but is apparently completely different in sound to the group's previous hits. Faithless will be playing all of Europe's major festivals this summer including Glastonbury, Womad and V98.
---
Some information on the 'Don't Leave' singles from Australia and Japan has been added to the end of the Faithless Discography.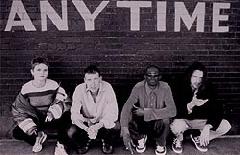 Faithless will have a track on the "Earth Dance" compilation in aid of the Tibet House Trust. The compilation is due out June 8, 1998, on Transient in U.K. [16 April 98]
Faithless are scheduled for the Phoenix Festival. [29 April 98]
Faithless is due to appear at the Universe '98 event to be held Saturday, May 23, and Sunday, May 24, 1998, at Knebworth Park, Hertfordshire, U.K. Faithless will play that Saturday only on the Earth outdoor stage. This is being billed as the U.K.'s first ever weekend all night outdoor dance festival. [16 April 98]
Faithless will release a new single soon called 'God Is A DJ'. The new album called "Home" is due out in May. This is according to Mixology. [18 March 98]
Rollo and Sister Bliss are interviewed as part of a Faithless profile in the January 1998 issue of Future Music magazine (U.K.). There are interesting details in the article about how some of the members of the group met, how the first and second Cheeky releases came about, and how Maxi Jazz's vocals replaced a Nina Simone sample on the first ever Faithless track that later became Salva Mea.

[Pure speculation: could the first ever Faithless track with the sample of Nina Simone be the white label release known as "The Scream"? Could the November/December 1997 Huff and Herb release on Planet Three Records (that uses a Nina Simone sample) have anything to do the that earlier Faithless track? Is the Huff of Huff and Herb the same Huff (a.k.a Ben Huff) as in Huff and Puff? Questions, I've got questions!] [26 Jan 98]
---
Dusted's 'Deeper River' came out as a single on November 24, 1997 on Cheeky Records. It's a great track with great mixes, all different from version on the soundtrack to the film, "A Life Less Ordinary".

According to Musik, No. 30, November 1997, news column:

Mentioned in context of resurgence of 7" singles: "...Rollo's done a secret one-sided white label one as Skinny which is threatening to be massive...".

"...Rollo and Sister Bliss have remixed a forthcoming Black Grape single...".

"...Faithless are to write music for the forthcoming 'Avengers' movie ...". [This movie will star Uma Thurman as Emma Peel, Ralph Fiennes as John Steed, and Sean Connery as the nemesis.]
---
---
Danny Boyle is the director of the new video for 'Don't Leave', according to DJ Magazine, Issue 200, 11-24 October 1997. There will be a feature article on the video shoot in Issue 201 of that magazine. Cameron Diaz and Ewan McGregor may be pulled in to shoot footage as a tie-in to Boyle's film, "A Life Less Ordinary".
Members of Faithless have two songs on the soundtrack to the film, "A Life Less Ordinary". There is a version of 'Don't Leave' attributed to Faithless and a song entitled 'Deeper River' by Dusted. 'Deeper River' has female blues/gospel vocals (maybe Pauline Taylor?) within a techno-ambient house-scape. Jamie Catto, Ayalah Bentovin (Sister Bliss), and Rollo Armstrong are listed as the writers of each track. The soundtrack is out October 13 in U.K. and October 14 in U.S.
Faithless are expected to release 'Don't Leave' again as a single in the U.K., sometime in October 1997, backed with the 'Return to Twilo' mixes of 'Salva Mea' by Danny Tenaglia, according to DJ Magazine. This is meant to coincide with the U.K. release of Danny 'Trainspotting' Boyle's new film, "A Life Less Ordinary", on October 24 in U.S. and U.K. The film stars Ewan McGregor and Cameron Diaz. This version of 'Don't Leave', mixed by Dave Burnham, is the same as the U.S. "Reverence" album version, the one without the record scratch as a rhythmic element. It is featured as a love theme in the film and on the soundtrack. The song is also expected to be released as a single in the U.S.
From Musik magazine (UK), No. 29, October 1997, p. 20, news column: "FAITHLESS' Rollo and Jamie Cat(t)o, Kelli Dayton from the Sneaker Pimps, Pauline Taylor and Oasis' Hammmond player, Mike Rowe, were among those who got together to record an entire album in two days at the end of August. No names [sic] been given to the one-off project yet, but apparently the main reason they all got together was simply because they're mates..."
Faithless U.S. tourdates for September 1997.
"Don't Leave" will be the next single in U.S. Jamie Catto mentioned this at the Boston concert on September 4. Promo CDs for "Don't Leave" have been available since at least early September. See end of Faithless discography for more details and a review of the three mixes, the Hard Mix, the String Mix, and the U.S. album version that varies from the U.K. album version. No word yet on vinyl promos.
One new song was played at the Boston concert, one with Jamie Catto on megaphone shouting "Come out with your hands in the air. Come out or we're coming in." Cool stickers were available at the show: long rectangular stickers with rounded ends, an etched-in-steel look to the background, and the words Faithless and Reverence in red floating on top.
Faithless have released a promo-only 12" package for 'Salva Mea' on Arista in the U.S. It includes four mixes by Danny Tenaglia, including his primary mix which is 18+ minutes long. Larry Flick reviewed the release in Billboard, June 7, 1997 issue, Dance Trax column, p. 47. Larry praises highly these new mixes and the original album. A commercial release of 'Salva Mea' had been scheduled for mid-June 1997, to coincide with the kick off of the first ever tour of U.S. by Faithless. The tour kick off in September but 'Salva Mea' has yet to be released.
Faithless are featured in an ad on the back cover of Billboard magazine, May 10, 1997 issue.
Faithless have had their album "Reverence" released in the U.S. on Arista Records on March 25, 1997. Promotional versions were released in advance: one version is in a special cardboard sleeve with ten tracks (like U.K. release), the other is the regular U.S. release with eleven tracks [includes bonus track of 'Insomnia (Monster Mix Radio Edit)'].
Insomnia
was number one on the U.S. magazine Dance Music Authority's (DMA) Top 50 chart for May 1997. It was at number 14 on the April chart. 'Insomnia' was released as a single in the U.S. on February 25, including new mixes by Armand Van Helden. Tower Records in Boston sold out of its first shipment of CD singles by Friday, February 28 (and continued to sell out of the six track CD single for quite a while). The song was at number 4 on the Tower 12" singles sales chart for that week (and by March 22 had fallen off the chart, apparently). 'Insomnia' only started to appear in some other chain stores in the Boston area around the middle of March. Strange! HMV in Harvard Sq. still only had the two track CD as of April 13!.

As of March 20, 'Insomnia' was number 6 on the Billboard chart for dance singles (compiled from a national sample of dance club playlists, updated every Thursday). As of March 27, it was number 8. The single was number 3 for CD single sales in Billboard's March 29th issue.

There was an 'Insomnia' release party presented by Liquid and Arista at Club ManRay in Cambridge, Massachusetts, on Saturday, March 29. The first 100 patrons received copies of the 'Insomnia' promo CD, which is different from the commercial release of that single. Also, videos were to be handed out by the bartenders. Saturdays are Liquid at ManRay, a queer techno/dance night hosted then by DJ Liquid Todd, who has since moved to New York City.
Reverence
is being promoted as a single in the U.K. as of March 1997. It's due for commercial release in U.K. on April 14 on 2 CDs and cassette, and on April 28 on 12". The new Rollo & Sister Bliss remixes are uptempo dance numbers, according to a review in DJ Magazine (U.K.), issue no. 185, 15-28 March 1997. An Epic Mix of the song is included as well as a mix or two by Matty. The Armand Van Helden remixes of 'Insomnia' will be the b-sides.
Reviews of 'Reverence':
Musik, April 1997, the Epic Mix is reviewed by Nick Hanson in Trainspotting section under progressive house, p. 131 (with uncredited photo of Sister Bliss and Rollo, back to back): Faithless return from their well deserved global chart domination with yet another outstanding innovation. Meticulously crafted to roll any dancehall, 'Reverence' moves the goalposts once more, away from the pretenders to their Brit-house throne. This contains one of the slickest basslines to have emerged from a speaker this year. [Rated ten out of ten.]
NME, March 22, 1997: ALWAYS GUARANTEED to get your batteries melting, Faithless return from the wreckage of their recent London Astoria show not with more dub-addled funk or the techno-skank breakdown of 'Insomnia', but with a caramel-coated jazz odyssey on the perils of the demon liquor. "One Special Brew I get pissed quick / And sick / So I don't do it no more..." Maxi groans, whilst a load of backing singers, redundant since PM Dawn stopped making records, warble away sweetly in the background. Be warned. This man's jeep appears to be only a few streets short of genius.
Baseball Cap
has been remixed for a future single release, apparently.
---
---
Faithless - Discography
- roughly chronological by date of release and/or release number but different companies and countries are involved -
---
Albums
---
Singles
---
Dusted
---
Selected Compilation and Soundtrack Appearances
---
---
Albums





Reverence  [album]


   (Cheeky/3mv/BMG, UK, April 14, 1996)
   CD, CHEKCD500, ISBN# 5-014524-150054  [special packaging on initial
                                          run, limited edition cardboard
                                          digi-pak booklet with inner
					  sleeve for CD]
   CASS, CHEK?? 500, ISBN# ?
   2xLP, CHEK?? 500, ISBN# ?

   (Cheeky/Blow Up/Intercord, DE, April 15, 1996)
   CD, INT 845.595, ISBN# ?
   CASS, INT ?, ISBN# ?
   2xLP, INT ?, ISBN# ?

   (Cheeky/3mv/BMG, UK, November 4, 1996)  [album re-release]
   CD, CHEKCD 500  [jewelcase]
   CASS, CHEK?? 500
   2xLP, CHEK?? 500

   (Cheeky/Arista/BMG, US, early February? 1997)
   CD, AVCD-8966  [promo only, in grey cardboard sleeve w/ close up shot
                     of hands over the face]

   (Cheeky/Arista/BMG, US, March 25, 1997)
   CD, 18966, ISBN # 07822-18966-2 (7)
   CASS, ISBN # ?

   1.   7:41   Reverence
   2.   4:00   Don't Leave
   3.  10:45   Salva Mea  [album mix, edit of Epic Mix]
   4.   4:15   If Lovin' You Is Wrong
   5.   3:37   Angeline
   6.   8:45   Insomnia
   7.   3:05   Dirty Ol' Man
   8.   3:22   Flowerstand Man
   9.   2:54   Baseball Cap
  10.   4:08   Drifting Away
 *11.   3:33   Insomnia  (Monster Mix Radio Edit)
               [* bonus track on US CD, may be on cassette as well]

   All tracks produced and mixed by Rollo and Sister Bliss.
   All tracks engineered and mixed by Goetz,
     except 2, engineered and mixed by Burnham.
   Assistant engineer mainly Ibi Tijani, occasionally Nick Kirkland.

   1, 3, 4, 6, 7 and 9. Written by Maxi Jazz, Rollo and Sister Bliss
   2 and 5. Written by Jamie Catto, Rollo and Sister Bliss
   8. Written by Rollo and Dido [Rollo's sister]
   10. Written by Sister Bliss and Rollo
 * 11. Remixed by Rollo, Sister Bliss and Goetz.

   Maxi Jazz:  vocals, 1, 3, 4, 6, 7 and 9 [and * 11]
   Jamie Catto:  vocals, 2 and 5; backing vocals, 9
   Sister Bliss:  keyboards; backing vocals, 9
   Rollo:  programming
   Dido:  vocals, 8; backing vocals, 1, 2, 5, 7 and 9
   Pauline Taylor:  backing vocals, 2;  additional lead vocals, 4
   Paulie:  guitar, 1
   Aubrey Mann:  guitar, 1, 7 and 9
   Matt Benbrock:  drums, 1 and 4
   Gaeten Schurrer:  programming, 7 and 10
   Penny Shaw:  vocals, 10
   Mr V.:  keyboards, 3
   Vince DeCicco:  accordions, 5






Reverence  (album re-release with Irreverence remix CD)


   (Cheeky/3mv/BMG, UK, November 4 or 28?, 1996)
   2xCD, CHEKXCD 500, ISBN # ?  [jewelcase]  [limited to 25,000 copies]

   (Cheeky/Blow Up/Intercord, DE, 1996)
   2xCD, INT 845.599, ISBN # 7243 4 84431 2 0   [jewelcase]

   (Cheeky/Festival Records Pty. Ltd., AU, 1996/7?)
   2xCD, Cat # D31772, ISBN # 9 399603 177228  [jewelcase]


   Disc 1 = same as Reverence album listed above
   Disc 2 = Irreverence

   1.   3:58   Flowerstand Man  (Matty's Remix)
   2.   1:47   Angeline  (The Innocents Mix)
   3.   5:18   Reverence  (Tamsin's Re-fix)
   4.   3:00   Soundcheck Jam
   5.   7:46   Salva Mea  (Way Out West Remix)
   6.   5:53   Don't Leave  (Floating Remix)
   7.   6:46   Drifting Away  (Paradiso Mix)
   8.  10:40   Insomnia  (Moody Mix)
   9.   2:40   Baseball Dub  (Cheeky All Stars Remix)

   All tracks produced and mixed by Rollo and Sister Bliss
   All tracks engineered and mixed by Goetz at Swanyard Studios and compiled
   by Barry at Townhouse except 3 engineered by P. Parsons at London Music
   Productions (LMP), 5 engineered by Way Out West, and 6 engineered by
   Dave Burnham.

   Additional credits:
   1. Vocals:  Dido.  Programmed and remixed by Matty.
   2. Written by Rollo and Sister Bliss.  Keyboards:  Sister Bliss.
   3. Refixed by Tamsin.
   4. Written by Maxi Jazz, Pauline Taylor, Rollo and Sister Bliss.
      Rap: Maxi Jazz.  Backing:  Pauline.  Bass: Aubrey Nunn.  Drums:  Matty.
   5. Remixed by Way Out West. 
   6. Remixed by Rollo and Sister Bliss.
   7. Remixed by Angelo D'Caruso.
   8. Remixed by Rollo and Sister Bliss.
   9. Remixed by Matty, Rollo, Sister Bliss and Goetz.






Reverence  (Pinkpop Edition Free Live CD)

   [album re-released with Pinkpop Live Trax bonus CD)


   (Cheeky Records/Jive/Zomba, NL/EC, ?, 1998 or 1999?)
   2xCD, catalog # 0523642, ISBN # 5013705 236426  [jewelcase]

   Disc 1 = same as Reverence album listed above

   Disc 2 = Pinkpop Live Trax  (bonus CD)

   1.   7:47   Salva Mea
   2.   4:21   Dirty Ol' Man
   3.   6:27   Insomnia

   Bonus tracks (CD 2) recorded live @ Pinkpop, Landgraaf in Holland.






Sunday 8pm  (album)



   (Cheeky/Arista/BMG, US, September 29, 1998)
   CD, catalog # (07822-)19029-2, ISBN # 0 7822-19029-2 2

      [special packaging on initial run, limited edition cardboard
      digi-pak]

      [available as of November? 1999 in regular jewelcase]

   1.  4:26   The Garden
   2.  6:20   Bring My Family Back
   3.  4:01   Postcards               
   4.  7:13   Take The Long Way Home
   5.  3:57   Why Go?    
   6.  5:48   She's My Baby
   7.  8:01   God Is A DJ
   8.  4:07   Hem Of His Garment
   9.  2:42   Sunday 8PM
  10.  6:06   Killer's Lullaby
  11.  4:33   Hour Of Need           
  12.  3:32   God Is A DJ  (edit) 

   Produced and mixed by Rollo and Sister Bliss.
   Words written and performed by Maxi Jazz.
   Jamie Catto: Lead vocals on 11.
   Rachael Brown: Lead vocals on 11 and chorus vocals on 2, 6, 11.
   Boy George: Lead vocals on 5.
   Dido: Lead vocals on 8 and chorus vocals on 3.
   Pauline Taylor: Chorus vocals on 8, adlibs on 6.
   Dave Randall: Guitars on 2, 3, 5, 6, 8, 10, 11.
   Sister Bliss: All keyboards.
   Rollo: Programming.
   Ibi Tijani: Programming on 1.
   Sudha: Percussion on 2, 3, 5, 10, 11.
   Pauline: Guitar on 1, 6, 9.
   Andy Gangadene: Drums on 5.
   Debbie French, Imani Saleem & Shannon Stewart: Backing vocals on 5.
   Will Malone: String arrangement on 1, 2, 4, 10.
   Gawn Wright: String leader.
   DJ Swamp: Scratchings on 3, 8, 10.
   Goetz: Engineering and mixing of 1, 4, 5, 6, 7, 8, 9, 12
   (courtesy of Z Management).
   Phill Brown: Engineering and mixing of 2, 3, 10, 11.
   Initial engineering by Nick Kirkland.
   Assisted by Andy Ward Grippa and Jason Howes.
   Recorded and mixed at Swanyard Studios, London.
   Mastered by Miles at Metropolis.

   A & R: Peter Edge.
   Cover and back photo by Jamie Catto?.
   Design by Stylus.   

   1 and 9.  Written by Rollo and Sister Bliss.
   2, 6 and 10. Written by Maxi Jazz, Rollo and Sister Bliss.
   11. Written by Jamie Catto, Rollo and Sister Bliss.
   3. Written by Maxi Jazz, Dido, Jamie Catto, Rollo and Sister Bliss.
   4, 7 and 12. Written by Maxi Jazz, Rollo, Sister Bliss, Jamie Catto.
   5. Written by Boy George, Rollo and Sister Bliss.
   8. Written by Dido, Rollo, Sister Bliss, Dave Randall and Maxi Jazz.




   (Cheeky/3mv/BMG, UK, September 21, 1998)
   CD, CHEKCD.503, ISBN # ?   [special packaging on initial run,
                               limited edition cardboard digi-pak]
   CASS, CHEK??.503, ISBN # ?  [details not confirmed]
   LP?, CHEK??.503, ISBN # ?  [details not confirmed]

   (Festival Records/Cheeky/BMG, Australia, October 5, 1998)
   CD, ?, ISBN # ?   [special packaging on initial run,
                      limited edition cardboard digi-pak]

   (Cheeky/Intercord, DE/NL, September 21 or 28, 1998
   CD, catalog # INT 4 84583 2, ISBN # ?  [special packaging not confirmed]
   CASS, catalog # 4 84583 4, ISBN # ?  [details not confirmed]

   (Cheeky/Orange Records/Scandinavian Records, DK, September 21 or 28?, 1998
   CD, catalog # 54215, ISBN # 5709862542158  [packaging details not available]

   1.   4:27   The Garden
   2.   6:22   Bring My Family Back
   3.   4:36   Hour Of Need
   4.   4:01   Postcards
   5.   7:13   Take The Long Way Home
   6.   3:57   Why Go?
   7.   5:50   She's My Baby
   8    8:01   God Is A DJ
   9    4:07   Hem Of His Garment
  10.   2:43   Sunday 8PM
  11.   6:08   Killer's Lullaby

   Produced and mixed by Rollo and Sister Bliss. 
   Words written and performed by Maxi Jazz.
   Jamie Catto: Lead vocals on 3.
   Rachael Brown: Lead vocals on 3 and chorus vocals on 2, 3, 7.
   Boy George: Lead vocals on 6.
   Dido: Lead vocals on 9 and chorus vocals on 4.
   Pauline Taylor: Chorus vocals on 9, adlibs on 7.
   Dave Randall: Guitars on 2, 3, 4, 6, 7, 9, 11.
   Sister Bliss: All keyboards.
   Rollo: Programming.
   Ibi Tijani: Programming on 1.
   Sudha: Percussion on 2, 3, 4, 6, 11.
   Pauline: Guitar on 1, 7, 10.
   Andy Gangadene: Drums on 6.
   Debbie French, Imani Saleem & Shannon Stewart: Backing vocals on 6.
   Will Malone: String arrangement on 1, 2, 5, 11.
   Gawn Wright: String leader.
   DJ Swamp: Scratchings on 4, 9, 11.
   Goetz: Engineering and mixing of 1, 5, 6, 7, 8, 9, 10
   (courtesy of Z Management).
   Phill Brown: Engineering and mixing of 2, 3, 4, 11.
   Initial engineering by Nick Kirkland.
   Assisted by Andy Ward Grippa and Jason Howes.
   Recorded and mixed at Swanyard Studios, London.
   Mastered by Miles at Metropolis.

   A & R: Peter Edge.
   Cover and back photo by Jamie Catto?.
   Design by Stylus.

   1 and 10.  Written by Rollo and Sister Bliss.
   2, 7 and 11. Written by Maxi Jazz, Rollo and Sister Bliss.
   3. Written by Jamie Catto, Rollo and Sister Bliss.
   4. Written by Maxi Jazz, Dido, Jamie Catto, Rollo and Sister Bliss.
   5 and 8. Written by Maxi Jazz, Rollo, Sister Bliss, Jamie Catto.
   6. Written by Boy George, Rollo and Sister Bliss.
   9. Written by Dido, Rollo, Sister Bliss, Dave Randall and Maxi Jazz. 



   (Cheeky Records, UK, ?, 1998)
   12", catalog # CHEKDJ1001, DJ promo

   A.    ?:??   Bring My Family Back
   B.    ?:??   She's My Baby


 
   (Arista, US, ?, 1998)
   CD, catalog # ASCD-3538, promotional only
   ["Faithless - 4 Tracks"]

   1.    6:20   Bring My Family Back
   2.    4:01   Postcards
   3.    8:01   God Is A DJ
   4.    6:08   Killer's Lullaby



   [Pinkpop Edition with Free Live CD] 
   [album re-released with Pinkpop Live Trax bonus CD)

   (Cheeky Records/Jive/Zomba, NL/EC, ?, 1999)
   2xCD, catalog # 0523652, ISBN # 5013705 236525

   CD1:  'Sunday 8pm' album, see above

   CD2:  Pinkpop Live Trax (Bonus CD)

   1.    6:10   God Is A DJ  [live]
   2.    5:04   Bring My Family Back  [live]
   3.    1:18   Do My Thing  [live]
   4.    4:52   If Lovin' You Is Wrong  [live]

   Tracks 1-4. Recorded live at Pinkpop festival, Landgraaf in Holland,
      June '98 by Radio 3FM. Engineer: Paul Schoenmaker.
      Mastered: Q-Point, Holland.



   [Limited Edition Tour Pack with IBM Compatible Enhanced CD]
   (Festival Records/Cheeky/BMG, AU, ?, 1999)
   2xCD, catalog # D31891 / CHEKCD.503, ISBN # ?

   CD1:  'Sunday 8pm' album, see above

   CD2:  "sunday8pm.rom"
         Bonus IBM compatible enhanced CD featuring the videos:

   1.    3:36   God Is A DJ             [mpeg video]
   2.    3:55   Take The Long Way Home  [mpeg video]
   3.    3:38   Insomnia                [mpeg video]
   4.    3:54   Reverence               [mpeg video]




Sunday 8pm/Saturday 3am



   [original U.K. album CD re-released with "Saturday 3am" bonus remix album CD]

From www.cheeky.net:

""Saturday 3am" features mixes from current DJ du jour Paul Van Dyk,
Danny Tenaglia, Nightmares On Wax, labelmates Skinny and the band
themselves.  Also included is the commercial release version of the
album track 'Why Go?' (feat. Boy George on vocals - released as a double
A-side with 'If Lovin You Is Wrong' on October 18th), and a brand new
song entitled 'Thank You'".

"'SUNDAY 8PM' / 'SATURDAY 3AM' will be available for the price of a
single album".

   (Cheeky/3mv/BMG, UK, October ?, 1999)
   CD, catalog # CHEKXCD.503, promotional only
      [single CD promotional release of 'Saturday 3AM']

   (Cheeky Records/3mv/BMG, U.K, November ?, 1999)
   2xCD, catalog # CHEKCD.503, ISBN # ?
      CD1 is the original U.K. album of "Sunday 8pm".
         [see credits for this album above]
      CD2 is the remix album bonus CD entitled "Saturday 3am",
         which includes the following tracks:

   1.    1:30   The Garden (End Of Summer Intro)
                   remixed by Venom & Hempolics 
   2.    5:25   Killers Lullaby (Nightmares On Wax Mix) 
   3.    6:33   Take The Long Way Home (End Of The Road Mix)
                (a) mixed by The Timewriter
                   [misspelled as The Timewriters on www.cheeky.net and
                   in press interviews with the band all over the place]
                (b) mixed by Jan Driver 
   4.    7:54   Bring My Family Back (Paul Van Dyk Mix) 
   5.    3:32   Sunday 8pm (A Time For Lovin' Mix)
                remixed by Rollo & Sister Bliss 
   6.    3:47   Hour Of Need (Skinny Mix) 
   7.    3:30   Postcards (Rewritten Mix)
                remixed by Rollo & Sister Bliss 
   8.    8:52   God Is A DJ (Yes He Is)
                (a) remixed by Faithless
                (b) remixed by Jason Howes & Mark Lloyd
                (c) remixed by Rollo & Sister Bliss 
   9.    9:17   Thank You [new track recorded Sept 1999] 
  10.    3:49   Why Go (Radio Mix)
           remixed by Rollo & Sister Bliss 

   [remix credits taken from www.cheeky.net]



   [original U.S. album CD re-released with "Saturday 3am" bonus remix album CD]

   (Arista Records/Cheeky/BMG, U.S, November 23, 1999)
   2xCD, catalog # (07822-)14632-2, ISBN # 0 7822-14632-2 5
      CD1 is the original U.S. album of "Sunday 8pm".
         [this CD has original release catalog/ISBN # and picture on it.
          see credits for this album above.]
      CD2 is the remix album bonus CD entitled "Saturday 3am",
         which includes the following tracks:
         [picture is same as on U.K. CD, painting of Maxi Jazz in red
          hues]

   1.    1:30   The Garden (End Of Summer Intro)
   2.    5:24   Killers Lullaby (Nightmares On Wax Mix)
   3.    6:34   Take The Long Way Home (End Of The Road Mix)
   4.    7:15   Bring My Family Back (Paul Van Dyk Mix)
   5.    4:11   Sunday 8pm (A Time For Lovin' Mix)
   6.    3:47   Hour Of Need (Skinny Mix)
   7.    3:33   Postcards (Rewritten Mix)
   8.    8:35   God Is A DJ (Yes He Is)
   9.    9:29   Thank You  [new track recorded Sept 1999]
  10.    3:52   Why Go (Radio Mix)

   [No credits listed for bonus CD.  See credits above for U.K. release.
   There are slight variations in track times between the U.K. and U.S.
   bonus discs, but I assume that both are the same, until proven
   otherwise. The variations may be from how the tracks were divided up,
   not from changes to the overall program.]



---
Singles



Salva Mea  [single]



   (D-Vision, Italy, ? 1995)
   12", DV 121, ISBN# ?

   A.   11:11   Salva Mea  (Epic Mix)
   B.   10:00   Salva Mea  (Tuff Mix)

 
 
   (Cheeky/Blow Up/Intercord, DE, August 5?, 1995)
   CD, INT 828.051, ISBN# ?
 
   (Cheeky/3mv/BMG, UK, 1996)
   CD, CHEKCD008, ISBN# ?  [track list not confirmed]
 
   1.   4:08   Salva Mea  (Radio Version)  [aka "Slow Version"]
   2.   4:51   Salva Mea  (Epic Edit)
   3.   3:59   Salva Mea  (Tuff Edit)
   4.   8:40   Salva Mea  (Sister Bliss Remix)
   5.   8:12   Salva Mea  (Floating Mix)
 
   Produced by Rollo.  Written by Rollo, Sister Bliss and Maxi Jazz.
   Rap written & performed by Maxi Jazz. Mixed by Rollo and Goetz.
   Engineered with love by Goetz.



   (Cheeky Records, US, March/April? 1996)
   CD, CHEKCD 008, ISBN# 7-46105-008-2-7

   1.   4:08   Salva Mea  (Radio Version)
   2.   4:51   Salva Mea  (Epic Radio Version)
   3.  11:48   Salva Mea  (Epic Mix)  [like an extended album version]
   4.   9:35   Salva Mea  (Tuff Mix)
   5.   8:40   Salva Mea  (Sister Bliss Mix)

   Produced by Rollo / Written by Rollo, Sister Bliss, and Maxi Jazz
   Rap written and performed by Maxi Jazz
   Mixed by Rollo and Goetz / Engineered with love by Goetz

   1.  additional vocals by Collette, keyboards by Mr V.
   2 and 3.  additional vocals by Dido, keyboards by Mr V.
   4.  produced by Rollo and Sister Bliss,
     additional vocals by Penny Shaw and Maxi Jazz
   5.  remixed by Sister Bliss, vox by Maxi Jaxx



   (Cheeky/Jive/Zomba/BMG, DE/NL, October 11?, 1995)
   CD, ISBN# 74321-308902

   1.   4:50   Salva Mea  (Epic Edit)
   2.   4:10   Salva Mea  (Original Radio Edit)
   3.   4:55   Salva Mea  (C.E.C. Edit)
   4.   3:59   Salva Mea  (Tuff Edit)
   5.  11:50   Salva Mea  (Full Epic Mix)  [like an extended album version]
   6.   9:36   Salva Mea  (Full Tuff Mix)
   7.   8:43   Salva Mea  (Sister Bliss Remix)

   Produced by Rollo.  Written by Rollo, Sister Bliss, and Maxi Jazz
   Rap written and performed by Maxi Jazz
   Mixed by Rollo and Goetz.  Engineered with love by Goetz

   2. Additional vocals by Collette.  Keyboards by Mr V.
   1, 3 and 5. Additional vocals by Dido.  Keyboards by Mr V.
   Edit on 3 by C.E.C.
   4 and 6. Produced by Rollo and Sister Bliss.  Keyboards by Sister Bliss.
      Additional vocals by Penny Shaw and Maxi Jazz.
   7. Remix by Sister Bliss.  Vox by Maxi Jazz.





Insomnia  [single]



   (Cheeky/Blow Up/Intercord, DE, ?, 1995/96)
   CD, [CHEKCD 010] INT 828.075, ISBN# ?

   (Cheeky/3mv/BMG, U.K., November 20?,1995)
   CD, CHEKCD.010, ISBN# ? 

   1.   3:34   Insomnia  (Monster Radio Edit)
   2.   3:36   Insomnia  (Original Radio Edit)
   3.   8:38   Insomnia  (Monster Mix)
   4.  10:40   Insomnia  (Moody Mix)
   5.   7:18   Insomnia  (Tuff Mix)

   Written by Maxi Jazz, Rollo and Sister Bliss.
   Vocals by Maxi Jazz.  Produced and mixed by Rollo and Sister Bliss.
   Engineered and mixed by Goetz.

   2. Additional vocals by Roger
   4. Vocals by Roger and Maxi Jazz



   (Cheeky/Blow Up/Intercord, DE, ?, 1995)   
   CD, INT 828.098, ISBN# ?

   1.   3:53   Insomnia  (CEC Edit)
   2.   3:34   Insomnia  (Monster Radio Edit)
   3.  10:55   Insomnia  (Original Mix)
   4.  10:43   Insomnia  (Moody Mix)
   5.   7:18   Insomnia  (Tuff Mix)

   3. Additional vocals by Roger.
   4. Vocals by Roger and Maxi Jazz



   (Cheeky/Jive/Zomba/BMG, Holland, 1995)
   CD, CHEKCD.010?, ISBN# 74321 332852
 
   1.   4:37   Insomnia  (CEC Edit)
   2.   3:33   Insomnia  (Monster Radio Edit)
   3.  10:55   Insomnia  (Original Mix)
   4.   8:38   Insomnia  (Monster Mix)
   5.  10:42   Insomnia  (Moody Mix)
   6.   7:19   Insomnia  (Tuff Mix)

   Written by Maxi Jazz, Rollo and Sister Bliss.
   Vocals by Maxi Jazz.  Produced and mixed by Rollo and Sister Bliss.
   Engineered and mixed by Goetz.

   3. Additional vocals by Roger
   5. Vocals by Roger and Maxi Jazz





Don't Leave



   (Cheeky/Blow Up/Intercord, DE, 1996)
   CD, INT 828.094, ISBN# ?

   (Cheeky/3mv/BMG, UK, March/April? 1996)
   CD, CHEKCD012, ISBN# 5-014524-101254

   1.   3:57   Don't Leave  (Radio Edit)
   2.   6:03   Don't Leave  (Floating Mix)
   3.   8:20   Don't Leave  (Big Mix) (Mix 2)
   4.   9:25   Don't Leave  (Moody Mix) (Mix 1)

   Written by Rollo, Sister Bliss and Jamie Catto.
   Produced by Rollo and Sister Bliss.

   1 and 2. Vocals:  Jamie Catto.  Engineered by Dave Burnham.
   3. Vocals:  Roger.  Engineered by Dave Burnham. 
   4. Engineered by Goetz.



   (Cheeky/3mv/BMG, UK, 1996)
   12", CHEK.12012, ISBN# 5-014524-101261

   track list n/a, includes:

        8:20   Don't Leave  (Big Mix) (Mix 2)
        9:25   Don't Leave  (Moody Mix) (Mix 1)



   (Cheeky/Jive/Zomba/BMG, Holland, 1996)
   CD, ISBN# 74321 370492

   1.   3:57   Don't Leave  (Radio Edit)
   2.   4:30   Don't Leave  (Big Mix) (CEC Edit)
   3.   8:20   Don't Leave  (Big Mix)
   4.   9:25   Don't Leave  (Moody Mix)
   5.   6:03   Don't Leave  (Floating Mix)

   Written by Rollo, Sister Bliss and Jamie Catto.
   Produced by Rollo and Sister Bliss.

   1 and 5. Vocals:  Jamie Catto.  Engineered by Dave Burnham.
   2 and 3. Vocals:  Roger.  Engineered by Dave Burnham. 
   4. Engineered by Goetz.



   (Cheeky/Blow Up/Intercord, DE, 1996)
   CD, INT 828.150, ISBN # 7243 8 83516 2 1

   1.   3:57   Don't Leave  (Radio Edit)
   2.   3:42   Don't Leave  (Live Version)
   3.  11:24   Don't Leave  (Euphoric Mix)
   4.   8:03   Don't Leave  (Deep Mix)
   5.   8:12   Don't Leave  (Simple Mix)

   Written by Rollo, Sister Bliss and Jamie Catto.
   Produced by Rollo and Sister Bliss.
   Mixed by Rollo, Sister Bliss and Goetz.  Engineered by Goetz.

   Keyboards by Sister Bliss. 
   1&2: Vocals by Jamie Catto.
   1,3,4,5 mixed and remixed by Rollo & Sister Bliss.
   2 by courtesy of SWF3 (German radio), recorded and mixed live at
      SWF3 New Pop Festival. Mixed on the spot by Jo Theifen and Rollo.
   3,4: Guitar by Dave Randall.



   (Cheeky/Blow Up/Intercord, DE, 1996)
   12", INT ?, ISBN# 724388-3516-6 (9)
 
   A1.  11:24   Don't Leave  (Euphoric Mix)
   A2.   8:03   Don't Leave  (Deep Mix)
   B1.   8:12   Don't Leave  (Simple Mix)
   B2.   9:33   Salva Mea  (Deep Gold Mix)





If Lovin' You Is Wrong  [single]


   Written by  Maxi Jazz, Rollo and Sister Bliss.
   Vocals:  Maxi Jazz.  Backing vocals:  Pauline Taylor.


   (Cheeky/3mv/BMG, UK, June/July? 1996)
   CD, CHEKCD.014, ISBN# 5-014524-101445

   (Cheeky/Orange Records, NL?, June/July? 1996)
   CD, ORCOM 53210, ISBN # ?

   1.   4:16   If Lovin' You Is Wrong  (Sexy Edit)
   2.   4:07   If Lovin' You Is Wrong  (Cleaned Up Edit)
   3.   7:40   If Lovin' You Is Wrong  (Slowly Rising Mix)
   4.   8:35   If Lovin' You Is Wrong  (Inflammable Mix)


   Produced by Rollo and Sister Bliss.   
   Mixed by Rollo, Sister Bliss, and Goetz.  Engineered by Goetz.
   Live drums on 1 and 2:  Matt Benbrook.
   Recorded in glorious quadrophonic sound at Swanyard Studios, London.


   (Cheeky/3mv/BMG, UK, June/July? 1996)
   12", CHEK12.014, ISBN# 5-014524-101469

   A.   8:35?  If Lovin' You Is Wrong  (Inflammable Mix)
   B.   9:11?  Salva Mea  (96 Remix)

   A. Produced by Rollo and Sister Bliss. Mixed by Rollo, Sister Bliss,
      and Goetz.
   B. Produced by Rollo. Mixed by Rollo and Goetz. Vocals by Penny Shaw.
      Keyboards by Sister Bliss. 

   Engineered by Goetz.




 
Salva Mea  [German single re-release]
 
 
 
   (Cheeky/Blow Up/Intercord, DE, August 1996)
   CD, INT 828.124 / LC 8076, ISBN# 7243-8-83184-2(6)
 
   1.   3:47   Salva Mea  (Radio Edit)
   2.   4:59   Salva Mea  (C.E.C. Radio Edit)
   3    4:51   Salva Mea  (Epic Edit)
   4.   9:11   Salva Mea  (96 Remix)
   5.   7:48   Salva Mea  (Way Out West Remix)
   6.   8:36   Salva Mea  (Tuff Mix)

   Produced by Rollo.  Written by Rollo, Sister Bliss, and Maxi Jazz.
   Rap written and performed by Maxi Jazz.
   Mixed by Rollo and Goetz.  Engineered with love by Goetz.
 
   1. Radio cut by Brenner + Saraf and Panic.
   2, 3 and 5. Additional Vocals by Dido, Keyboards by Mr. V.
   2. Edit by C.E.C.
   4. Vocals by Penny Shaw.  Keyboards by Sister Bliss.
   5. Remixed by Jodi Wisternoff and Nick Warren.
   6. Vocals by Penny Shaw & Maxi Jazz.  Keyboards by Sister Bliss.





Insomnia  [single re-release]



   "DJ Quicksilver Remixes".

   (Cheeky/Blow Up/Intercord, DE, September 1996)
   CD, INT 828.134, ISBN# ?

   1.   7:56   Insomnia  (DJ Quicksilver Mix)
   2.   7:36   Insomnia  (De Donatis Mix)

   Produced by Rollo and Sister Bliss.
   Written by Rollo, Sister Bliss, and Maxi Jazz.
   Rap written and performed by Maxi Jazz.
   Mixed by Rollo, Sister Bliss and Goetz.
   Engineered and mixed by Goetz.

   1. Remixed by Orhan Terzi and Tommaso De Donatis.
   2. Remixed by Tommaso De Donatis at Noise Factory, Essen.  Special thanks
      to Joachim Uhrig and Orhan's son Semih.



   (Cheeky/3mv/BMG, UK, October 14 or 21?, 1996)
   CD, CHEKCD.017, ISBN# 5-014524-101759

   1.   3:34   Insomnia  (Monster Mix Radio Edit)
   2.   3:35   Insomnia  (Original Mix Radio Edit)
   3.   8:35   Insomnia  (Monster Mix)
   4.  10:42   Insomnia  (Moody Mix)
   5.   7:17   Insomnia  (Tuff Mix)

   Produced by Rollo and Sister Bliss.  Written by Rollo, Sister Bliss,
   and Maxi Jazz.  Mixed by Rollo, Sister Bliss and Goetz.  Engineered by
   Goetz.

   1, 2, 3. rap written and performed by Maxi Jazz.
   2. additional vocals by Roger.  4. vocals by Roger and Maxi Jazz.
   Engineered by Spencer Henderson and Goetz.



   (Cheeky/3mv/BMG, UK, October 14 or 21?, 1996)
   CD, CHEKxCD.017, ISBN# 5-014524-101728

   1.   3:51   Insomnia  (CEC Radio Mix)
   2.   7:14   Insomnia  (96 Remix)
   3.   7:56   Insomnia  (DJ Quicksilver Remix)
   4.   7:37   Insomnia  (De Donatis Remix)

   Produced by Rollo and Sister Bliss.  Written by Rollo, Sister Bliss,
   and Maxi Jazz.  Rap written and performed by Maxi Jazz.

   2. mixed by Rollo and Sister Bliss.  Engineered by Goetz.
   3. mixed by DJ Quicksilver
   4. mixed by De Donatis



   (Cheeky/3mv/BMG, UK, October 14 or 21?, 1996)
   CSS, CHEK?.018, ISBN# ?

   [track list n/a]



   (Cheeky/3mv/BMG, UK, October 28, 1996)
   12", CHEK12017, ISBN# ?

   [track list n/a]



   (Cheeky/Intercord/Arabesque, DE, December 12, 1996)
   12", 193202, ISBN# ?

   [track list n/a, but includes:

      ?:??   Insomnia  (DJ Quicksilver remix)]





Salva Mea  [single re-release]



   (Cheeky/3mv/BMG, UK, December 9, 1996)
   CD, CHEKCD.018, ISBN# 5 014524 101858

   1.   4:34   Salva Mea  (Radio Edit)
   2.  11:49   Salva Mea  (Epic Mix)  [like an extended album version]
   3.   7:46   Salva Mea  (Way Out West Remix)
   4.   4:08   Salva Mea  (Slow Version)
   5.   8:12   Salva Mea  (Floating Mix)

   Produced by Rollo and Sister Bliss

   1. Edited by Bill Padley at Wise Buddah
   2. Additional Vocals by Dido, Keyboards by Mr. V.
   3. Remixed by Way Out West
   4. Mixed by Rollo and Goetz.  Backing: Collette
   5. Remixed by Rollo and Sister Bliss.  Vocals: Penny Shaw
 


   (Cheeky/3mv/BMG, UK, December 9, 1996)
   CD, CHEKXCD.018, ISBN# 5 014524 101827

   1.   4:34   Salva Mea  (Radio Edit)
   2.  11:49   Salva Mea  (Epic Mix)  [like an extended album version]
   3.   8:41   Salva Mea  (Sister Bliss Remix)
   4.   6:50   Salva Mea  (DJ Quicksilver Remix)
   5.   7:54   Salva Mea  (Tuff Mix)

   Produced by Rollo and Sister Bliss

   1. Edited by Bill Padley at Wise Buddah
   2. Additional Vocals by Dido, Keyboards by Mr. V.
   3. Remixed by Sister Bliss
   4. Remixed by DJ Quicksilver
   5. Remixed by Rollo and Sister Bliss.  Vocals: Penny Shaw and Maxi Jazz

 

   (Cheeky/3mv/BMG, UK, December 9, 1996)
   CSS, CHEKK.018, ISBN# ?
 
   [track list n/a]
 
 
 
   (Cheeky/3mv/BMG, UK, December 30)
   12", CHEK.12018, ISBN# ?
 
   [track list n/a]
 
      ?:??   Salva Mea  (Way Out West remix)



   (Cheeky/Jive/Zomba/BMG, Holland, January? 1997)
   CD, 051616-0

   1.   4:50   Salva Mea  (Radio Edit) 
   2.   6:52   Salva Mea  (DJ Quicksilver Remix)

   1. Edited by Bill Padley at Wise Buddah.
   2. Mixed by DJ Quicksilver.


   (Cheeky/Jive/Zomba/BMG, Holland, January? 1997)
   CD, 051616-2

   1.   4:50   Salva Mea  (Radio Edit)
   2.  11:51   Salva Mea  (Epic Mix)
   3.   7:49   Salva Mea  (Way Out West Remix)
   4.   8:42   Salva Mea  (Sister Bliss Remix)
   5.   6:52   Salva Mea  (DJ Quicksilver Remix)
   6.   7:55   Salva Mea  (Tuff Mix)
   7.   4:10   Salva Mea  (Slow Version)
   8.   8:13   Salva Mea  (Floating Mix)

   1. Edited by Bill Padley at Wise Buddah.
   3. Remixed by Way Out West.
   5. Mixed by DJ Quicksilver.



   "International Remixes"
 
   (Cheeky/Blow Up/Intercord/Arabesque, DE, November/ or December 12, 1996)
   CD, INT 828.154, ISBN# ?

   1.   9:29   Salva Mea  (Deep Gold Mix)
   2.   7:48   Salva Mea  (Voodoo Mix by Jules Vernes)  [Julkes or Jules?]
   3.   6:51   Salva Mea  (DJ Quicksilver Remix)
   4.   6:06   Salva Mea  (Jazz Voice Suspicious Mix)
 
   Produced by Rollo.  Written by Rollo, Sister Bliss, and Maxi Jazz.
   Rap written and performed by Maxi Jazz.
 
   1. Remixed by Rollo, Sister Bliss, and Goetz.
   2. Produced, arranged and mixed by Nico Herz at No! Lowcut Studios,
      Stuttgart.
   3. Remixed by Tommaso De Donatis and Orhan Terzi at Noise Factory, Essen.
   4. Arranged and remixed by Maurizio (Jazz Voice) Verbeni and J.V. team
      for Jazz Voice Productions Worldwide.  Programmed and engineered by
      Stefano Pietrini.  Recorded and mixed at Midi Studios Recording, Assisi
      (Italy).



   (Intercord/Arabesque, DE, December 12, 1996)
   12", 128154, ISBN#

   [track list n/a]

      ?:??   Salva Mea  [International remix?]




   [The Floating Mix has similarities to the album version and "Irreverence"
   version of Drifting Away, no Maxi Jazz rap in it.  Penny Shaw's soprano
   aria is used at the beginning of each track, including Sister Bliss Mix
   and/or Tuff Mix of Salva Mea]





Don't Leave  [German single re-release]


   (Intercord/Arabesque, Germany, December 12, 1996)
   12", 128150, ISBN# ?
   [track list n/a]





Insomnia  [U.S. single - promo only]



   (Cheeky/Arista/BMG, US, February? 1997)
   2x12", ADP-3306

   track times not confirmed, includes:
 
   A1.   8:09?  Insomnia  (Armand's European Vacation Mix)
   A2.   7:14?  Insomnia  (Rollo & Sister Bliss Mix)  [the '96 Remix'?]
   B1.   8:34?  Insomnia  (Monster Mix)
   B2.   7:17?  Insomnia  (Tuff Mix)

   C1.   8:49?  Insomnia  (Armand's Mission To Mars Mix)
   C2.   7:35?  Insomnia  (De Donatis Mix)
   D1.  10:55?  Insomnia  (Original Mix)
   D2.   3:51?  Insomnia  (CEC Mix)  [presumably the 'CEC Radio Mix']



   (Cheeky Records/Arista/BMG, US, February? 1997)
   CD, ASCD-3306  [promo only release]
   [cover art same as commercial release, Maxi Jazz's hands]

   1.   3:33   Insomnia  (Monster Mix) (Radio Edit)
   2.   3:27   Insomnia  (Armand's Mix) (Radio Edit)
 
   Produced by Rollo and Sister Bliss.
   Written by Maxi Jazz, Rollo and Sister Bliss.
   Raps written and performed by Maxi Jazz.
   Mixed by Rollo, Sister Bliss and Goetz.
   Engineered by Goetz.
 
   1. Remixed by Rollo, Sister Bliss and Goetz.
   2. Remixed by Armand Van Helden for X-Mix Productions.  No mention of
      Re-Editing and Overdubbing by The Fitch Brothers and Neil Petricone.
      Presumably, the same mix as (Armand's European Vacation Mix) (Radio Edit)



   (Cheeky Records/Arista/BMG, US, February? 1997)
   CD, ASCD-3311  [promo only release]
   [Special cover art, image of child with black eye, smoking cigarette, 
    repeated (a la Andy Warhol) in a grid, alternating blue and red.]

   1.   3:33   Insomnia  (Monster Mix Radio Edit)
   2.   8:43   Insomnia  (Album Version)
   3.   7:35   Insomnia  (De Donatis Mix)
   4.   5:20   Reverence  (Tamsin's Drum & Bass Mix)  [same as Tamsin's Re-Fix]
   5.   5:53   Don't Leave  (Floating Bass Mix)  [same as Floating Mix]

   Produced by Rollo and Sister Bliss.
   1, 2, 3, 4. Written by Maxi Jazz, Rollo and Sister Bliss.  Raps written
      and performed by Maxi Jazz.  Mixed by Rollo, Sister Bliss and Goetz.
      Engineered by Goetz.
   5. Written by Jamie Catto, Rollo and Sister Bliss.  Vocals by Jamie Catto.
         Engineered and mixed by Dave Burnham.
   3. Remixed by De Donatis
   4. Remixed by Tamsin.  Engineered by P. Parsons at LMP.
   5. Remixed by Rollo and Sister Bliss.  Engineered by Dave Burnham.
   Art Direction:  S.G. Lee





Insomnia  [U.S. single]
 
 
 
   (Cheeky Records/Arista Records, US, February 25, 1997)
   CD, ISBN # 07822-13333-2 (0)
 
   1.   3:33   Insomnia  (Monster Mix) (Radio Edit)
   2.   8:09   Insomnia  (Armand's European Vacation Mix)
   3.   8:34   Insomnia  (Monster Mix)
   4.   8:49   Insomnia  (Armand's Mission To Mars Mix)
   5.   7:35   Insomnia  (De Donatis Mix)
   6.   3:51   Insomnia  (CEC Radio Mix)

   Produced by Rollo and Sister Bliss.
   Written by Maxi Jazz, Rollo and Sister Bliss.
   Raps written and performed by Maxi Jazz.
   Mixed by Rollo, Sister Bliss and Goetz.
   Engineered by Goetz.

   1, 3, and 6. Remixed by Rollo, Sister Bliss and Goetz.
   2 and 4. Remixed by Armand Van Helden for X-Mix Productions.
   2. Re-Editing and Overdubbing by The Fitch Brothers and Neil Petricone.
   5. Remixed by De Donatis

   Cover photo from 'Insomnia' video, director:  Linda Heymann;
   director of photography:  Simon Chaudoir.

   A & R:  Peter Edge.



   (Cheeky Records/Arista Records, US, February 25, 1997)
   CD, ISBN # 07822-13332-2 (1)  [paper sleeve]
   CASS, ISBN # 07822-13332-4 (5)  [paper sleeve]
 
   1.   3:33   Insomnia  (Monster Mix) (Radio Edit)
   2.   3:27   Insomnia  (Armand's European Vacation Mix) (Radio Edit)
 
   Produced by Rollo and Sister Bliss.
   Written by Maxi Jazz, Rollo and Sister Bliss.
   Raps written and performed by Maxi Jazz.
   Mixed by Rollo, Sister Bliss and Goetz.
   Engineered by Goetz.
 
   1. Remixed by Rollo, Sister Bliss and Goetz.
   2. Remixed by Armand Van Helden for X-Mix Productions.  Re-Editing
      and Overdubbing by The Fitch Brothers and Neil Petricone.   



   (Cheeky Records/Arista Records, US, February 25, 1997)
   12", ISBN # 07822-13333-1 (3)
 
   A1.   8:09?  Insomnia  (Armand's European Vacation Mix)
   A2.   8:49   Insomnia  (Armand's Mission To Mars Mix)
   B1.   8:34   Insomnia  (Monster Mix)
   B2.   7:35   Insomnia  (De Donatis Mix)
 
   Produced by Rollo and Sister Bliss.
   Written by Maxi Jazz, Rollo and Sister Bliss.
   Raps written and performed by Maxi Jazz.
   Mixed by Rollo, Sister Bliss and Goetz.
   Engineered by Goetz.

   A1 and A2. Remixed by Armand Van Helden for X-Mix Productions.
   A1. Re-Editing and Overdubbing by The Fitch Brothers and Neil Petricone.
      [track A2 is listed as the re-edited and overdubbed mix, but if
      mixes on the 12" are the same as on the Maxi-CD then it
      would be A1.] 
   B1. Remixed by Rollo, Sister Bliss and Goetz.
   B2. Remixed by De Donatis. 





Reverence  [single]



   (Cheeky/3mv/BMG, UK, April 14, 1997)
   CD, CHEKCD.019, ISBN# 5 014524 101957

   1.   3:45   Reverence  (Radio Edit)
   2.   4:19   Reverence  (Matty's  Remix)
   3.   9:21   Reverence  (Monster Mix)
   4.   9:31   Reverence  (Epic Mix)

   Written by Maxi Jazz, Rollo & Sister Bliss.
   Produced by Rollo & Sister Bliss.
   Guitar:  Paulie.  Bass:  Aubrey Nunn.
   Percussion:  Mal Hyde-Smith.  Keyboards:  Sister Bliss.
   Rap written & performed by Maxi Jazz.
   Backing & additional vocals:  Pauline Taylor and Dido.
   Engineered by Nick Kirkland.  Recorded at Swanyard Studios, London.

   2. Remixed by Matt Benbrook.  Additional vocals:  Pauline Taylor.
      Engineered by Nick Kirkland.
   3 and 4. Remixed by Rollo & Sister Bliss.  Keyboards:  Sister Bliss. 
      Engineered and mixed by Goetz.



   (Cheeky/3mv/BMG, UK, April 14, 1997)
   CD, CHEKXCD.019, ISBN# 5 014524 101926

   1.   3:45   Reverence  (Radio Edit)
   2.   4:19   Reverence  (Matty's  Remix)
   3.   8:34   Insomnia  (Monster Mix)
   4.   8:09   Insomnia  (Armand's European Vacation Mix)



   (Cheeky/3mv/BMG, UK, April 14, 1997)
   CASS, CHEKKCD.019, ISBN# ?
   [track list n/a]



   (Cheeky/3mv/BMG, UK, April 28, 1997)
   12", CHEK.12019, ISBN# ?
   [track list n/a]



   (Cheeky/3mv/BMG, UK, February/March?, 1997)
   12" or 2x12"? promo only, CHEK.12019?, ISBN# ?
   [track list n/a]



   (Cheeky/Blow Up/Intercord, DE, April 14?, 1997)
   CD, INT ?, ISBN# ?
   [track list n/a]



   (Cheeky/Jive/Zomba/BMG, NL, April 14?, 1997)
   CD, 051650-2

   1.   3:45   Reverence  (Radio Edit)
   2.   4:19   Reverence  (Matty's Remix)
   3.   9:21   Reverence  (Monster Mix)
   4.   9:31   Reverence  (Epic Mix)
   5.   8:40   Insomnia  (Monster Mix)
   6.   8:02   Insomnia  (Armand's European Vacation Mix)

   Produced by Rollo and Sister Bliss.
   Written by Rollo, Sister Bliss and Max Jazz.
   Guitar by Paulie , Bass by Aubrey Nunn.
   Percussion by Mal Hyde-Smith. Keyboards by Sister Bliss.
   Rap written and performed by Maxi Jazz.
   Mixed by Rollo, Sister Bliss and Goetz.
   Backing and additional vocals by Pauline Taylor and Dido.
   Engineered by Goetz.

   2. Remixed by Matt Benbrook.  Additional vocals:  Pauline Taylor.
      Engineered by Nick Kirkland.
   3 and 4. Remixed by Rollo & Sister Bliss.  Keyboards:  Sister Bliss.
      Engineered and mixed by Goetz.
   6. Remixed by Armand Van Helden for X-Mix Productions.



   [The various formats include uptempo mixes of 'Reverence' by Rollo &
   Sister Bliss and Matty's Remix and the Armand Van Helden remixes of
  'Insomnia'.]





Salva Mea [Remixes]  [U.S. single - promo and commercial]

 
 
 
   (Cheeky/Arista/BMG, US, May? 1997)
   2x12", ADP-3397, ISBN # 07822-13397-1-8 [Sides A-D]
      [promo only w/ plain black sleeve]

   (Cheeky/Arista/BMG, US, September 2, 1997)
   2x12", ISBN # 07822-13397-1-8
      [shiny gold sleeve with image of an angel statue, very pretty]
 
   [Both versions are identical except for sleeve.  This release has gotten
   much more attention and promotion in Europe than it did in U.S.  I saw
   the commercial version of this for the first time in mid-November 1997.]


   07822-13397-1-8 A  [A side]

   1.  13:23   Salva Mea  (D.T.'s Main Club Mix)
   2.   7:28   Salva Mea  (D.T.'s Industry Dub)

   07822-13397-1-8 B  [B side]

   3.   9:41   Salva Mea  (Act 1:  The Opening Drama)
   4.   2:01   Salva Mea  (Act 2:  D.T. Returns To Twilo)
   5.   4:05   Salva Mea  (Act 3:  Maxi's In Da House)
   6.   2:29   Salva Mea  (Act 4:  The Closing Drama)

   07822-13397-1-8 C  [C side]

   7.   8:41   Salva Mea  (Sister Bliss Remix)
   8.  11:48   Salva Mea  (Original Epic Mix)

   07822-13397-1-8 D  [D side]

   9.   7:28   Salva Mea  (D.T.'s Mix Show Edit)
  10.   3:56   Salva Mea  (Mix Show Epic)
  11.   7:46   Salva Mea  (Way Out West Mix)


   Produced by Rollo and Sister Bliss.  
   Tracks 1, 2, 3, 4, 5, 6, and 9:  Remixed and Additional Production
      by Danny Tenaglia for Stay Tuned Productions.  Additional
      'touch' by Eddie Montilla.
   Tracks 1 and 2:  Mixed by Rob Rives.  Edited by Konrad Carelli
      and Danny Tenaglia.
   Tracks 7 and 8:  Remixed by Sister Bliss.
   Track 10.  Remixed by Rollo.
   Track 11.  Remixed by Way Out West.


   [There are four mixes by Danny Tenaglia, including his primary mix
   which is 18+ minutes long.  That is on the B-side here, split into
   four 'acts'.  This promo was reviewed by Larry Flick in Billboard,
   June 7, 1997 issue, Dance Trax column, p. 47.  Larry praised the
   Tenaglia mixes and the original album highly.  Commercial release of
   'Salva Mea' had been scheduled for mid-June 1997, to coincide with
   the kickoff of the first ever tour of U.S. by  Faithless.  However,
   'Salva Mea' was not released at that time.

   The 'Act 2:  D.T. Returns to Twilo' mix refers to Tenaglia's return
   as a resident DJ at Twilo, formerly The Sound Factory, a club in
   New York City.  Since this release, Tenaglia has moved his residency
   to The Tunnel.] 





Don't Leave  [U.S. single - promo only] 
 
  
 
   (Cheeky/Arista/BMG, US, September? 1997)
   CD, ASCD-3394  [promotional only]
 
   1.   3:16   Don't Leave  (Hard Mix)
   2.   3:24   Don't Leave  (String Mix)
   3.   4:02   Don't Leave  (Album version)

 
   Written by Jamie Catto, Rollo, & Sister Bliss.
   Produced by Rollo & Sister Bliss.
   Vocals by Jamie Catto.
 
   1. Remixed by Ian Caple for SJP. Guitar overdubs by Robin Key.
   2. Remixed by Rollo & Sister Bliss. Special thanks to Ian Caple.
      Strings arranged & conducted by Will Malone.  Engineered by
      Phil Brown.
   3. Engineered & mixed by Dave Burnham.

   A & R: Peter Edge
   Art Direction: S.G. Lee.  Photography by John Bentham.

   [The artwork and photos on this sleeve and CD are new and the effect of
   the varying shades of orange-blue-purple-black-and-white is very pretty.]

   [All these mixes are new.  The vinyl record scratch sound that is
   one of the key rhythmic elements of the "Reverence" album
   version is not used in these mixes.  

   The 'Hard Mix' replaces the scratch and the bells with more forthright
   drums, and guitars are added upfront, to make a bolder pop song.  The
   diva background vocals no longer range over the top of the song, but echo
   and respond to Jamie's words in a catchy new way towards the end.

   The 'Strings Mix' lays on the strings early and often, but accompanied by
   drums.  Rollo and Sister Bliss borrowed elements of the 'Hard Mix' for
   this version.  The guitars here are a mellow element, not a driving
   force.  The background vocals are again slightly different in effect.
   Plus, there's a faint echo on Jamie's voice.  The song fades out and
   comes back towards the end.

   The "album version" (taken from the soundtrack to the
   film, "A Life Less Ordinary") has a gentle guitar intro.
   The bells and piano are there.  A drum rhythm replaces the record
   scratch.  There's an echo on Jamie's vocals.  The background vocals
   are in the same vein as "Reverence" album version but
   there are less of them.

   All three versions work well.

   Billboard magazine gave a very favorable review to a promo mix of
   'Don't Leave' (3:16) in its October 4, 1997 issue, p. 90.  The song
   was given a star, indicating Critic's Choice recommendation.  The
   reviewer mentioned that several remixes were available and that there
   was a tie-in with the soundtrack to the film, "A Life Less Ordinary".] 




 
Don't Leave  [U.S. single, never released]



   (Cheeky/Arista/BMG, US, October? 1997)

   [Never released.  See U.S. promo listing above for 'Don't Leave' and
   'Salva Mea' for more information/speculation.  Release would have
   coincided with inclusion of 'Don't Leave' on soundtrack to the
   Danny Boyle film, "A Life Less Ordinary"]




 
Don't Leave  [U.K. single] ["Taken From The Film - A Life Less Ordinary -"]

   Written by Rollo, Sister Bliss and Jamie Catto.
   Produced by Rollo & Sister Bliss.
   Vocals by Jamie Catto.


   (Cheeky/3mv/BMG, UK, November 3, 1997)
   CD, CHEKCD.024, ISBN # 5-014524-102459
 
   1.   3:53   Don't Leave  (Goetz's String Mix)
   2.   3:12   Don't Leave  (The Hard Mix)
   3.   4:07   Don't Leave  (Nellee Hooper Mix 1)
   4.  11:22   Don't Leave  (Euphoric Mix)
   5.   8:10   Don't Leave  (Simple Mix)

   1. Mixed by Rollo, Sister Bliss and Jamie Catto.
   2. Remixed by Ian Caple for SJP. Guitar overdubs by Robin Key.
   3. Remixed by Nellee Hooper. Engineered by Jim Abbiss.
   4 and 5. Remixed by Dianto. Engineered by Goetz.


 
   (Cheeky/3mv/BMG, UK, November 3, 1997)
   CD, CHEKXCD.024, ISBN # 5-014524-102404

   1.   3:55  Don't Leave  (String Mix)
   2.   6:03  Don't Leave  (Floating Mix)
   3.  12:58  Salva Mea  (Danny Tenaglia Mix)

   1. Strings arranged by Will Malone. String leader: Gavin Wright.
      Strings cleverly macced by Goetz.
   2. Remixed by Rollo & Sister Bliss.
   3. Remixed and additional production by Danny Tenaglia for Stay
      Tuned Productions. Additional 'touch' by Eddie Montilla.



   (Cheeky/3mv/BMG, UK, November ?, 1997)
   CASS, CHEKKCD.024, ISBN# ?  [this format not confirmed]


     
   (Cheeky/3mv/BMG, UK, November ?, 1997)
   12", CHEK.12024, ISBN# ?  [this format not confirmed]





Don't Leave  [NL/DE single] ["Taken From The Film - A Life
Less Ordinary -"]

   Written by Rollo, Sister Bliss and Jamie Catto.
   Produced by Rollo & Sister Bliss.
   Vocals by Jamie Catto.



   (Cheeky/Jive/Zomba/BMG, NL, November ?, 1997)
   CD, 0518072
 
   1.   4:47   Don't Leave  (Euphoric Radio)
   2.   3:55   Don't Leave  (String Mix)
   3.   3:14   Don't Leave  (Hard Mix)
   4.   4:09   Don't Leave  (Nellee Hooper Mix)
   5.  11:24   Don't Leave  (Euphoric Mix)
   6.   8:10   Don't Leave  (Simple Mix)

   1, 5 and 6. Remixed by Dianto. Engineered by Goetz.
   2. Mixed and engineered by Goetz.
   3. Remixed by Ian Caple for SJP. Guitar overdubs by Robin Key.
   4. Remixed by Nellee Hooper. Engineered by Jim Abbiss.





Don't Leave  [Australian single] ["Taken From The Film - A Life
Less Ordinary -"]

   Written by Rollo, Sister Bliss and Jamie Catto.
   Produced by Rollo & Sister Bliss.
   Vocals by Jamie Catto.



   (Festival Records/Cheeky/BMG, Australia, October 28, 1997)
   CD, ISBN # ?

   1.   3:55   Don't Leave  (String Version)
   2.   3:59   Don't Leave  (Scratch Edit) [edit of "Reverence" album version]
   3.   3:14   Don't Leave  (Ian Caple 7" Hard Mix)
   4.  11:24   Don't Leave  (Euphoric Mix)

   [can not confirm credits]





Don't Leave  [Japanese single] ["Taken From The Film - A
Life Less Ordinary -"]

   Written by Rollo, Sister Bliss and Jamie Catto.
   Produced by Rollo & Sister Bliss.
   Vocals by Jamie Catto.



   (Deram?/EMI?, Japan, January 6 or July?, 1998)
   CD, ISBN # ?

   8 tracks (but information is not confirmed), may include:

   1.   ?:??   Don't Leave  (Radio Edit) [which mix?]
   2.   4:09?  Don't Leave  (Nellee Hooper Mix) [which mix?]
   3.   ?:??   Don't Leave  [mix unknown]
   4.   ?:??   Insomnia  (Armand Van Helden Mix) [which mix?]
   5.   ?:??   Salva Mea (Danny Tenaglia Mix) [which mix?]
   6.   7:46?  Salva Mea (Way Out West Mix)
   7.   ?:??   Reverence [mix unknown]
   8.   ?:??   [track unknown]





Salva Mea  [Australian single re-release]



   (Festival Records/Cheeky/BMG, Australia, March ?, 1998)
   CD, ISBN # ?

   1.   ?:??   Salva Mea  (Slow Version Edit)
   2.   ?:??   Salva Mea  (Eat Me Edit)
   3.   6:51   Salva Mea  (DJ Quicksilver Remix)
   4.  18:??   Salva Mea  (Danny Tenaglia Remix)
       [9:41   Act 1:  The Opening Drama]
       [2:01   Act 2:  D.T. Returns To Twilo]
       [4:05   Act 3:  Maxi's In Da House]
       [2:29   Act 4:  The Closing Drama]
   5.   4:07   Don't Leave  (Nellee Hooper Mix 1)
   6.   3:59   Don't Leave  (Scratch Edit) [edit of "Reverence" album version]

   5. Remixed by Nellee Hooper. Engineered by Jim Abbiss.





God Is A DJ  [U.K. promo only 3x12" vinyl]



   (Cheeky/3mv/BMG, UK, July/August, 1998)
   promo only 3x12" vinyl, catalog # ?
   [in three separate white sleeves with B&W labels]

   A.   8:01?  God Is A DJ  (Original Mix)  [same as Monster Mix?]
   B.   ?:??   God Is A DJ  (Deep Mix)
   C.   ?:??   God Is A DJ  (Tuff Mix)
   D.   9:21?  God Is A DJ  (Sharp 'Lewd In London' Mix)
   E.   ?:??   God Is A DJ  (Fast Mix)
   F.   ?:??   God Is A DJ  (Serious Danger Mix)

   A, B, C, and E. Produced and mixed by Rollo and Sister Bliss.
      Words: Maxi. Keyboards: Sister Bliss.  Programming:  Rollo.
      Engineered and mixed by Goetz for Z Management.  Written by
      Maxi Jazz, Rollo, and Sister Bliss and Jamie Catto.
   D. Additional production and remix by The Sharp Boys for Sharp
      Productions/Diesel Productions.  Mix engineered by Saint Peter
      @ State 51 Studios, London.
   F. Remixed by Serious Danger for ISB Productions.

   [Track times not confirmed.  The Deep Mix, Tuff Mix, and Fast Mix 
   were done by Rollo and Sister Bliss, but exact credits need to be
   confirmed for those.]





God Is A DJ  [U.S. promo only CDs]



   (Arista/BMG, U.S., August ?, 1998)
   Promo only CD, ASCD-3520  

   1.   3:38   God Is A DJ  (Radio Edit)
   2.   0:10   Call Out Research Hook  [snip of track above]

   1 and 2. Produced and mixed by Rollo and Sister Bliss.  Words: Maxi.
      Keyboards: Sister Bliss.  Programming:  Rollo.  Engineered and
      mixed by Goetz for Z Management.  Written by Maxi Jazz, Rollo,
      Sister Bliss and Jamie Catto.

   Cover photography: Ellis Parrinder.  Design: Stylus/sgl.
   A&R:  Peter Edge.



   (Arista/BMG, U.S., October ?, 1998)
   Promo only CD, ASCD-3577

   [jewelcase with sticker, no insert/booklet or back cover.  Circular
   sticker with black and silver bomb shelter logo.  Text radiating from
   center, black on silver.]

   [released to coincide with 1998 U.S. tour]

   1.   3:43   God Is A DJ  (Meltdown Mix)

   1. Written by Maxi Jazz, Rollo, Sister Bliss and Jamie Catto.
      Produced and mixed by Rollo and Sister Bliss.
      Remix and Additional Production by John Eaton for The Commission,
      Scott Pittinski for Compound and Pat Thrall.
      Mixed by Michael Patterson for Worlds End (America).  



US Arista 12" Promos: 

12": 1998 US (Arista; ADP-3520) 

  08:02  God Is A DJ (Album Version)                 [A1]
  03:38  God Is A DJ (Radio Edit)                    [A2]
  09:21  God Is A DJ (Sharp Remix)                   [B1]
  07:07  God Is A DJ (Rollo & Sister Bliss Tuff Mix) [B2]

12": 1998 US (Arista; ADP-3546) ["Remixes"]

  05:08  God Is A DJ (Serious Danger Mix)           [A1]
  07:46  God Is A DJ (Anthony Acid Dub)              [B1]
  02:05  God Is A DJ (Anthony Acid Acapella)         [B2]

Note: Maybe these 2 promos ADP-3520/3546 have also 
been distributed together as a 2x12" promo package.









God Is A DJ  [U.K., German and Australian singles]

   lyrics available

   (Cheeky/3mv/BMG, UK, August 24, 1998)
   CD, CHEKCD.028, ISBN # 5-014524-102855
 
   (Cheeky/Intercord/EMI, DE, August ?, 1998) 
   CD,  ?, ISBN # 7243 886056 2 5

   (Festival Records/Cheeky/BMG, Australia, September 21, 1998)
   CD, catalog # FESTI M112615 (not confirmed), ISBN # ?

   1.   3:33   God Is A DJ  (Radio Edit)
   2.   6:51   God Is A DJ  (Monster Mix)  [edit of 12" mix]
   3.   5:08   God Is A DJ  (Serious Danger Remix)
   4.   4:19   God Is A DJ  (Sharp Remix)  [edit of 12" mix]
                   [Australian version lists this as
                   the Sharp 'Lewd In London' Remix.
                   Have not confirmed that track time
                   is the same as U.K. CD version.]

   1 and 2. Produced and mixed by Rollo and Sister Bliss.  Words: Maxi.
      Keyboards: Sister Bliss.  Programming:  Rollo.  Engineered and
      mixed by Goetz for Z Management.  Written by Maxi Jazz, Rollo,
      Sister Bliss and Jamie Catto.
   3. Remixed by Serious Danger for ISB Productions.
   4. Additional production and remix by The Sharp Boys for Sharp
      Productions/Diesel Productions.  Mix engineered by Saint Peter
      @ State 51 Studios, London.

   Cover photography: Ellis Parrinder.   Design: Stylus




   (Cheeky/3mv/BMG, UK, August 24, 1998)
   12" vinyl, CHEK12.028, ISBN # ?

   Cheeky/Intercord/EMI, DE, August ?, 1998)
   12" vinyl, ?, ISBN # 7243 886056 6 3

   A.   8:01   God Is A DJ  (Monster Mix)
   B.   9:21   God Is A DJ  (Sharp Remix)

   A. Produced and mixed by Rollo and Sister Bliss.  Words: Maxi.
      Keyboards: Sister Bliss.  Engineered and mixed by Goetz for
      Z Management.  Written by Maxi Jazz, Rollo and Sister Bliss
      and Jamie Catto.
   B. Additional production and remix by The Sharp Boys for Sharp
      Productions/Diesel Productions.  Mix engineered by Saint Peter
      @ State 51 Studios, London.

   Cover photography: Ellis Parrinder.   Design: Stylus



   (Intercord/Cheeky, DE, October ?, 1998)
   CD, catalog # INT 8 86298 2, ISBN # ?

   ["God is a DJ - The Remixes"]
   [same artwork as UK release but with royal blue stripe on bottom inch
   of cover]

   1.    7:38   God is a DJ  (Fast Mix)
   2.    7:42   God is a DJ  (Early Days Mix)
   3.    7:46   God is a DJ  (Taucher Mix)
   4.    8:44   God is a DJ  (Mezada Mix)

   1 and 2. Written by Maxi Jazz, Rollo and Sister Bliss and Jamie
      Catto.
      Produced and mixed by Rollo and Sister Bliss.  Words: Maxi Jazz.
      Keyboards: Sister Bliss.  Engineered and mixed by Goetz courtesy
      of Z Management.
   3. Remixed by DJ Taucher and Torsten Stenzel.  Digitally recorded at
      Polaris Lab. Studio
   4. Remixed by Neil Armstrong at Parkhaus 1





God Is A DJ (Remixes)  [U.S. 12" vinyl single]



   (Cheeky/Arista/BMG, US, October 14?, 1998)
   12" vinyl, catalog #  ARISTA (07822)-13564-1,
      ISBN # 0 7822-13564-1 1

   A1.   8:01   God Is A DJ  (Album Version) [a.k.a. Monster Mix]
   A2.   9:21   God Is A DJ  (Sharp Mix)
   B1.   9:32   God Is A DJ  (Anthony Acid Full Mix)
   B2.   8:55   God Is A DJ  (Rollo & Sister Bliss Deep Mix)
                             [a.k.a Deep Mix]

   Written by Maxi Jazz, Rollo, Sister Bliss & Jamie Catto.
   Words: Maxi.

   Published by EMI-Blackwood Music, Inc./Champion Management &
   Music, Inc. (BMI)/BMG Music Publishing Ltd., adm. by BMG Songs,
   Inc./Warner Chappell Music Ltd. (PRS), adm. by WB Music Corp.
   (ASCAP).

   Produced and Mixed by Rollo & Sister Bliss.

   Tracks 1 and 4. Engineered and mixed by Goetz fo Z Management.
   Track 2. Additional Production & Remix by The Sharp Boys for
      Sharp Productions/Diesel Productions.
   Track 3. Additional Production & Remix by Anthony Acid.
   Keyboards: Brian Kierulf.

   A&R: Hosh Gureli. Album A&R: Peter Edge





Take The Long Way Home  [U.K. promo only 3x12" vinyl]



   (Cheeky/3mv/BMG/Warner Chapell?, UK, October ?, 1998)
   3x12" vinyl, promotional only, CHEKDJ 12.031

   A.    ?:??   Take The Long Way Home  (Rollin' Mix)
   B.    ?:??   Take The Long Way Home  (The Epic Mix)
   C.    ?:??   Take The Long Way Home  (96 Steps Mix)
   D.    ?:??   Take The Long Way Home  (Original Album Mix)
   E.    ?:??   Take The Long Way Home  (Grant Nelson Remix)
   F.    ?:??   Take The Long Way Home  (16C+ Remix) [Sharan Jey]

   Review excerpted from dotmusic.com:

   "...'Rollin' Mix' - a familiar Faithless blueprint with
   Maxi Jazz taking the lead once more.  'The Epic Mix' has more
   of a build quality about it, while the '96 Steps Mix begins all
   subdued and then changes its mind halfway through. The 'Original
   Album Mix' is also featured."





Take The Long Way Home


   Written by Maxi Jazz, Rollo & Sister Bliss and Jamie Catto.
   Produced and mixed by Rollo & Sister Bliss.
   Vocals: Maxi Jazz. Keyboards: Sister Bliss.
   Strings arranged by Will Malone.
   Engineered by Goetz courtesy of Z Management.



   (Cheeky/3mv/BMG, UK, November 23, 1998)
   CD, CHEK.0??, ISBN # ?
   [track list not confirmed]

   1.    ?:??   Take The Long Way Home  (Radio Mix)
   2.    ?:??   Take The Long Way Home  (Rollin' Mix)
   3.    ?:??   Take The Long Way Home  (The Epic Mix)
   4:    ?:??   Take The Long Way Home  (16C+ Remix) [Sharan Jey]



   (Cheeky/3mv/BMG, UK, November 23, 1998)
   12" vinyl, CHEK12.0??, ISBN # ?
   [track list not confirmed]

   A.    ?:??   Take The Long Way Home  (Rollin' Mix)
   B.    ?:??   Take The Long Way Home  (The Epic Mix)



   (Cheeky/3mv/BMG, UK, November 23, 1998)
   CASS, CHEKK.031, ISBN # ?
   [track list not confirmed]

   1.    ?:??   Take The Long Way Home  (Radio Mix)
   2.    ?:??   Take The Long Way Home  (96 Steps Mix)



   (Cheeky Records, U.K, November ?, 1998)  [details unconfirmed]
   12", catalog # CHEK.031, ISBN # ?

   (Cheeky Records/Jive/Zomba, NL/EC, November ?, 1998)
   12", catalog # 0522626, ISBN # ?

   A.    6:59   Take The Long Way Home  (Rollin' Mix)  [edit]
   B.    4:43   Take The Long Way Home  (Epic Mix)  [edit]



   (Cheeky Records, U.K., November ?, 1998)
   CD, catalog # CHEKCD.031, ISBN # ? 

   (Cheeky Records/Jive/Zomba, NL/EC, November ?, 1998)
   CD, catalog # 0522622, ISBN # ?

   1.    4:06   Take The Long Way Home  (Radio Mix)
   2.    6:57   Take The Long Way Home  (Rollin' Mix)  [edit]
   3.    4:43   Take The Long Way Home  (Epic Mix)  [edit]
   4.    4:02   Take The Long Way Home  (16c+ Remix)  [edit]

   4. Remix and additional production by Sharam Jey @ Groove Park Studios.



   (Cheeky Records, U.K., November ?, 1998)
   2x12", catalog # CHEK DJ12.031, DJ promo

   A.    7:44   Take The Long Way Home  (Rollin' Mix)
   B     6:27   Take The Long Way Home  (Epic Mix)
   C.    7:26   Take The Long Way Home  (96 Steps Mix)
   D.    5:51   Take The Long Way Home  (Album Version)




German releases:



   (Cheeky/Intercord/EMI, DE/EC, November ?, 1998)
   12", catalog # INT 8 86450 6, ISBN # 7243 886450 6

   A1.   7:44   Take The Long Way Home  (Rollin' Mix)
   A2.   6:27   Take The Long Way Home  (Epic Mix)
   B1.   7:26   Take The Long Way Home  (96 Steps Mix)
   B2.   5:51   Take The Long Way Home  (Album Version)



   (Cheeky Records/Intercord/EMI, DE/EC, November ?, 1998)
   CD, catalog # INT 8 86450 2, ISBN # 7243 886450 2
   [On Intercord release, the Rollin' Mix is misspelled.]

   1.    4:06   Take The Long Way Home  (Radio Mix)
   2.    6:57   Take The Long Way Home  (Rollin' Mix)  [edit]
   3.    4:43   Take The Long Way Home  (Epic Mix)  [edit]
   4.    4:02   Take The Long Way Home  (16c+ Remix)  [edit]

   4. Remix and additional production by Sharam Jey @ Groove Park Studios



   (Cheeky/Intercord/EMI, DE/EC, December ?, 1998)
   CD, catalog # INT 8 86486 2, ISBN #  7243 886486 2

   (Cheeky/Intercord/EMI, DE/EC, December ?, 1998)
   12", catalog # INT 8 86486 6, ISBN #  7243 886486 6

   "The Remixes"

   1.    5:06   Take The Long Way Home  (Grant Nelson's Rollin' Vibe Mix)
   2.    4:02   Take The Long Way Home  (16c+ Remix)  [edit]
   3.    5:34   Take The Long Way Home  (Driver's Powerpack Mix)
   4.    7:17   Take The Long Way Home  (Timewriter's Where The Heart Is Remix)

   1. Remix and additional production by Grant Nelson.
   2. Remix and additional production by Sharam.
   3. Produced by Jan Driver. Recorded @ Century Ville / The Big Boys Room
   4. Re-sensed by JFC at silent chamber nine-eight.



U.S. release:


   (Arista Records, U.S., ?, 1998
   2x12", ADP-3594, promotion only

   A1.   6:28   Take The Long Way Home  (Epic Mix)
   B1.   7:28   Take The Long Way Home  (96 Steps Mix)
   C1.   7:59   Take The Long Way Home  (16C+ Mix)
   D1.   5:08   Take The Long Way Home  (Grant Nelson Remix)

   [see credits above]




Australian release:


   (Cheeky/Festival, AU, ?, 1998)
   CD, catalog # D 1779, ISBN # 9 399600-177924

   1.    4:06   Take The Long Way Home  (Radio Mix) 
   2.    7:00   Take The Long Way Home  (Rollin' Mix)
   3.    4:45   Take The Long Way Home  (Epic Mix)  [edit]
   4.    8:00   Take The Long Way Home  (16c+ Remix)
   5.    7:27   Take The Long Way Home  (96 Steps Mix)
   6.    5:06   Take The Long Way Home  (Grant Nelson's Rollin' Vibe Mix)

   [see credits above]








Bring My Family Back




U.K. release:


   (Cheeky/3mv/BMG, UK, April 19, 1999)
   CD (Part 1 of 2), catalog #  CHEKCD.035, ISBN # ?
 
   1.    4:03   Bring My Family Back  (Radio Edit)
   2.    5:06   Bring My Family Back  (Paul Van Dyk Mix)
   3.    6:28   Bring My Family Back  (Jan Driver "Boombastic Mix")
   4.    5:05   Bring My Family Back  (Rollo & Sister Bliss Monster Mix)



   (Cheeky/3mv/BMG, UK, April 19, 1999)
   CD (Part 2 of 2), catalog # CHEKXCD.035, ISBN # 5-014524-103500

   1.    4:03   Bring My Family Back  (Radio Edit)
   2.    5:38   God Is A DJ  (First Ever Mix)
   3.    4:59   Insomnia  (Armand's Unreleased Mix)



   (Cheeky/3mv/BMG, UK, April 19, 1999)
   CD (Part 2 of 2), catalog # CHEKXCD.035, ISBN # 5-014524-103500
 
   [Alternate version of the above (more readily available) CD, with
   'Paul Van Dyk Mix'.  A mistake or a marketing ploy?]

   1.    4:03   Bring My Family Back  (Radio Edit)
   2.    5:06   Bring My Family Back  (Paul Van Dyk Mix)
   3.    5:38   God Is A DJ  (First Ever Mix)
   4.    4:59   Insomnia  (Armand's Unreleased Mix)



   (Cheeky/3mv/BMG, UK, April 19, 1999)
   12", catalog #  CHEK12.035, ISBN # 5-014524-103562

   1.   10:03   Bring My Family Back  (Paul Van Dyk Club Mix)
   2.    6:28   Bring My Family Back  (Boombastic Mix)
   3.    ?:??   Bring My Family Back  (Robbie Rivera's Phat Funked Up Mix)



Australian release:


   (Cheeky/Festival Records Pty. Ltd.?, Australia, April 26, 1999)
   CD, catalog # ?, ISBN # ?

   1.    4:03   Bring My Family Back  (Radio Edit)
   2.    ?:??   Bring My Family Back  (Robbie Rivera's Phat Funked Mix)
   3.   10:03   Bring My Family Back  (Paul Van Dyk Club Mix)
   4.    6:28   Bring My Family Back  (Jan Driver Boombastic Mix)
   5.    ?:??   Bring My Family Back  (Rollo & Sister Bliss Monster Mix)
   6.    3:33   God Is A DJ  (Radio Edit)



German release (featuring Sabrina Setlur):

   (Cheeky/Intercord/EMI, DE/EC, April 26, 1999)
   CD [Part 1 of 2], catalog # D: INT 8 86951 2 / LC: 02463,
      ISBN # 7243-8-86951-2-1

   1.    4:03   Bring My Family Back  (Radio Edit)  [feat. Sabrina Setlur]
   2.    4:06   Bring My Family Back  (Original Radio Edit)
   3.    4:03   Bring My Family Back  (SNA Remix)  [feat. Sabrina Setlur]
   4.   10:03   Bring My Family Back  (Paul Van Dyk Club Mix)
   5.    6:28   Bring My Family Back  (Jan Driver "Boombastic Mix")

   1 and 3. Additional rap performed by Sabrina Setlur, courtesy of
      Pelham Power Pr.
   3. Additional remix and remix production by Sherry N. Ansari for
      Pelham Power Productions. Additional vocals by J-Luv.
   4. Remix and additional production by Paul Van Dyk.
   5. Remix and additional production by Jan Driver, courtesy of
      Formaldehyd Records.



   (Cheeky/Intercord/EMI, DE/EC, April 26, 1999)
   CD [Part 2 of 2], catalog # D: INT 8 87003 2 / LC: ?,
      ISBN # 7243-8-87003-2-1

   1.    4:03   Bring My Family Back  (Radio Edit)  [feat. Sabrina Setlur]
   2.    4:06   Bring My Family Back  (Original Radio Edit)
   3.    5:36   God Is A DJ  (First Ever Mix)
   4.    4:58   Insomnia  (Armand's Unreleased Mix)  [edit]
   5.    5:04   Bring My Family Back  (Rollo & Sister Bliss Monster Mix)

   1. Additional rap performed by Sabrina Setlur, courtesy of Pelham Power
      Pr.
   3. Written by Maxi Jazz, Rollo & Sister Bliss. Vocals by Maxi Jazz.
      Keyboards by Sister Bliss. Engineered by Goetz for Z Management.
   4. Written by Maxi Jazz, Rollo & Sister Bliss.
      Remixed by Armand van Helden for X-Mix Productions.
   5. Remixed by Rollo & Sister Bliss. Engineered by Goetz for Z
      Management.


   (Cheeky/Intercord/EMI, DE/EC, April 26?, 1999)
   12", catalog # D: INT 8 86951 6 / LC: ?,
      ISBN # 7243-8-86951-6-?

   [track list not available]



Netherlands/Benelux release:

   (Cheeky/Jive/Zomba, NL/EC, April ?, 1999)
   CD,  catalog # 0523622?, ISBN # ?

   1.    4:03   Bring My Family Back  (Radio Edit)
   2.    4:30   Bring My Family Back  (Blue Bottle Edit)
   3.    5:06   Bring My Family Back  (Paul Van Dyk Mix)
   4.    5:05   Bring My Family Back  (Rollo & Sister Bliss Monster Mix)
   5.    5:37   God Is A DJ  (First Ever Mix)
   6.    4:58   Insomnia  (Armand's Unreleased Mix)  [edit]

   2. Remixed by Blue Bottle. Engineered by Blag 3 Productions.
   4. Remixed by [Rollo &] Sister Bliss. Engineered by Goetz for
      Z Management.
   [see other credits above]
  


Scandinavian release:

   (Orange Records/Scandinavian Records, DK, April ?, 1999)
   CD, catalog # ORCDM 53598, ISBN # 5-709862-535983

   1.    4:03   Bring My Family Back  (Radio Edit)
   2.    5:07   Bring My Family Back  (Paul Van Dyk Mix)
   3.    6:25   Bring My Family Back  (Robbie Rivera's Phat Funked Up Mix)
   4.    7:24   Bring My Family Back  (Bluebottle Mix)
   5.    5:30   Bring My Family Back  (Jan Driver 'Boombastic' Mix) [edit]
   6.    5:06   Bring My Family Back  (Rollo & Sister Bliss Monster Mix)

   Written by Maxi Jazz, Rollo & Sister Bliss. [Vocals by Maxi Jazz.]
   Produced by Rollo & Sister Bliss. Engineered by Phil Brown.

   1. Guitars by Dave Randall; backing and chorus vocals: Rachel Brown.
      Percussion: Sudha. Keyboards: Sister Bliss.
      Strings arranged by Will Malone. String leader: Gavin Wright.
   2. Remix and additional production by Paul Van Dyk.
   3. Remix and additional production by Robbie Rivera.
   4. Remixed by Bluebottle.  Engineered by Blag 3.
   5. Remix and additional production by Jan Driver, courtesy of
      Formaldehyd Records.
   6. Remixed by Rollo & Sister Bliss. Engineered by Goetz for Z
      Management.




U.S. release: 

   (Cheeky/Arista/BMG, U.S., May ?, 1999)
   12" catalog # ADP-3667, promotional only 

   A1.   6:26   Bring My Family Back  (Robbie Rivera's Phat Funked Up Mix)
   A2.   6:29   Bring My Family Back  (Monster Mix)
   B1.   5:31   Bring My Family Back  (Boombastic Mix)
   B2.  10:05   Bring My Family Back  (Paul Van Dyk Club Mix)

   [remix credits see above]




Why Go? (backed with "If Lovin' You Is Wrong")


   'Why Go?' written by Boy George, Rollo & Sister Bliss.
      Vocals: Boy George. Backing vocals: Rachael Brown.

   'If Lovin' You Is Wrong' written by Maxi Jazz, Rollo & Sister
      Bliss. Vocals: Maxi Jazz. Produced by Rollo & Sister Bliss.

   Design & photography by Stylus.



   (Cheeky Records/3mv/BMG, U.K., September/October ?, 1999)
   CD, cat # CHEK?  [promotional only]

   [track times not confirmed]

   1.    4:16?  If Lovin' You Is Wrong  (Sexy Edit)
   2.    4:07?  If Lovin' You Is Wrong  (Cleaned Up Edit)



   (Cheeky Records/3mv/BMG, U.K., August ?, 1999)   
    2x12", cat #  CHEKDJ 12.038E  (promotional only)

   [track listing not confirmed]

               If Lovin You Is Wrong  (Mighty Mix)
               Insomnia  (DJ Stew Mix)
               Why Go?  (Fused Remix)



   (Cheeky Records/3mv/BMG, U.K., August ?, 1999)
    2x12", cat #  CHEKDJ 12.038A  (promotional only)

   [track listing not confirmed]

   A.     :    Why Go?  (Faithless Mix 1)
   B.     :    Why Go?  (Faithless Mix 2)
   C.     :    Why Go?  (Ferry Corsten Remix)
   D.     :    Why Go?  (Lange Remix)



   (Cheeky Records/3mv/BMG, U.K., September 27, 1999)
   12", cat # CHEK12.038, ISBN # ?

   [track listing not confirmed]

   1.     :     Why Go?  (Ferry Corsten Remix)
   2.     :     If Lovin' You Is Wrong (Mighty Mix)



   (Cheeky Records/3mv/BMG, U.K., November 1, 1999) 
   CD (Part 1 of 3?), cat # CHEKCD.038, ISBN # ?

   (Orange Records/Scandinavian Records, DK, October 18?, 1999)
   CD, cat # ORCDM 53630, ISBN # ?
   
   1.    3:52   Why Go?  (Radio Edit)
   2.    3:51   Why Go?  (Ferry Corsten Radio Edit)
   3.    5:17   Why Go?  (Faithless Mix 1) [edit/fadeout]
   4.    6:55   Why Go?  (Lange Remix) [edit/fadeout] 

   1. Remixed by Rollo & Sister Bliss.
   2. Remix and additional production by Ferry Corsten, courtesy of
      Dance Therapy Productions.
   3. Remixed by Rollo & Sister Bliss. Engineered by Ash Howes.
      Keyboards by Sister Bliss. Programming by James Sanger.
   4. Remix and additional production by Lange, courtesy of Perfect
      World Network.



   (Cheeky Records/3mv/BMG, U.K., October 18, 1999)
   CD (Part 2 of 3?), cat # CHEKXCD.038, ISBN # ?

   1.    3:50   Why Go?  (Radio Edit)
   2.    4:16   If Lovin' You Is Wrong  (Sexy Edit)
   3.    8:35   If Lovin' You Is Wrong  (Mighty Mix)

   1. Mixed by Rollo & Sister Bliss. Guitar: Dave Randall.
      Additional programming: James Sanger. Engineered and mixed
      by Ash Howes
   2. Mixed by Rollo, Sister Bliss & Goetz. Engineered by Goetz.
   3. Remixed by Rollo & Sister Bliss. Keyboards: The Beautiful
      Bliss. Engineered by Goetz & Grippa.



   (Cheeky Records/3mv/BMG, U.K., October 18, 1999)
   CD (Part 3 of 3?), cat # CHEKRCD.038, ISBN # ?

   1.    4:18   If Lovin' You Is Wrong (Sexy Edit)
   2.    7:39   Why Go? (Faithless Mix 1)
   3.    8:05   Why Go? (Lange Remix)

   [mix credits see above]



   (Cheeky/Jive/Zomba, NL/EU, October 18?, 1999)
   CD, catalog # 0550762, ISBN # ?
      [Netherland/Benelux]

   1.    3:50   Why Go? (Radio Edit)
   2.    3:51   Why Go? (Ferry Corsten Radio Edit)
   3.    5:18   Why Go? (Faithless Mix 1) [edit/fadeout]
   4.    6:56   Why Go? (Lange Remix) [edit/fadeout]
   5.    8:33   If Loving You Is Wrong (Mighty Mix)

   [mix credits see above]



   (Cheeky/Intercord/EMI, DE, October 18?, 1999)
   CD, catalog # INT 8 87839 2, ISBN # ?

   1.    3:49   Why Go? (Radio Edit)
   2.    3:49   Why Go? (Lange Radio Edit)
   3.    3:50   Why Go? (Ferry Corsten Radio Edit)
   4.    5:17   Why Go? (Faithless Mix) [edit/fadeout]
   5.    6:54   Why Go? (Lange Remix) [edit/fadeout]

   [mix credits see above]



   (Cheeky Records/3mv/BMG, U.K., August ?, 1999)
   2x12" vinyl, catalog # CHEKDJ 12.038A (promotional only)

   A.     Why Go? (Faithless Mix 1)
   B.     Why Go? (Ferry Corsten Remix)
   C?.    Why Go? (Faithless Mix 2)
   D?.    Why Go? (Lange Remix)

   [side C and D details unconfirmed]


   (Cheeky Records/3mv/BMG, U.K., August ?, 1999)
   2x12" vinyl, catalog # CHEKDJ 12.038E (promotional only)

   E.    If Lovin' You Is Wrong (Mighty Mix)
   F.    Insomnia (DJ Stew Mix)
   G or H?.   Why Go? (Fused Remix)

   [side G/H details unconfirmed]

   [Note: these promo 12"'s have probably been distributed in
   different configurations.  Someone has received a 2x12" package
   called CHEKDJ12.038 that includes sides A,B,E,F.]



   (V2? Records, Italy?, October 18?, 1999)
   2x12" vinyl, catalog # ?, ISBN # ? (promotional only)

   [track list confirmed, but not track order]

  A.    Why Go? (Ferry Corsten Remix)
  B.    Why Go? (Faithless Mix 1)
  C.    Why Go? (Lange Remix)
 D1.    Why Go? (Fused Why Stay Mix)
 D2.    Why Go? (Radio Edit)



   (Festival Records/Cheeky/BMG, Australia, November 29, 1999)
   CD, catalog # D1979, ISBN # 9 399600 197922

   1.    3:49   Why Go? (Radio Edit)
   2.    3:51   Why Go? (Ferry Corsten Radio Edit)
   3.    7:16   Why Go? (Faithless Mix 2)
   4.    8:08   Why Go? (Lange Remix)
   5.    5:21   Why Go? (Fused Why Stay Remix)   
   6.    8:23   Why Go? (Ferry Corsten Remix)

   1. Mixed by Rollo & Sister Bliss. Vocals: Boy George.
      Guitar: Dave Randall. Additional programming: James Sanger.
      Backing Vocals: Rachael Brown. Engineered and mixed by Ash Howes
   2 and 6. Remix and additional production by Ferry Corsten, courtesy
      of Dance Therapy Productions. Edit & additional vocal
      production by Bill Padley @ Wise Buddah Music, London.
   3. Remixed by Rollo & Sister Bliss. Vocals: Boy George.
      Keyboards: Sister Bliss. Engineered by Grippa.
   4. Remix and additional production by Lange, courtesy of Perfect
      World Network.
   5. Remix and additional production by Fused for Marlin Management.

   Published by Wanton Music/BMG Music/Warner Chappell.
   Design & Photography by Stylus: 0181 960 9558    






Faithless: Thank You (promotional only single)

   Written by Maxi Jazz, Rollo, Sister Bliss. Produced by Rollo and
      Sister Bliss. Engineered by Grippa. Keyboards Sister Bliss.

   It is the main titles song in the german movie named "Der tote Taucher im
   Wald".
              


   (Intercord / EMI, DE/NL/EU, ?, 2000) 
   CD, catalog # P 000170, promotional only

   1.    3:39   Thank You (Radio Edit)
   2.    9:19   Thank You (Album Version)









---







Dusted: Deeper River

 [U.K. single from "A Life Less Ordinary" soundtrack]


 
   (Cheeky/3mv/BMG, UK, November 24, 1997)
   CD, CHEKCD.022, ISBN # 5-014524-102251
 
   1.   3:43   Deeper River  (Original 7")
   2.   3:42   Deeper River  (Blues 7")
   3.  10:59   Deeper River  (Full Version)
   4.   8:28   Deeper River  (Euphoric Mix)
   5.   8:30   Deeper River  (Deeper Mix)

   1 and 2. Written by Pauline Taylor, Rollo, J. Catto and M. Bates.
   3, 4, and 5. Written by Rollo, J. Catto and M. Bates.
 
   Vocals by Pauline Taylor.
 
   Produced and mixed by Dusted. Mixed and engineered by Nick Kirkland.
   Keyboards: Mark Bates and Jamie Catto.  Percussion: Sudha.
   Guitar: Paulie.



   (Cheeky/3mv/BMG, UK, November 24?, 1997)
   12", CHEK.12022, ISBN # ?

   A.  10:59?  Deeper River  (Full Vocal Version)
   B.   8:28?  Deeper River  (Euphoric Mix)



   [Sister Bliss (A. Bentovin) is not credited as co-songwriter and
   keyboardist on this single, whereas she is so credited on soundtrack
   version.  She receives credit implicitly as part of Dusted for
   production and mixing.  At least, I assume Dusted is Rollo and Sister
   Bliss.  Mark Bates steps in here as co-songwriter and keyboardist.
   A little confusing.  Pauline Taylor is credited as co-songwriter on
   the Original 7" and Blues 7" versions.  The lyrics are different
   and/or differently arranged from the other versions on the single and
   the version on the soundtrack.  Go to lyrics from soundtrack version.]







Dusted:  Childhood / Want You [U.K. promotional only]





   (Go Beat Records, UK, April 17?, 2000)
   CD, catalog # ? [promo only]  ["When We Were Young" sampler]
   [track listing not confirmed, but may be same at 12" listed
      below]

   (Go Beat Records, UK, April 17?, 2000)
   12", catalog # DUMPY1, BIEM/MCPS, LC07142 [promo only]

   A.    5:51   Childhood
   B.    6:58   Want You

   ['Childhood' reminds me of the grit and grandeur of some
   instrumental sections of Joy Division or New Order tracks, like
   'Atmosphere' or 'Elegia', while being different from those.
   There are no lyrics that I could discern.  I listened to it first
   at 33-1/3rpm and found it interesting but picked up on the
   distortion of certain sounds and switched to the correct 45rpm
   for the second listen.  It's a great sounding track, in tune with
   the instrumental or dub mixes that Rollo has done for the songs
   from the first Faithless album, "Reverence", but the sound
   is more refined and intimate, grand but sharp and quickly changing.
   Not dance music, but music that makes its own way.

   'Want You' is close to the Faithless sound of the "Sunday 8pm"
   period that has just drawn to a close.  After each of a few false
   starts to the track (the volume drops out and stops the track), it
   begins over with more sounds building in, successively.  Ambient
   sounds (the elements at play?) and chimes, are interrupted by quick
   succession of notes from a piano or keyboard.  A steady beat joins in
   and gets looser and funkier as the song cycles back into the ambient
   textures of the chimes and keyboard sounds.  A girl/woman's voice
   repeats, "I Want You".  Then, a man sings or speaks in the
   lyrics that I could not catch completely?:

   And if you're under...
   And if you're under... 
   And if you're born under a bad sign...
   And you're alone...

   [could not make this part out]

   ...will you back together again...

   And like two blind mice,
   we lost our way.]


   [It looks like the name Rollo is etched on the run out grooves of
   the both sides of the vinyl and then scratched over.  Some other word
   follows Rollo, but that is completely scratched out.  On the A Side
   is etched what looks like 'Mandu The Exchange'.  The initials FSV
   appear etched on both sides.]


   See also:

   Serve Chilled: 12 Laid-Back Dance Grooves
   (free CD with June 2000 issue of Later magazine from U.K.)

   (Later, U.K., June 2000)
   CD, catalog # LATER00/6

   track 10 (of 12):

      7:03   I Want You [same as 'Want You' on promo vinyl]

   Written by M. Bates/Rollo.
   Published by Cheeky Publishing/BMG Music Publishing.
   Produced by Rollo/M. Bates.  Engineered by Grippa.
   Keyboards by Mark Bates.  Bass Tim Vogt.
   Percussion by Mal Hyde-Smith.  Lead vocal by Luke Garwood.
   Backing vocals by Rachel Brown.
   (P) 2000 Go Beat

   [Liner notes by Rob Da Bank: " From the same stable as the
   superb Faithless, Dusted ride a slower trail, pulling on ghosts of
   music past from Herbie Hancock and Sly and The Family Stone, and then
   injecting them with some life-giving modern funk.  Definitely ones
   to watch in 2000."]






Dusted:  Respect Your Mother [single]






   (Go Beat Records, UK, October 9, 2000)
   12", catalog # ?, ISBN # ?

   A.     :     Respect Your Mother (Euphoric Mix)
   B.     :     Respect Your Mother (Deep Dish Loves Their Motha Remix)



   (Go Beat Records, UK, October 9, 2000)
   CD (Part 1 of 2), catalog # ?, ISBN # ?

   1.     :     Respect Your Mother (7" Mix)
   2.     :     Respect Your Mother (Euphoric Mix)
   3.     :     Respect Your Mother (Big Mix Edit)



   (Go Beat Records, UK, October 9, 2000)
   CD (Part 2 of 2), catalog # ?, ISBN # ?

   1.     :     Respect Your Mother (7" Mix)
   2.     :     Respect Your Mother (Deep Dish Loves Their Motha Remix
                                      Edit)
   3.     :     Respect Your Mother (Of Mice & Men Mix)



   (Go Beat Records, U.K., July ?, 2000)
   12", catalog # ROLLO 3  (promotional only)

   Produced by Rollo & Mark Bates. Programming by Mark Bates and
      Rollo. Engineered by Grippa.
   'Always Remember To Respect Your Mother Part 1'
      written by Mark Bates, Rollo and Dido. Additional Programming by
      Ibi. Keyboards by Mark Bates. Choir boy: Alan Young. Guitars by
      Martin McCory.
   'Under The Sun' written by written by Rollo, Mark Bates and
      Rachael Brown. Keyboards by Mark Bates. Vocals by Luke Garwood and
      Rachael Brown. Guitars by Martin McCory. Bass by Tim Vogt.
      Percussion by Mal Hyde-Smith.
   'Winter' written by Mark Bates, Rollo and Dido. Vocals by Rachael
      Brown.

   A1.    ?:??   (Always Remember To) Respect Your Mother Part 1
                    (Bent Remix)
   B1.    ?:??   Under The Sun (Orchestral World Groove Remix)
   B2.    ?:??   Winter (Hempolics Remix)

   A1. Remix by and additional production by Bent for Stream Management.
   B1. Remix by and additional production by Orchestral World Groove.
   B2. Remix by and additional production by Hempolics.
       Remix engineered by Grippa. Remix Keyboards Mark Bates. 
       Remix Guitar Martin McCory.



   (Go Beat Records, U.K., July ?, 2000)
   CD,  catalog # ?  [details unconfirmed] (promotional only?)

   1.    3:55   (Always Remember To) Respect Your Mother Part 1
                   (Radio Version)
   2.    8:34   (Always Remember To) Respect Your Mother Part 1
                   (Euphoric Mix)
   3.    9:01   (Always Remember To) Respect Your Mother Part 1
                   (Big Mix)








Dusted:  When We Were Young [album]



   More information available at www.dusted-music.com

   [As with the "Childhood/Want You" single above, the assumption is that
   Rollo is the mastermind here.]



   (Go Beat Records, UK, June 26 or July 3?, 2000)
   [originally announced for June 5, 2000 release]
   CD, catalog # ?, ISBN # ?

   [track times not confirmed]

   1.    5:51?  Childhood
   2.     :     Time Takes Time
   3.    6:58?  Want You
   4.     :     Hurt You
   5.     :     If You Go Down To The Woods Today
   6.     :     Respect Your Mum pt. 1
   7.     :     Biggest Fool In The World
   8.     :     Oh How Sweet
   9.     :     Respect Your Mum pt. 2
  10.     :     Winter
  11.     :     Oscar's Song
  12.     :     Under The Sun
  13.     :     If I Had A Child




---
Selected Compilation and Soundtrack Appearances





 
Chasing Amy  [Spring 1997 film release] [soundtrack unreleased]
 
 
   [No soundtrack was released for this movie, but, apparently,
   Faithless' 'Insomnia (Monster Mix)' was used in the movie.  There's
   a story behind this.]
 






A Life Less Ordinary  [soundtrack]


   (A & M Records, UK, October 13, 1997)
   CD, ISBN # ?

   (Innerstate/London Records, US, October 14, 1997
   CD, 314-540 809-2, ISBN # 7 314-540 809-2 (7)


   [assuming UK and US soundtracks are identical]
   15 tracks, includes:

   7.    3:53   Don't Leave  (by Faithless)  [not scratch version *]
  14.    6:08   Deeper River  (by Dusted)

   Track 7.  Written by J. Catto/A. Bentovin/R. Armstrong
      Produced by Rollo & Sister Bliss.  Backing vocals: Pauline Taylor
      & Dido.  Keyboards:  Sister Bliss.  Programming:  Rollo.
      Engineered by Dave Burnham.  Recorded at Swanyard Studios, London.
       Courtesy of Cheeky Records Ltd.
      [* Unlike the "Reverence" album version, this does not have
      the vinyl record scratch in it as a rhythmic element.  More info
      available above, under 'Don't Leave' (U.S. single - promo only).]

   Track 14.  Written by J. Catto/A. Bentovin/R. Armstrong
      Courtesy of Cheeky Records Ltd.
      [Vocals not credited, but it is Pauline Taylor who sings the blues/
      gospel lyric within this moody techno-ambient house song.]






A Night At The Roxbury  [soundtrack]


   (Dreamworks Records, US, Summer? 1998)
   CD, catalog # ?, ISBN # ?


   14 tracks, includes:

   7.    ?:??   Insomnia  (Monster Mix)






Cruel Intentions  [soundtrack]


   (Virgin Records, US, March ?, 1999)
   CD, catalog # 8 47174 2, ISBN # 72438-47174-2 1

   14 tracks, includes:

  11.    4:17   Addictive


   Track 11.  Written by Ayalah Bentovim (sp?) "Sister Bliss "/
      Rollo Armstrong/Maxi Jazz/Pauline Taylor.  Produced by Faithless.
   
   Contains large sample of Pauline Taylor's "Addicted",
   written and performed by Pauline Taylor.  Courtesy of Cheeky Records/
   Arista Records, Inc.  _P_ 1998 Cheeky Records Ltd.






Forces Of Nature  [soundtrack]




   (Dreamworks, US, March ?, 1999)
   Advance promotional CD, catalog # DRMD-A-50111

   (Dreamworks, US, March 16, 1999)
   CD, catalog # ?, ISBN # ?

   14 tracks, includes:

   8.    4:17   If Lovin' You Is Wrong  
  12.    4:03   Bring My Family Back  [edit]





The Beach  [soundtrack]




   (London/Sire Records Group/WEA, US, February 1, 2000)
   CD, catalog # 31079-2, ISBN # 6 4344-31079-2 1
   CASS, catalog # 31079-?, ISBN # 6 4344-31079-? ?

   14 tracks, includes:

   10.    7:53   Woozy
   12.    4:49   Brutal

   Track 10. Performed by Faithless.
      Written by Maxi Jazz, Rollo and Sister Bliss. Vocals by Maxi Jazz.
      Keyboards by Sister Bliss. Engineered by Grippa. Produced by Rollo
      and Sister Bliss. Published by Champion Music/BMG Music Publishing
      Ltd./Warner Chappell Music Ltd. (PRS)/Fox Film Music Corp. (BMI).
      Faithless appears courtesy of Cheeky Records (UK)/Arista (US).

   Track 12. Written and Performed by New Order
      Produced by Rollo and New Order. Engineered by Grippa.
      Backing Vocals by Pauline Taylor. Additional Production and Mix by
      Steve Osbourne for 140 DB. Programmed by Andy Gray for 140 DB.
      Assistant Engineer: Bruno Ellingham. Published by Vitalturn
      Ltd/Warner Chappell Music Ltd. (PRS)/Fox Film Corp. (BMI).
      New Order appears courtesy of London Records.

   [Grippa was mispelled as Crippa in the liner notes.]



---
Created January 1997 by Matthew Sikorski, Copyright 1997