Ulmer Münster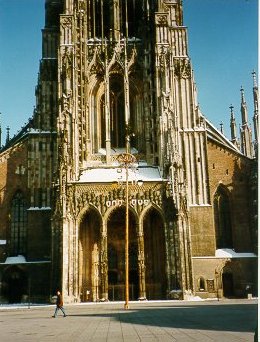 This is the Fasching pole I mentioned. It's called a Narrbaum, which means Fool's Tree. According to Richard, the Narren, or Fools, put it up the first night of Fasching to symbolize that they've taken over for the week. This sort of bothers me, because I was there and the people putting up the pole were the fire department. Hrm...
You can sort of see little flags hanging from it, those are the crests of the Fool's Clubs. Many of the people who go all out for Fasching are in groups where they have similar costumes and badges on their arms. These are their sort of coats-of-arms.
Also notice how clear of snow the square in front of the cathedral is. Don't let if fool you, it's knee deep in other places. Germans are so efficiant about snow removal, it's so cool!
These pictures are all of the Ulmer Münster, the Cathedral of Ulm. It's the tallest cathedral in Europe (and possibly the world, I can't find out whether that's true or not though.) It's also proof that I can't hold a camera straight to save my life.