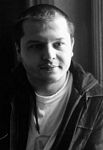 Corneliu Porumboiu: Born in Vaslui, Romania in 1975, Corneliu Porumboiu graduated from the Bucharest University of Dramatic Art and Cinema in 2003. He directed several short movies, such as "Grafitti" (2000), "Love... Sorry" (2001), "Gone with the Wine" (2002), "Liviu's Dream" (2003), and "A Trip to the City" (2003). "Liviu's Dream" won the Best Romanian Short Film Award at the Transilvania International Film Festival (TIFF) in 2004. His graduation movie, "A Trip to the City", was presented at Cannes 2004 and won the second Cinéfondation Award. Corneliu Porumboiu currently works on his first full feature film: "Despre ingeri si bani&quot ("On Angels and Money"). Click here for an interview with Corneliu Porumboiu (in Romanian).

We have the pleasure of presenting three of Corneliu's short films:
Gone With the Wine (Pe aripile vinului) - UNATC, Romania, 2002, 9min
A young man wants to get away from his native village, where drunkness has become a way of living. To fulfill his dream of getting to UK, he only has one task left - the medical checkup. In the end, this turns into an unexpected obstacle.

A Trip to the City (Calatorie la oras) - UNATC, Romania, 2003, 19min - 2nd Cinéfondation Award, Cannes 2004!
A beautiful spring morning, the need for Internet connectivity in a little Romanian village, and the pink WC that the mayor's wife is crying for, all these bring together the local teacher impassioned with computers and the mayor's driver, for a little trip to the nearby city. Once arrived in the city, the two heroes find themselves at the official reception occasioned by the celebration of 854 years from the first documented mention of the town. This event, together with the flair of two pocket thieves endanger the "mission" of our two heroes ...

Liviu's Dream (Visul lui Liviu) - MDV Films, Romania, 2003, 39min - Best Romanian Short, TIFF 2004!
A strange dream forgotten in the morning and an unaccountable feeling cause Liviu to look with resignation upon the world he's living in. His awakening to reality may coincide with the birth of his child ...