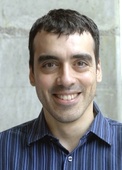 Pablo A. Parrilo
Professor
Dept. of Electrical Engineering and Computer Science
Associate Director, Laboratory for Information and Decision Systems (
LIDS
)
---
Laboratory for Information and Decision Systems
Massachusetts Institute of Technology
77 Massachusetts Avenue, Room 32D-726
Cambridge, MA 02139-4307, USA

Phone:
+1 (617) 324-1542
Fax:
+1 (617) 324-6819
Email:
parrilo@mit.edu
[
vCard
] [
PGP public key
] [
Campus map
]
---
Research
Talks
Software: SOSTOOLS, a sum of squares optimization MATLAB toolbox.
New project: NSF FRG "Semidefinite Optimization and Convex Algebraic Geometry"
Future and Past Events:

IPAM Workshop on Convex Optimization and Algebraic Geometry , Modern Trends in Optimization and Its Applications, IPAM, UCLA, September 2010.
International Congress of Mathematicians (ICM 2010), Control Theory and Optimization Section , Hyderabad, India, August 2010.
EIDMA minicourse on Algebraic Optimization and Semidefinite Programming, CWI, Amsterdam, May 31-June 4, 2010.
Oberwolfach Seminar: Semidefinite Optimization: Theory, Algorithms and Applications, MFO, Germany, May 2010.
Banff workshop on Convex Algebraic Geometry, Banff International Research Station (BIRS), February 2010.
Convex algebraic geometry, optimization and applications, American Institute of Mathematics (AIM), Palo Alto, September 2009.
HPOPT 2008 - 10th International Workshop on High Performance Optimization Techniques, The Netherlands, June 2008.

Past workshops:
Education
Personal
---
Under construction...