---
Freelance Photographer
---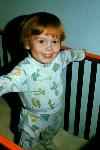 This is a collection of photographs taken by my father, James Gray. Each page has 6 or 7 thumbnails (each roughly 2k), so it may take a while to load over a slow line. Each image is a link to a larger JPEG (5-50k).

Don't hesitate to email James Gray with questions, comments, or requests for pricing details. He appreciates random mail. You can use the pictures as backgrounds, but you might want to email and let him know.

The picture to the left is me, Matthew Gray. I've grown a little since then.

---
---
All images are Copyright 1995 James Gray
To order prints, or license other reproduction rights, contact James Gray at jimphoto@gray.org for pricing and availability. Or, write or call James Gray at:

James Gray
324 W Culver St. #5
Phoenix, AZ 85003-1279
Phone: (602) 254-0179