Starting shortly before midnight on Saturday August 16, 2003 and continuing until after dawn on Sunday the 17th the Back Bay Midnight Pedalers held their 15th annual Boston By Bike at Night ride.
Below are some pictures I took on the ride. Click on any image to bring up a larger version.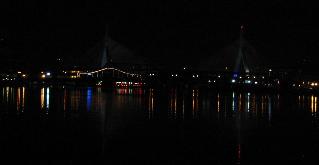 The Leonard P. Zakim Bunker Hill Bridge in the background with the Charles Street Bridge in front of it. Taken from a pier near the Charlestown Navy Yard.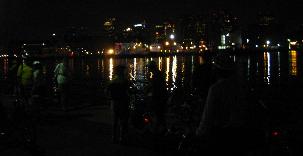 The Boston skyline (also shot from the Charlestown pier.)


Moments after sunrise looking out from Castle Island.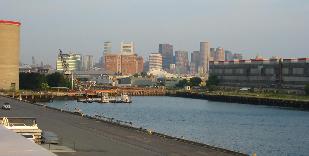 The Boston skyline.


...and Greg telling us about it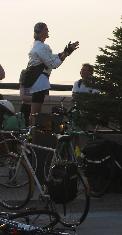 ...and telling...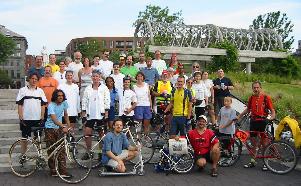 We finally concluded the ride near Boston's Long Wharf, and took a group shot of everyone who made it to the end.

---
All photos and text Copyright © 2003 Jonathon Weiss (jweiss@mit.edu) except for the group shot which is Copyright © by its photographer.
Last modified $Date: 2003/10/14 04:19:50 $ GMT