Secret Now Declassified!
Baby Z Quilt Project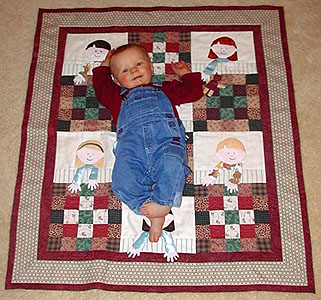 © Donna Z 2002
For those who want to follow my adventures in quilting from afar. Don't tell Donna or Francis; it's meant to be a surprise. I'll add more pictures as I get more done. You can click on images for larger versions.
Plans

Here's the pattern I'm basing the quilt on, from Baby Patchwork, by Gianna Valli Berti. I'm going to use colors more suitable for a winter baby with a mom who likes autumn colors. :) The girls pajamas will hopefully be made out of pieces Donna's ballet costumes from when she was little. (I knew they would be good for something some day -- heh, heh.) Ideally, I'll manage to get my hands on something of Francis's for the boys. (Thanks, Mrs. Z!) If I'm really good, the little bear will look very familiar.
Progress
4 October 2000

Quickly throwing up a brief progress report: Here's an image of 1/6 of the main quilt, sans children. The picture is not great; my sewing is crooked, but not that crooked. The colors are slightly off too.

The pillow background came from Susie -- from an old pillow case no less. The striped blanket edge is from my old, favorite nightshirt that (alas) ripped at Deep Creek some years back and has since been turned into little nightshirts for Mira and Alexander (who may grace the quilt as the little blond children).
28 December 2000

Ack! Eager to catch a Redskins game this season (and possibly also Christmas), our hero, Trent, arrived a couple weeks early. I thought I had until January 7 to finish this... Perhaps the new goal will be to finish in by the 12th of January, when I'll hopefully get to meet little Trent. I'm pleased that he's a he too, as now all the children can have names!


© Meilin Wong 2000
31 December 2000

Here's a picture of the other mini-quilt patch. (I couldn't decide on colors, so there are two different styles.) The colors seem to be a little off: the plaids aren't really almost black: the tiny one is actually dark green, and the larger one is burgandy and tan. Some autumn colors for Donna and some reds and green for a Christmas baby. (Wait until the border design gets added.)

The kids come later... two blond, two brunette, and two redheaded. :)
1 December 2001

Here is the (mostly) finished top piece, still without the children. It also lacks the border, which will include a print with little apples and blue stripes, plus the backing, which is a reddish marbled pattern, which just said "Donna" to me. (I hope I heard that right. ;)

Learning how to applique will be the next big adventure in this project.
11 January 2001

Well, I've got one little head done. This applique stuff is even tougher than it looks, and the ears aren't very round. On the plus side, I hit upon the idea of iron-on interfacing to help get the weird shapes right. It may be cheating, but it seems to work. :) Alas, it won't be done in time for me to hand deliver it next weekend.
28 January 2001
Well, the superbowl wasn't too exciting AND those irritating Ravens (boo!) won, BUT at least all the little kiddies have faces now -- all blue-eyed but one. (mine)
12 February 2001

Woo-hoo! I've got the borders on and the back and batting cut out. With the borders somehow everything looks much straighter. Hooray for optical illusions.
4 March 2001
Eek, appliqueing around those little fingers is tricky. Don't look too closely -- the edges keep escaping while I'm sewing!
6 March 2001

Two children sewn to the background (kate & alexander). A third one (mira) half sewn! (no fingers yet, heh) Gosh, are those little boy pajammas wild looking. I'm learning as I go, and all the kids after kate & mira, will be less flat looking. (Not to mention being a bit faster.) Am I going to make Saturday morning though? Good question.
7 March 2001
I've got Trent about half attached, with a blanket from a piece of his dad's blanket. :) I've got more pictures, but I need to figure out how to get them off the darn camera.
8 March 2001
More pictures uploaded! Trent is all attached except for his little fingers. (Ditto fo Mira.) Donna is partly basted on! Check them out here... (These were quickies, and pretty inexpert. Expect focusing issues and weird angles.) So does the bear look familiar? ;)
16 July 2001
Still working slowly through the quilting. Even with a machine, curves are darn tough...
11 September 2001
I finally acquired a proper free motion foot. This should make quilting much easier....
2 December 2001

The quilting is progressing better, if somewhat drunkenly. Even with the free motion foot, it's tricky work.

Look at the little bear now! (Shoot, I should have taken a picture of the quilt with the real bear...) Anyway, hopefully this eliminates any doubt as to the identity of the bear.
4 January 2002

ALMOST done. All the quilting is done and the edges are turned over and pinned in place. All I need to do is hand finish them. I can do that in the car, right? I hope so, because the plan is to give it to Donna this weekend before we go to the Redskins game Sunday. (Go Skins!) Since this is the last time the quilt will be in the same place as Mira and Alexander (the dolls), time to snap some quick pictures.
Results
6 January 2002
It's finished. I finished the edges in the car trip down to NJ & DC, getting the last edge before the game (Yay Redskins!) this morning. Time for me to find a new project, I guess.
Here's a picture of the little darling with the finished quilt.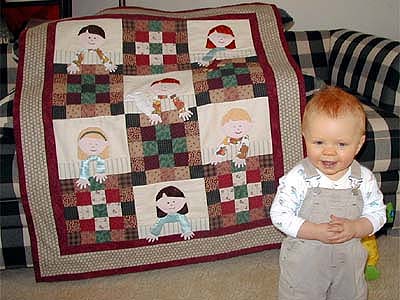 © Donna Z 2002
And now, this page is all done too.
Kate Mahoney, 31 January 2002
All pictures © Copyright Kathleen Mahoney, except for the picture from Baby Patchwork or as noted under the pictures.
[Back]