Transportation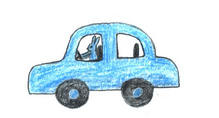 We have arranged for some air fare and car rental discounts for you.

The first one of these is with US Airways (including US Airways, US Airways Express, US Airways Shuttle, and MetroJet), which offers a discount of 5% off the lowest posted rate. In order to get this discount, you must fly into BWI, Dulles, or Reagan National airports (starting from any location) and also leave from one of these three airports. The entire round trip must take place between June 11 and 21, 2001. To reserve your discounted ticket, you have to make a reservation over the phone, by calling (toll-free) 1-877-874-7687 and following the prompt to speak to a reservation agent, then giving them the discount code number: 29621980.
Note that you can actually get up to a 10% discount from US Airways. If, instead of the lowest applicable fares, you choose to buy tickets with fare types of Y, B8US, or B4AUS (all unrestricted coach, fully refundable) you can get 10% off if you make your reservation at least 7 days in advance.
The second agreement is with Avis car rentals. They have locations at all the airports in the Washington area, as well as several locations scattered through the city. They don't have a percentage discount; instead they offer a flat group rate, which is about 40% cheaper than their regular rates. In order to get this discount, call 1-800-331-1600, and tell the agent when and where you would like to pick up the car, how long you would like to keep it, and mention the discount code number: J868802.
Since the hotels, the metro, the ceremony and the reception are all too far apart to walk from one to the others, the hotel only provides a shuttle to the metro, and the wedding location is not metro-accessible, our recommendation is that you try to rent a car if you can, or find other guests who will be coming from the same place as you, and carpool. If you cannot find anything acceptable yourself, send us an e-mail, and we'll try to match you up with someone who has a car or will be renting one, and will be able to give you a ride.
---
Last modified: Tue Apr 10 22:54:50 EDT 2001