Gifts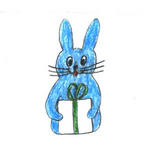 We have four registries. If you decide to use one of them, please note any comments we made in the registry to help you find things, and also please make sure that the salesperson who rings up your purchase makes the appropriate change in the registry, since they aren't always the most responsible people in the world. Also, when looking for our registry, note that both of us are listed as living in Massachusetts.

Sears gift registry:

Not available online, but you can get a printout of the wish list at any Sears store.
accessible online, as well as from Hecht's and other May stores
accessible online, as well as in any Crate & Barrel store
accessible only online, this is a Judaica gift registry.

Other suggestions:

If, for whatever reason, you don't want to or cannot use any of the gift registries:

You could get us podstakanniki and corresponding glasses from the Sovietski Collection. These are special holders that are used to hold glasses with tea, which is how people traditionally drank tea in Russia.
You could also get us pear, pomegranate, peach, apricot, or other (if you're sure you've found another flavor we will like) creative teas from TeaLuxe (a really cool tea store chain in Boston and New York).
Finally, you can make a donation to the American Red Cross or American Cancer Society in our name. If you decide to do this, you can ask the charity to send us a card telling us that they have received a gift from you in our name.
---
Last modified: Sun Mar 25 22:41:51 EST 2001