I went to Turkey in the summer of 97 to attend a conference in Istanbul.
My sister, Saundra, came over for the first 6 days of my trip.
Standing in front of Sultanahmet, the Blue Mosque in Istanbul: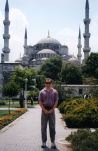 My sister at the Blue Mosque with a guy that I almost got in a fight with.
He (amd his assistant) wanted money for jumping into the picture and putting a stinky hat on my sister.
I declined to pay.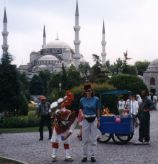 Paying homage on the steps of the Blue Mosque: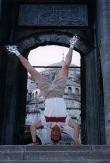 We rented a car and drove around the Marmara Sea and down the Aegean coast.
Swimming in the Marmara Sea: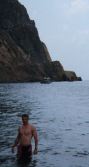 My sister in the Wooden Horse at Troy:


In the ruins at Bergama: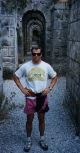 My sister at the ruins of Bergama: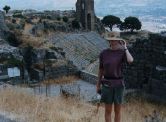 Climbing the steps of the amphitheater at Bergama is hard work:


We are not really lost. We are somewhere in Turkey: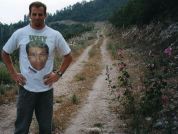 Traffic jam: