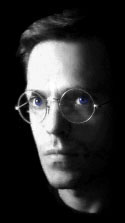 Theodric
Pronounced: THEE drik
---
The Society of Theodrics
There is only one other Theodric who's existence has been verified first hand: Theodric Feng, currently living in Washington DC.
---
Theodric Etymology
"Theodric" is Old German for "Theodoric".

Famous Theodrics include:
Theodric de Gand (c. 956-?), Count of Gand in Flanders, Belgium.
Theodric of Bernicia (?-579 A.D.), King of Bernicia (in northern England) 572-575 A.D.
Theodric Romeyn Beck (1791-1855). Born in Schnenectady, New York, Mr. Beck wrote the first significant American book on forensic medicine, Elements of Medical Jurisprudence in 1823. This book is also notable as it documents one of the first known cases of spontaneous human combustion (Hannah Bradshaw).
"Theodric the Great" (493-526), feared king of the Ostrogoths who's reign lasted some 60 years. His name, however, is usually spelled "Theodoric".
Theodric Name Analysis
What does "Theodric" really mean?
---
The Wheel of Chaos
Theodric Young Home Page
test page