Rei's Anime and Manga Page
---
To Twyla W.: Your email system won't let me email you. Please send me an alternate email address. (6/25/05)
---
This site is dedicated to anyone who is looking for a deeper understanding of a wide variety of Japanese comic books and animation, whether as fans, researchers, the merely curious, or as fellow artists and writers....

"...the most lasting image of Lady Oscar is of a shining warrior upon a horse,
challenging all that would imprison the human spirit.
As with Oscar, so may it be with all of us."

"We are all one family!" -Ishonomori Shoutarou, Cyborg 009
---
| General Essays | Responses to Current Events | Conference Reports | Reviews & Overviews | Misc. | Links |
New for 2005: What's Lost in the Translation? - a look into the Japanese language, and what gets lost in some translations.
---
Rei Resources
(All papers are copyright by Eri Izawa unless otherwise noted)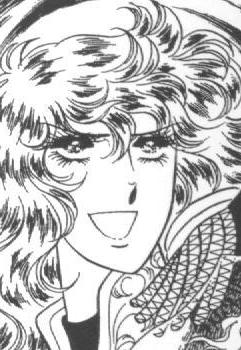 General Essays and Analysis
The original! This is a short essay/intro to Japanese comics and animation, and what makes them special (and popular!). Somehow this became a very popular essay, and many people wound up copying it or even modifying it all over the net. Come on, guys, just link back here instead.

A peek beyond the sex-mechs-violence stereotype, so common in the US media today.

A glimpse beneath the stereotypes laid upon the Japanese by the rest of the world; answers to arguments that the Japanese are anti-individualism, etc. Presented at the 1997 Japanese Pop Culture Conference at the University of Victoria (in Canada). Published in Japan Pop! Inside the World of Japanese Popular Culture (more informative teaching guide page). Publisher: M.E. Sharpe; edited by Dr. Tim Craig of the University of Victoria.

Examples of specific philosophical, ethical, spiritual teachings from manga (and possibly other) sources. While for various reasons I no longer subscribe to weekly manga, I think this list is still a good glimpse into what makes some manga magical.

A possibly controversial look at the prevalence of supernatural themes in manga and anime, and its effects on readers.

Another possibly controversial look at the relationship between the sexes in both manga and Japanese society. Speaking of which, why are so many female characters suffering from amnesia?

More controvery? A look at the question of race and ethnicity in manga, from a perspective of asking "Why?" and "What happened?"

A fast look at the thread of environmentalism in manga and anime. Not as in-depth as I'd like, but a start.

A fast look at the Japanese language, and how a lot of information can be lost when translating to English.
Responses to News and Current Events
Observations based on an 11/2003 trip to Japan: both cultural and just sheer tourist guide style.

Political BS.

(An essay submitted to the Boston Globe's Op-Ed section in 5/02.) Plus, letter to the editor (Boston Globe) 5/02

A call to those who are studying a foreign culture.

Doraemon co-author H. Fujimoto passed away on Sept. 23, 1996. I owe both him and M. Abiko a big thank-you.
Reports and Articles on Conferences, Talks, Lectures
Mr. Okada spoke at MIT on 30 September 2003 about otaku, anime, and how the two interact.

Mr. Okada spoke at MIT on 1 October 2003 on everything from anime history to Japanese culture, and offered advice to those who wish to make their own animation as well.

The producer of "Tenchi Muyou" and "Ah! My Goddess" spoke at MIT on 13 May 2003.

It was a workshop on Japanese culture and anime/manga (and I had a great time!). (There was also one in Sept. 2002 that I did not attend.) I presented "Romanticism and Spirituality in Anime" ....
Reviews, Overviews, and Summaries
Thoughts on "Spirited Away" 10/4/02 (hey it won an Oscar!)

Overview and commentary.

Manga descriptions, overviews, and summaries page (updated 8/2001).

Get a feel for some popular and some not-so-well-known Japanese comics, from the 60's to present day, ranging from science-fiction to romance and comedy to pseudo-horror. 24 full-page overviews, 13 paragraph summaries. (Note: corresponding overviews from EX are usually newer.) Some highlights:

Some of my old RPG reviews at EX.org
Miscellaneous
What hasn't been turned into a manga or anime? Not much, if you'll look at this list of what has been.... (I mean, firefighting, surgery...)

If you're in the area, you don't have to look far to subscribe to, say, Shonen Jump, or order the newest Dragon Quest.

The Nintendo section includes anime-ish Japanese fantasy role playing games, such as Zelda, the excellent Final Fantasy III, and Chrono Trigger. Some of these games have surprisingly detailed plots and well-developed characters!

Listing of my personal favorite movies, characters, etc.
---
Netwide Resources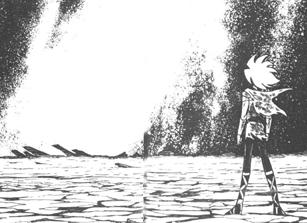 Some other articles of scholarly bent:


Japanese language help:

Find places to Buy!

Greg Irwin is fluent in English and Japanese, and brings Japanese traditional songs to an English-speaking audience.


Shogakukan magazines (publisher of Shonen Sunday). Some animated introductions to Shogakukan children's books (in Japanese). At least three of the books have an environmental message. One teaches children about death. Another relates to war.


Tezuka Osamu World in Japan. (He was the "father" of modern manga!) And Happy birthday, robot boy (article on Astro Boy/Tetsuwan Atom); also at the NY Times (4/7/03).


Leiji (Reiji) Matsumoto stuff.

A Parent's Guide to Anime at the Anime Cafe.


Anime Web Turnpike.


The new "Guide to Japanese Animation". Masato's Anime-Manga-Launchbase. Also: The Anime Grove. Kaicho's Japanese TV Anime site. Desolator's site. Manga ring. Manga Archive. Hoyoul Kang's site. Anime Uni (United Anime Universe Society). Aioleon the Martian Girl anime site (by request).


Anime Juku, which will supposedly teach animation techniques over the internet. If you take this let me know how it goes. Also...How to Draw Manga.


Some colleges/universities: The MIT Anime Club. Berkeley's Anime resources.... University of Michigan's list (Go Blue!).... Japanese Animation Club of Victoria.... Weekly Watchers of Wonderful Anime (what a name!) at the University of Melbourne.


Some shops: Samurai-Anime. GKorld anime store. Japanimation City link. GT Manga. World Model Direct has anime figures and models. Above All Anime: anime dvds, mangas, graphic novels, wall scrolls, etc.


The historic, from-1992(!) "Anime homepage"


Sempai.org, an interesting gathering of otaku. Includes some funny comics. Tonbo's anime rant and Tonbo's lessons....


Otaku television.

Diva Lea does manga-influenced comics and here is Friends of Lulu, encouraging female comics readership and authorship.


Russian artist Serguei's very impressive artwork, with anime influences. He's looking for collaborative projects!


Kevin Lau's Xin: Legend of the Monkey King... I'm guessing this is just part of a new wave of manga/anime-influenced Western comics. (See also Diva Lea, above.)


Time Magazine's Asian Heroes includes Doraemon and a look at Makoto Oda. Plus Reuters news on foreign words in Japanese.


ASIAN POP: Feelin' Ghibli: A retrospective at PFA shows why Disney has a thing or two to (re)learn from Japanese animation kings Miyazaki and Takahata SFGate.com 6/9/05


Nausicaa.net covers "Spirited Away" ("Sen to Chihiro no Kamikakushi") including this insightful interview with Miyazaki, and another one where he says the romances of traditional shojo manga are not offering what girls need. Good Reuters article on the film, USA Today's interview, NY Daily News' take. CNN on Disney and "Spirited Away," CNN/Entertainment Weekly review. Boston Globe on Disney and Miyazaki/Studio Ghibli, plus their "Spirited Away" review and interview with Miyazaki. (Boston Globe covers "Seven Samurai.") Petition to Disney regarding Miyazaki's works. Miyazaki to receive Golden Lion at Venice fest... various news sources have this, but this 2/9/05 forum post is pretty comprehensive.


My Anime Kibun and other Anime-style designs (Cafepress). There are a number of other anime-esque "shops" at Cafepress, such as Cap'n Stuby, Anime Research, and How to Draw Manga. I bet there's more, too.


---
Copyright Notice: Images are used as examples of manga art for academic purposes (invoking fair-use clause), and are the properties of the original artists and publishers. Oscar image: Ikeda Riyoko. Locke scene: Hijiri Yuki. Top and bottom color images: yours truly (In looking up copyright law it seems putting up copyrighted works is better than putting up your own versions :)

My Japanese, along with everything else, is hardly perfect. If you find errors anywhere, please feel free to send me a correction. rei (at) mit(dot)edu
---