Paperweights and Glassblowing
My wife and I have been collectors of paperweights and art glass for many years. We tend to buy directly from the artists we meet at craft shows, although several galleries, flea markets and E-bay are regular sources. We now own over eighty weights.
| | |
| --- | --- |
| A highly charged but disappointing event was bidding against Larry Selman for this Debbie Tarsitano paperweight at the 2001 Glass Art Society auction. | |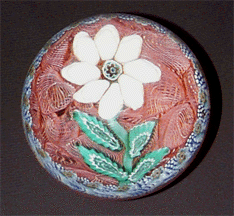 This is the paperweight that got me really hooked on collecting. It was inexpensive, but the complexity and uniqueness of it's construction intrigued me. While trying to discover what it's provance might be, I visited several museums with paperweight collections and started buying publications about the identification and manufacture of paperweights.
As my interest and research into glass grew I started thinking about learning how it was done. In 1994 I took a one-day lampworking class. During 1995 I attended the Glass Arts Society ( GAS ) convention in Boston, and discovered the MIT Glass Lab. I took my first glassblowing class at the MIT Lab in the Fall of 1995.
For the past few years I have been able to take sporadic classes at the MIT Glass Lab. The shop is for student enrichment and a class is about 4 hours per week for 6-8 week, as an MIT staff member I'm very lucky if I get to take one class per year. Even with this limited exposure I have progressed from creating a collection of drunken shot glasses, to a few items I am pleased with.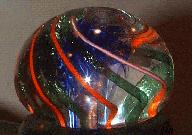 This is one of my better early attempts at making a furnace-work paperweight. ( Click on the image for a larger view. )
During the summer of 2001, I spent two weeks in Corning, NY where I took a couple of classes and attended the Glass Arts Society Conference. Here is my trip report.
---
Philip H. Bailey
E-Mail: pbailey@mit.edu