1998 Day of Dance
Directions to Pickering Wharf
From Downtown, or Inside Rte. 128:
Note: because there may be a lot of Memorial Day weekend beach traffic, allow an hour travel time from Boston.
Find your way to Rte. 1A North. You can do this by any of the following routes:
Go through the Callahan Tunnel. You are now on Rte. 1A North.
Take Rte. 1 (Tobin Bridge) to Rte. 16 East (Revere/Lynn) to Rte. 1A North.
Take Rte. 16 East to Rte. 1A North.
Take Rte. 60 East to Rte. 1A North.
Each of the above paths will bring you to Bell's Circle, a confusing intersection where Rtes. 1A, 16, and 60 come together. The intersection is a rotary with a divided highway through the middle of it, and traffic lights everywhere. You want to go around the outside of the rotary (don't go through the middle) and follow the big green sign for Rte. 1A North Revere Beach/Lynn. (If you're coming via Rte. 60, getting into the rotary may take you by surprise. The entrance to the rotary is right at the end of a 3-story-high rock wall, about a mile after the Rte. 107 rotary. Note that there are no signs from Rte. 60 for Rte. 1A North until you're already in the rotary.)
Follow Rte. 1A, past Wonderland (dog track, ballroom, and blue line station), over the drawbridge, through Lynn and Swampscott and into Salem. (1A makes several turns, so watch for signs.)
Once you get to Salem, your warning landmark is when 1A turn left at Salem State College, where it joins 114. About a mile after that, 1A turns right onto Derby St. There's a fire station on the corner.
Then go to End Game.
From Rte. 128 or I-95
Take Rte. 128 or I-95 to Rte. 114 East (Salem/Marblehead).
Follow 114 into Salem. (It will make sereval turns, so watch for signs.)
In Salem, your warning landmark is when 114 goes over a bridge that crosses the railroad tracks and Rte. 107 (which may or may not be well-marked). The intersection is sort of a cross between a rotary and a clover leaf. Stay on 114 here (go straight), and continue on 114 when it turns left onto Norman St. A block later, you'll come to a fairly major intersection with a traffic light. There will be a brick building (post office) on your right. At this intersection, 114 turns again, but you should go straight. You are now on New Derby Street.
At the next traffic light, New Derby St. becomes Derby St. There's a fire station on your left, and Rte. 1A turns onto Derby St. Continue straight. You're now at End Game.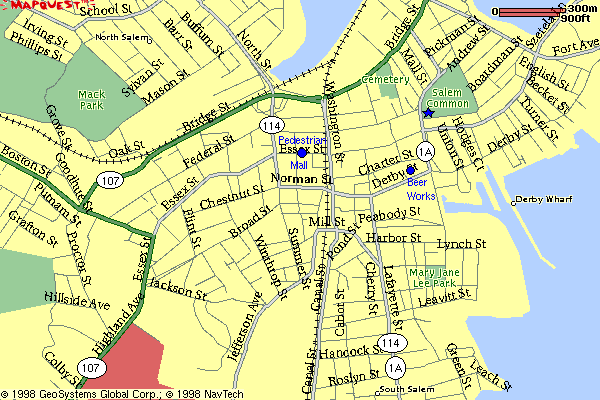 About a block or so after you hit Derby St., you'll see the Salem Beer Works on your left. Start looking for parking. To get to the first stand, continue straight on Derby St. (where 1A turns off). Take the first right after the intersection where 1A turns, onto Pickering Wharf.
We'll be dancing on the grass across from Victoria Station restaurant, from 11:00 until 12:15.
---
Middlesex Morris 1998 Day of Dance / Middlesex Morris home page /
performance schedule / send email
Last modified: Thu May 14 19:42:43 1998 by jcb@mit.edu