[massachvsetts institvte of technology electronic research society]
We do all kinds of fun stuff. make ride films, build robots, gadgets and gizmos. If it's weird, we like it.
We're at N52-115, 265 Mass Ave. 617-253-2060
Want to get involved?
look for one of these guys: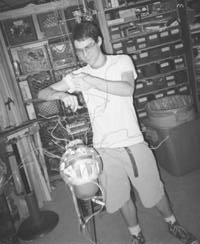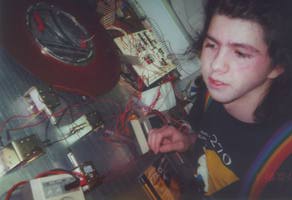 Sloan wearing the wizard's hat. Kenny and his jacob's ladder helmet. Rhett and his pac-man playing robot. Rhett's face looks bruised because he got run over by a truck.

OR:
---
come to the MIT FLEA MARKET
Coming fleamarket dates:


April     18 2004
May       16 2004
June      20 2004
July      18 2004
August	  15 2004
September 19 2004
October   17 2004


Link to this year's flyer : as a PDF text only

We help run the MIT Flea Market on the third sunday of each month april to october inclusive. All kinds of hightech and lowtech junk and treasures, hundreds of vendors, if you can't find it here, you aren't looking hard enough. MIT Albany Street Parking Garage At the intersection of Albany+Main streets in Cambridge; Across Main St. from Tech square, Near Kendall square. Sunday April 19 from 9AM to 2PM, with sellers set-up time starting at 7AM. !! RAIN or SHINE !! Buyers admission is $5 (you get $1 off if you're lucky enough to have a copy of this msg or other ad) and sellers spaces are $20.00 for the first, $15 additional, at the gate.
---
SHOW+TELL

Sally DeAngelis dancing a duet with a robot at MITERS.
From time to time we get together to present recent work and brainstorm 
new projects. We call it "Show and Tell".


DO ANIMATION at SHOW+TELL!

At a recent Show+Tell, Pell Osborn and Joe Doulette got a buncha folks to make this swell minute and a half animation. Cool huh? Here it is in quicktime

a 2.8mb 320x240 and 1mb 160x120 version.

you'll get a chance to make one yourself. ask!
---
build PROJECTS!
Some examples:
C program to send bytes to your pc's printer port: pll.c
C program to turn a floppy drive into a robot: pllflop.c
Radio controlled bowling ball.
Fly through the air on a huge kite: footpads
Etch pc boards with a UV diode.
Project cartoons for kids: howtoons
Turn a cooling fan into an airplane: flyfan.jpg
Build a photo-paper printer.
Draw images of your loved ones with a 3d milling machine: 3d michelle
Turn an old harddrive into a massage chair.
Stress-controlled playback speed on a walkman: 4-370-with-pics.pdf
Laser sighted blowgun.
---
here are some previous events.

---
MIT ERS | N52-115 | x3-2060 email rhett@mit.edu for more info
or use blanche or listmaint to add yourself to the miters@mit.edu mailinglist