Diana's Peppermint Bark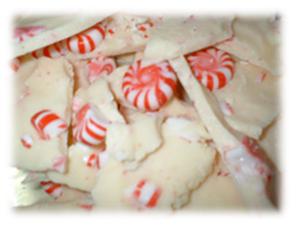 Ingredients

1 bag dark chocolate chips
1 bag white chocolate chips
Peppermint candies, crushed

In a microwavable bowl, melt dark chocolate. Use the directions on the back of the bag, but usually a minute will do it. Pour dark chocolate onto a baking pan lined with waxed paper. Sprinkle peppermints on top, and let harden for about 15 minutes. Meanwhile, melt the white chocolate; start with 30 seconds because it tends to dry out. Pour white chocolate on top of the dark, and freeze until firm. Remove from pan, and break into bite sized pieces.



---


Kristina's Delicious Coconut Chocolate Chip Squares

Ingredients

2/3 cup flour
1/2 t baking powder
1/4 t salt
2 eggs, beaten
1 cup sugar
1/3 cup melted shortening (I actually just use butter)
1 t vanilla
1 small package chocolate chips (6 oz)
1 cup coconut

Add sugar gradually to beaten eggs, add shortening and beat again. Add flour, baking powder and salt. Mix and then add vanilla, chocolate chips and coconut. Bake at 350 for 35 minutes in a greased 8x8 pan. Check at 25 minutes.

---

Nicole's Shortbread Cookies
1 pound unsalted butter
1 1/4 cu. light brown sugar, lightly packed
4 1/2 cu. all-purpose flour
1/4 tsp. vanilla
Preheat oven to 300 degrees
Cream together butter and sugar
Add flour 1 cup at a time
Add vanilla
Then either
a. roll out to 1/8" thickness and cut with a cookie cutter
b. roll into log and cut into discs.
Cook for 20 minutes and let cool
---
Andrea and Beth's Death By Chocolate Cake
Note: Recipe is too large to display on cookbook page. Download the three page word document here!